Did you know that May is National Bike Month? Crochet and bicycling can go hand in hand. Of course, you probably shouldn't crochet while you're on the bike but you can definitely crochet for your bike. A bicycle decorated with one of a kind crochet is a beautiful, personalized work of art. Here are some photos of bicycle crochet to inspire you!
This set of birds for your bicycle handles is one of 3 crochet patterns from Greedy for Colour that you'll find in the book Craft Bomb Your Bike: 20 Makes for You and Your Bike
Colorful crochet bike rack from artist Marcy Kraft (AKA Crochet Grenade)
Crochet bike represents "the story of how farmers look after the national park environment whilst supplying natural materials that are manufactured into products."
Crocheted bike made by cuddlebugkids on Instagram
Yarnbombed bike spotted in Cairns by Forever in Fibre
Crochet bicycle skirt guard at a yarn store I visited
yarnbombed bikes via Art of Yarnbombing
Yarnbombed bike via Fox's Lane
Bike rack yarn bomb from queen_babs on Instagram
Bicycle yarn bomb by Lise Solvang for ad
The pattern for this cute crochet bike basket was featured in the spring 2012 issue of Interweave crochet.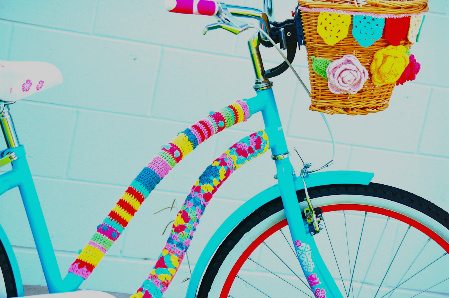 This is another one from Greedy For Colour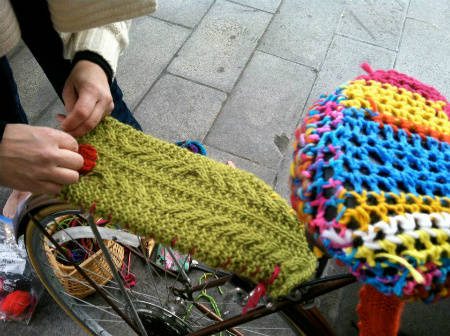 Yarnbombed bike by artist Melissa Maddonni Haims
A little bicycle with crochet flowers in the basket from Stitch of Love
Fuzzy crochet bike seat cover by stephaniedavies on Instagram
Crochet bike basket pattern sold on Etsy
Heartfelt crochet bike seat cover free pattern from Amie Hirtes