Melissa Maddonni Haims is a Philadelphia based fiber artist who makes large scale crochet and knit sculptures incorporating recycled/ reclaimed/ found art materials. I love her use of crochet set against found materials including vintage fabric. And I love her occasional incorporation of text in her pieces.
More about Crochet Artist Melissa Maddonni Haims
Melissa Maddonni Haims graduated from the University of Rhode Island in 1996 with a BFA in painting and a BA in marine affairs. These two courses of study seem disparate until you learn that she was focused on environmental issues related to her marine science studies and consider that she now uses primarily recycled materials in her art. After graduating, Haims participated in several group and solo art exhibitions for the next few years then there's a break in her resume of about ten years during which time she seems to have been developing her skills with both freelance and corporate design work in New York City.
From what I can tell through looking at and reading about her work, she went through a period of dealing with her mother's passing around this time and was using crochet and knitting as part of her healing process. In 2008 she resumed exhibitions of her own work and has been quite prolific in the Philadelphia art scene since then with participation in both group and solo exhibits in a variety of galleries. Haims is a member of several galleries and artist cooperatives and has current work in several Philadelphia galleries. She also teaches knit and crochet to children and young adults. If you're interested in her work, you can follow her blog Chronicles of a Yarn Junkie or see what she's up to through Facebook.
Melissa Maddonni Haims on her Work
Cold Comfort installed at The Schuylkill Center for Environmental Education
I think she says it succinctly on her blog when she shares:
"i knit and crochet obsessively, without stop, and i leave it places for all to enjoy. i especially like to make inanimate objects warm and fuzzy."
It's obviously the crochet art that I'm most interested in and what I've featured here but Haims does do drawing and other beautiful mixed media art that you can explore on her website.
Crochet Art by Melissa Maddonni Haims
Like many crochet artists, Haims uses this medium (along with comparable mediums including embroidery and knitting) to convey her thoughts about domestic life. A description on her website about her most recent work explains that she's been thinking a lot about her mother's quirks and how those same quirks have developed in her and how this all relates to the mundane issues of every day domestic life. One piece I really love from this exploration is frustration (kill me now) which incorporates crochet and embroidery against what looks like perhaps a vintage fabric background. I just love the kitsch of it combined with the powerful text.
She has another piece I really like called Heaven + Hell. I love the large scale of the work and the way it reminds me of stalactites and stalagmites. See:
I should add that Heaven + Hell is an ongoing piece that has been displayed in different ways in different places. I happen to love the above photo but I think you should click over and check out the evolution of the project on Melissa's site to get the full idea of what it's about. It took Haims about two years to do the knit and crochet work that went into this which includes pieces as tall as 6 feet in height.
The above photo is part of a 2007-2008 collection of handcrafted breasts that Haims made as part of her cathartic process of dealing with her mother's death from breast cancer. Powerful.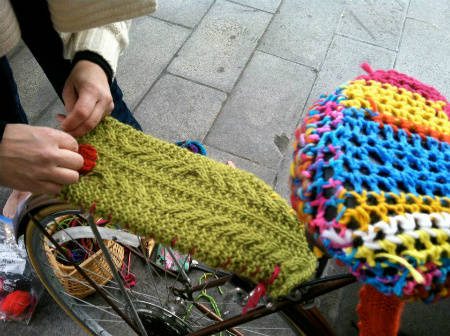 Haims has a fun adventurous side as well and that comes out in her yarnbomb work, some of which I'm sure is just random true knit graffiti and others are commissioned/approved/accepted projects in yarnbomb style. Above is a yarnbombed bicycle she did outside of Philadelphia City Hall and you can see lots more before and after photos of it through her Facebook page. And below is a yarnbombed birdhouse she made for a homeless shelter which I found through her inliquid profile page.
FiberPhiladelphia 2012
One of the fun things that Melissa Maddonni Haims is involved in is that she is the social media coordinator for FiberPhiladelphia 2012. The website for the project explains:
"FiberPhiladelphia is an international biennial and regional festival for innovative fiber/textile art. Exhibitions are planned for 40 locations including major institutions and independent venues. They will include work by renowned international artists and a new generation of artists breaking into the field."
Other Similar Crochet Artists
Although there are a lot of differences between their works, Haims reminds me a bit of Carol Hummel. Maybe it's because Haims has several pieces where she's yarnbombed trees, such as her work at The Schuylkill Center, and I always think of Lichen It when I think of Hummel. Fun fact: Haims and Hummel have both had art featured at arboretum exhibitions.
The yarnbombing aspect of Haims work also reminds me of Magda Sayeg who uses both knit and crochet in her sanctioned (and unsanctioned) yarnbomb art projects.
The combination of crochet with found objects reminds me of some of the work done by Sound Suit artist Nick Cave
And finally, that same combination of crochet with mixed media work reminds me a little of Leslie Blackmon although the themes/ topics the two artists cover are different.
Which piece by Melissa Maddonni Haims impresses you most?