UK knitwear designer and crochet artist Kate Jenkins has created several full installations of crochet food including a cafe and a dinner party. She also has a home/fashion line and designed the decor for a hotel room.
About Crochet Artist Kate Jenkins
Kate Jenkins was a UK knitwear designer who sold beautiful knit designs to a number of well-known labels including Donna Karan, Missoni and Marc Jacobs before she decided to branch out and launch her own fashion / home design label called Cardigan. She is also a knit and crochet artist, known best for her cheeky take on crochet food, her large yarn-y installations and her design of the room at Hotel Pelirocco. She has exhibited in the UK and the United States. She has a New York art show coming up this December; her work is currently on display at a UK restaurant through October. She generally uses 100% lambswool for her crochet art as well as her knit fashions. She also sells cards and prints featuring photos of her crochet art.
Hotel Pelirocco Do Knit Disturb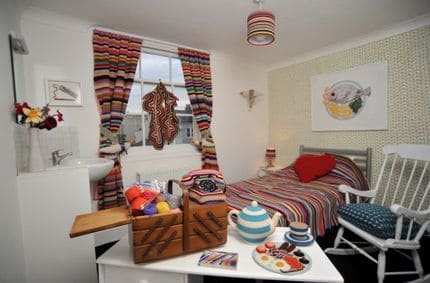 Hotel Pelirocco is a boutique hotel located on Brighton Beach in England. The rooms at this hotel are "inspired by pop culture, sexy sirens and maverick musicians". Kate Jenkins designed and executed (with the help of two assistants) a super cute room here called Do Knit Disturb.
Learn more about Hotel Pelirocco's crochet / knit room.
Kate Jenkins Crochet Food
Kate Jenkins is well-known for her crochet art pieces where she takes the UK's favorite foods and turns them into crafted art. They have a touch of humor, a bit of nostalgia and a lot of color.
Jenkins first exhibit of crochet food was aptly called comfort food and included crocheted desserts and main dishes like this roast beef plate.
Jenkins has done several crochet versions of the classic Fish and Chips dish. This one is #4 and was part of her 2009 art exhibit called Kate's Cafe where she turned a Soho gallery space into a complete yarn cafe. Sardine plates, anchovies, pizza and roast chicken dinners were also featured as were "stitchberry jam" and crocheted champagne bottles.
Many of Kate's Fish and Chips dishes were also part of her 2007 show in Brighton called Fish and Stitches. This crocheted seafood place was also part of that exhibit.
One of Kate's most recent crochet food exhibits was Kate's Crochet Market where the foods were canned and packaged.
Other Kate Jenkins Crochet
In 2008 Kate did a UK exhibition called Soft Smokes as a statement about the area's new smoking ban.
Cardigan Bloom was an installation of a crochet and knit garden that included lots of little creatures like these crochet butterflies. See other artists' crochet gardens here.
Kate Jenkins and Cardigan
In 2003 Kate Jenkins decided to launch her own label called Cardigan, through which she sells her fashion and home decor designs. The clothing designs are very wearable and look super comfortable but are still stylish. The home decor has a cheeky side with a graphic print style that works in a contemporary home. The brand also sells felt toys.
Similar Crochet Artists
Jenkins reminds me a little bit of Twinkie Chan because of the cute foods connection and the fact that they both make wearables
Likewise with crochet artist Joy Kampia O'Shell, known best for her crochet hamburger dress but who also makes crochet food plates
Ami Artist Vanessa Chan also makes cute crochet food