There is always something new to learn in crochet. Check out the 45+ crochet tutorials below to find stitches, stitch patterns, techniques, motifs and projects that are new for you. These have all been featured on blogs in this first quarter of 2015.
Crochet Basics
Crochet Basics: How to Crochet a Chain Stitch and Base Chain by Illuminate Crochet
How to Crochet Left-handed free tutorial set from @mooglyblog
HDC Chainless Foundation crochet stitch tutorial video @gleefulthings
How to finger crochet @fiberflux
How to add fringe to crochet by @JBHCrochet
Advanced Crochet Stitches and Stitch Patterns
flo and blo crochet tutorial videos via @fiberflux
How to crochet sc thermal stitch from @crochetkitten
How to crochet left-leaning and right-leaning crossed double crochet @jessie_athome
Center double crochet stitch tutorial video free @mooglyblog
How to fpdc @gleefulthings
How to sc3tog @freshstitches
How to dc4tog @redheartyarns
How to Crochet Heart Stitch @bhookedcrochet who also offers a crochet star stitch tutorial
How to crochet basketweave stitch @bhookedcrochet
Jacob's Ladder Crochet Stitch Tutorial from @jessie_athome
How to crochet post stitch cables over 2 and 4 stitches from @jessie_athome
How to Make Crochet Ribbing with Post Stitches @crochetkitten; see also my post stitch crochet square tutorial
How to Crochet Shallow Post Stitches @mooglyblog
How to crochet linen stitch AKA moss stitch @jessie_athome
Long double crochet linen stitch tutorial free from Marly Bird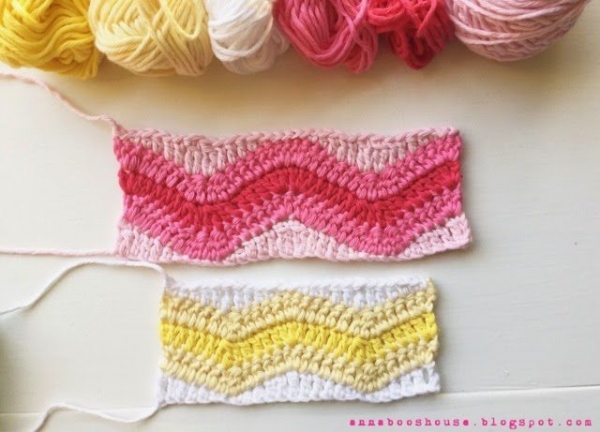 How to Crochet Chevrons with a Straight Edge @annabooshouse
Crochet Techniques
How to Crochet a Clean Edge Along a Rough Edge tutorial by @feltedbutton
How to Surface Crochet @JBHCrochet
How to Work Tunisian Simple Stitches in the Round via @crochetme
How to Crochet a Button @mooglyblog
Crochet Motifs
How to Crochet Granny Squares (my own tutorial on Craftsy); also see how to read crochet granny square charts by Little Treasures
How to crochet a mitered square @rescuedpaw
How to Crochet a Flat Circle by @sherjenks of Fly the Coop Crafts. You might also like 4 ways to start a crochet circle from Illuminate Crochet.
Crochet Projects
How to Make a Vintage-Style Crochet Tea Cozy by @meetmeatmikes who also shares a different style of granny square tea cosy based on just one granny square
Ruffled crochet doily tutorial @becraftsy
How to turn a crochet doily into a lace bowl by @amiguruMEI via @staronline
Crochet Flower Heart-Shaped Wreath Tutorial free from Attic24
How to crochet a hanging heart pouch made of circles! from [email protected]
How to crochet around flat cards @crochetspot; have you seen my post on crochet + paper ideas?
How to crochet a heart garland video tutorial by @twinkiechan
How to make a T-shirt yarn crochet basket from Fly The Coop Crafts
How to upcycle plastic bottles with crochet to make hanging pen holders
Yarn
How to Make T-shirt Yarn Baker's Twine from bilingual blog Nur Noch via @recyclart
How to Cut Plastic Packaging into Plarn via My Recycled Bags
How to Use a Yarn Swift and Winder @mooglyblog
Blog Tutorials
How to Photograph Crochet via @repeatcrafterme
Other Craft Tutorials
How to Cross Stitch on Crochet @bhookedcrochet
Yarn lollipops tutorial from @repeatcrafterme
How to Dip Dye Rope Baskets @molliemakes
How to sew a John Rocha fashion crochet collar using ready-made crochet trim
How to Sew a Fabric Backing to a Knit (or crochet) Pillow Front via @kristinnicholas