Last year I did a profile of crochet metal artist Ruth Asawa. I'm thinking about her work again now because this amazing San Francisco artist passed away a month ago at the age of 87. Just before I heard about her death I had reserved a book about her from the San Francisco Public Library after seeing a recommendation for it from a friend. I have been devouring this book, called The Sculpture of Ruth Asawa: Contours in the Air
, all month; it is rich in both images and information.
Ruth Asawa Describes Her Crochet Metal Technique
Much of Asawa's work is on view to the public here in San Francisco, including some of her crochet wire sculptures. I have seen the ones that are at the DeYoung museum. They're beautiful but you can't always tell that they are crochet if you're not familiar with her process, just because it's tough to see those stitches sometimes when they are uniquely done in metalwork.
In The Sculpture of Ruth Asawa, she describes how she was originally working in 2d drawing and painting art, "but in the spring of 1948 she decided to try sculpture". She had gone down to spend a summer in Mexico teaching village children how to draw and while she was there she had learned to crochet wire baskets from the locals. She then returned to where she was studying at Black Mountain and proposed a project to make wire crochet sculptures, something that it seems no one else was doing in art at the time, with the exception perhaps of Arline Fisch.
In the book, she explains "the crochet loop" she had learned, saying that it:
"is like an 'e'. You begin by looping a wire around a wooden dowel, then making a string of e's, always making the same e loop. You can make different sized loops depending on the weight of the wire and the size of the dowel. You can loop tight and narrow or more open and loose. The materials are simple. You can use bailing wire, copper wire, brass wire. We used whatever we had. It's an amazing technique."
She goes on to say:
"All my wire sculptures are made from the same loop. And there's only one way to do it. The idea is to do it simply, and you end up with a shape. That shape comes out working with the wire. You don't think ahead of time, "this is what I want". You work on it as you go along. You make the line, a two-dimensional line, then you go into space, and you have a three-dimensional piece. It's like a drawing in space."
See more photos of Ruth's crochet metal sculptures in this post.
Getting Crochet Art Into Museums
Ruth was really at the forefront of an art movement that came to a peak in the 1970s, a movement that combined art and craft in new ways and forced the fine art world to accept the blurring of these lines. It wasn't easy. From the book:
"In the spring of 1950, she submitted a looped-wire piece to the San Francisco Art Association Annual at the San Francisco Museum of Art, located then in the Veteran's Building. She was delighted to receive a letter form the Association saying that her piece was accepted, her first participation in a San Francisco art show. Then she received a second letter saying, regrettably, it was a clerical mistake. There was some question, it seems, about it being a sculpture since it did not stand on its own. To suggest to a former student of free-thinking Black Mountain that Ruth's piece did not qualify as a sculpture was not acceptable. Al (her husband) called Grace McMann Morley, then the first director of the San Francisco Museum, and complained. Ms. Morley looked at the piece and agreed. Ruth was in the show."
Ruth Asawa's Home
The book has some beautiful images of Ruth's crochet sculptures hanging in her home. How inspiring!
Ruth at Work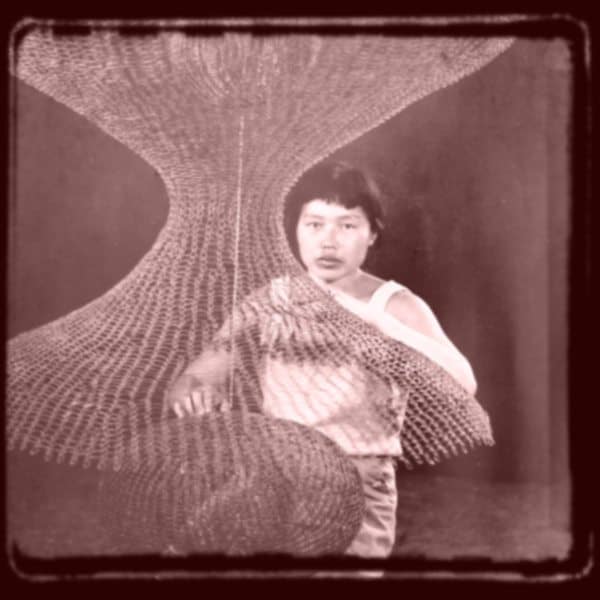 I love seeing the photos of Ruth Asawa at work on her crochet sculptures. There are many more in the book, including some that show her laying down on a bed and doing her wire crochet. Amazing.