Back in July we looked at 25 new crochet accessories patterns but there are already so many more new patterns that it's time for another roundup. Here you'll find the most recent crochet patterns for bags, hand warmers, shoes, jewelry and other accessories.
Crochet Patterns for Purses and Bags
Crochet beach backpack pattern for sale @gleefulthings. This beautiful ombre crochet backpack is designed for the beach but it's convenient for carrying so many things. Make it autumn colors and take it to classes or on vacations.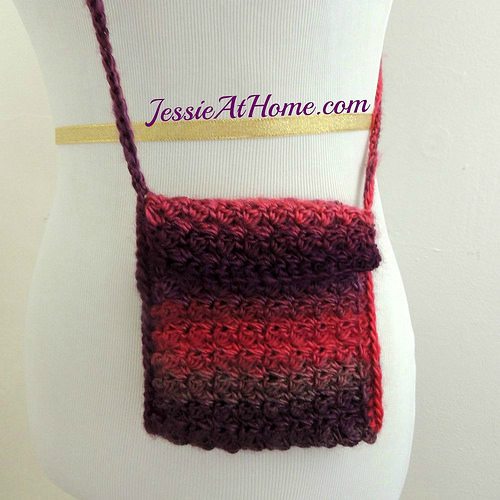 Quick little bag crochet pattern free from Jessie At Home. This is the kind of quick purse pattern that works up great as gifts for girls of all ages.
Crochet messenger bag free pattern from Fiber Flux, a simple design that has a terrifically modern look
Crochet purse pattern for sale from Outstanding Crochet – a vintage-inspired floral purse that is feminine and flirty
Bobble crochet tote bag free pattern from Love Crochet – this big bag would be great for storage in the home as well as for carrying projects with you on the go.
Crochet squares tote bag free pattern from Fiber Flux – a tote bag variation of the great messenger bag shown above. This highlights how color changes can impact the style of the finished purse.
Yoga mat tote bag free crochet pattern by @danyelpink; see more crochet for yoga lovers here
Cordial yarn crochet market bag free pattern @bhookedcrochet – a terrific option if you're looking for a lacy / openwork tote bag.
Basketweave crochet messenger bag free pattern from @ucrafter – a fun stitch for a less-lacy design!
Crochet market bag free pattern from Rescued Paw – the neutral colors here are a perfect contemporary design
Crochet squares festival-inspired purse pattern free from @CraftCreateUK – great for people looking for a colorful crochet pattern although of course adaptable to a more subdued palette as well
Girls' crochet purse pattern free from @COTCcrochet
Summer bag crochet pattern for sale from @JBHcrochet, featuring terrific graphic design
Crochet bow clutch free purse pattern from Cream of the Crop Crochet via Stitchin' Mommy
Chunky striped bag free crochet pattern from Moogly. She also has a good tutorial for how to crochet custom bag handles.
Plarn crochet purse pattern free from My Recycled Bags; turn plastic bags into a new reusable crochet bag!
Crochet coin purse free pattern from String Theory Crochet; what a great way to use just a small amount of yarn to make a beautiful item!
Crochet Shoes
Crochet tribal moccasin free tutorial from Just be Crafty using free crochet pattern from Umme Yusuf
Crochet slippers free pattern from @fiberflux – perfect for a gift for the whole family!
Chloe Slippers crochet pattern for sale from Mamachee
Crocodile Stitch crochet sandals pattern for sale from Bonita Patterns
Barefoot sandals crochet pattern for sale from Little Treasures. Tip: wear them with open shoes – flats or heels – for a unique design that can go anywhere.
Crochet Jewelry Patterns
Bamboo lace crochet necklace (or headband) free pattern @fiberflux
Romantic Mori Lariat crochet pattern for sale from Maya of Little Treasures
Crochet pearl flower brooch free pattern from The Woolnest
Matching crochet bracelet and necklace free patterns from The Little Treasures
Crochet bracelet pattern for sale from Outstanding Crochet
Crochet braid bracelet free pattern (with bonuses if you donate to get the paid pdf) from @planetjune
Pink crochet bracelet free pattern from @annemariesblog
Beachy beaded crochet earrings free pattern from @fiberflux
Pineapple beaded crochet earrings free pattern @crochetspot – another great example here of beads and thread in crochet jewelry
Pineapple motif crochet earrings pattern for sale from The Little Treasures
Crochet cuff pattern for sale from Little Treasures
Half doily crochet necklace free pattern from The Little Treasures
Vintage Irish Crochet Collar pattern for sale via Outstanding Crochet
Sunflower brooch crochet pattern for sale from Outstanding Crochet
Crochet Headband Patterns
Crochet headband free pattern from Hopeful Honey
Ear warmer free crochet pattern from Rescued Paw
Gold crochet headband free pattern from Mama In a Stitch
Crochet star stitch headband free pattern from Hopeful Honey
Crochet Accessories for the Arms and Legs
Fingerless mitts free crochet pattern from The Shtick I Do
Boot cuffs free crochet pattern via LoveCrochet
Boho granny square fingerless gloves free crochet pattern from Crochet in Paternoster
Crochet handwarmers free pattern from Rescued Paw
3-ovals wrist warmers free crochet pattern from homemade@myplace
Wave stitch fingerless gloves free crochet pattern from Meladora's Creations
Rock Star Mitts free crochet pattern by @jessie_athome
Simple shells toddler legwarmers free crochet pattern by Chaleur Life via My Hobby is Crochet
And Other Crochet Accessories Patterns
Crochet belt free pattern from @fiberflux
Crochet bow tie free pattern @annemariesblog