A big thanks to Jessie At Home for being such a great sponsor of Crochet Concupiscence. (Do you want to be a sponsor? Here's the info!) Jessie steadily puts out new crochet patterns, including many free crochet patterns, so I've got a new roundup of them for you here today.
Did you know Jessie has more than 130 free crochet patterns?!
5 MCAL/ MKAL Crochet Necklace Patterns
Jessie recently launched a great project called the Twisted and Twirled MCAL and MKAL. Each Monday, she publishes a new free pattern (alternating between crochet and knit weekly) for a new "twisted and twirled" necklace. Here are the five crochet necklace patterns in that series:
Adder's Fork crochet necklace free pattern
Dragon Collar crochet necklace free pattern
Twisted Spirit crochet necklace free pattern
Meshing Around crochet necklace free pattern
New Crochet Cowl Patterns
Jessie has created several great new patterns for crochet cowls:
Mommy and Me Infinite Twilight Cowls free crochet pattern
Chevron cowl free crochet pattern
Fall cowgirl free crochet cowl pattern. Jessie says, "Fall Cowgirl is a cowl with a small shawl attached." She also notes that this is a crochet version of one of her popular knit patterns.
Linen stitch mobius cowl free crochet pattern
Other New Crochet Patterns:
Rainbow granny square crochet blanket pattern free @redheartyarns by @jessie_athome
Rock Star Mitts free crochet pattern
All chained up free crochet scarf pattern
Crochet water bottle cozy free pattern; see other crochet water bottle cozies here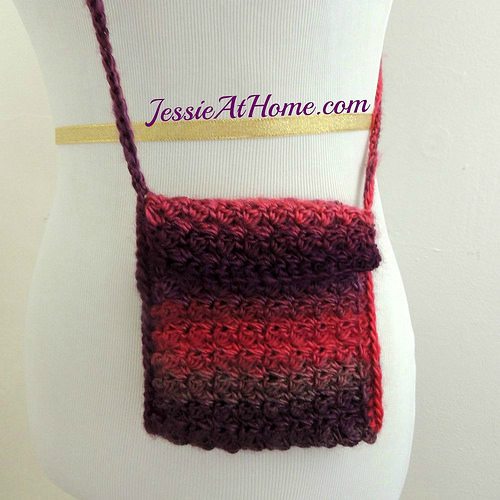 Quick little bag crochet pattern – a free pattern made with Unforgettable yarn and a size I hook, designed to hold your wallet, keys and other small items.
Bread basket free crochet pattern
Crochet star trivet free pattern
Crochet Designer Roundups
Jessie does a great job celebrating the work and patterns of other great crochet designers. Here are five designers she showcased recently:
Beatrice Ryan Designs, which has the Amazing Grace Free Crochet Pattern Series dedicated to breast cancer awareness
Kathy of Elk Studio. Jessie says, "Her designs often show her country roots, making them feel very warm and comforting. She uses wonderful stitch patterns to bring interest to her designs."
Kim Guzman – Jessie calls her the Tunisian Crochet Queen
Kira K Designs – "a line of original knitting and crochet patterns with a streamlined and eminently wearable aesthetic"
Andee Graves who was Jessie's CGOA mentor
And Something Special
Jessie At Home shared Awesome Breastforms, which "are created by a group of women who have come together for the singular purpose of crocheting or knitting handmade prosthetics for women who have had mastectomy or lumpectomy surgery".