Last week was super busy with puppy care so I didn't get a chance to get link love up on Saturday … that means that this week I've got a full two weeks worth of new links for you filled with crochet patterns, tutorials, news, tips and more. Enjoy!
GIVEAWAY
The wonderful Little Treasures has launched a beautiful new collection of Little Miss Jewelry for girls. And there's a GIVEAWAY that closes tomorrow so get your entries in quick for a chance to win one of the three giveaway items.
See the whole new collection here.
Sponsor Love
All 5 free crochet necklace patterns from the Jessie At Home Twisted and Twirled MCAL are now complete. Find them, along with 11 other crochet patterns this designer has released recently, in the roundup here
Something Special: Crochet for Charity!
Prayer Shawls for Rush Charity Drive
Crochet Quote
Jamie over at Mommy Hungry taught the kiddos how to crochet. She shared, in part:
"There is something very touching about passing down a treasured skill/hobby to your kids. Sis and I had baking; Bud and I tried juggling. Mama has drawn with them both. And I think we've passed on our love of cats, musicals, reading, and travel. But a skill is more concrete. It's a little bit of the future right here and now, though that doesn't quite explain it; a touch of immortality, perhaps? I hadn't realized that so clearly."
Crochet Art
Kate Jenkins had her crochet art featured in Homespun Magazine
Crochet artist London Kaye put up this Wes Anderson inspired yarnbomb in Bushwick and caused huge gentrification controversy!
ChiliPhilly's food-themed crochet hat creations will go on display in the Arts, Crafts and Cookery Pavilion at this year's Royal Melbourne Show
That Girl Who Crochets shared yarnbombing Byron Bay
Crochet Books and Magazines
Lazy Daisy Jones is working on Edward's Menagerie – Birds
Modern Granny Square Crochet and More
35 New Big Hook Crochet Patterns (book review)
Apparently people are stealing Crochet World magazine from libraries
Crochet Health
The Healing Features of Crochet Pocket Prayer Shawls
Michelle Walden began to crochet items such as animals, scarves, hats and doorstops in November 2013 when she had to take time off work due to a problem with her hip. She says, "While I'm waiting for my operation I thought it would be a nice idea to give something back to friends and family, as well as cheer others up."
"For Denise Gagné, crocheting isn't just a pleasurable pastime. Hand-stitching each of the items she currently has on display at the La Ronde gallery helped her manage severe arthritis." She says, "It's keeping me healthy. Before the medication I was given, I could hardly move, could hardly do anything. Now, I crochet a lot and it's a good therapy for me; its a mental, emotional and physical therapy."
Dearest Debi wrote a bit about her own experience with depression and shared this new free crochet pattern for a mandala to honor Marinke. She wrote about the difficulty of having things stolen from her, including her online patterns, and about the care we should each take when leaving blog comments, having awareness about their impact.
Crochet Fashion
Crochet and fabric dress from Alberta Feretti via Outstanding Crochet
10 Types of Unique Crochet Dresses
Crochet Patterns
Bear hooded cardigan crochet pattern for sale from Mon Petit Violon
Lacy Vintage Bonnet, Free Crochet Pattern via Lacy Crochet
Oversized crochet cowl pattern for sale via LoveCrochet
Crochet flower wrap pattern for sale from Outstanding Crochet
South Haven Slouch free crochet hat pattern from Little Monkeys Crochet
Crochet bow clutch free purse pattern from Cream of the Crop Crochet via Stitchin' Mommy
Convertible rainbow cowl hat crochet pattern for sale from ACCROchet
Crochet hat free pattern from Underground Crafter; she offers tutorials for the fpdc and hdc2tog that are used in this hat
Crochet hat free pattern from Moogly
Crochet beanie free pattern from Rescued Paw
Crochet puff stitch hat free pattern for babies/ toddlers from @bhookedcrochet
Crochet flowers scrap scarf free pattern from Atty's
Crochet flower free pattern from Little Treasures, showing instructions for how to read the pattern from a chart
Flower square crochet pattern free from RedAgape
Crochet pearl flower brooch free pattern from The Woolnest
Flower granny square free crochet pattern from Stitch Craft Create
Boho granny square fingerless gloves free crochet pattern from Crochet in Paternoster
Crochet cowl free pattern from Marly Bird. I love that it not only uses front and back post stitches but also front and back cluster stitches!
Crochet squares tote bag free pattern from Fiber Flux
Crochet handwarmers free pattern from Rescued Paw
Crochet kids' slippers free pattern from Moogly
Beaded fringe triangular shawl free crochet pattern from Undeniable Glitter
Chunky cowl free crochet pattern @fiberflux
Textured waves scarf free crochet pattern from jessie_athome
Shawl free crochet pattern from @SCCelinaLane
Cabled bear hat pattern for sale from Melody's Makings, available in both knit and crochet versions
Crochet dishcloths free pattern from Rescued Paw
Crochet messenger bag free pattern from Fiber Flux
Striped crochet hat free pattern from String Theory Crochet
Orange crochet potholders free pattern from My Recycled Bags
Ear warmer free crochet pattern from Rescued Paw
Pumpkin Spice fingerless mittens crochet pattern for sale form ACCROchet
Desert in Bloom crochet blanket pattern for sale from The Lazy Hobbyhopper
Sunflower brooch crochet pattern for sale from Outstanding Crochet
Bumblebee crochet pattern free from Attic24
Strawflower hexagon tote free crochet pattern from Fiber Flux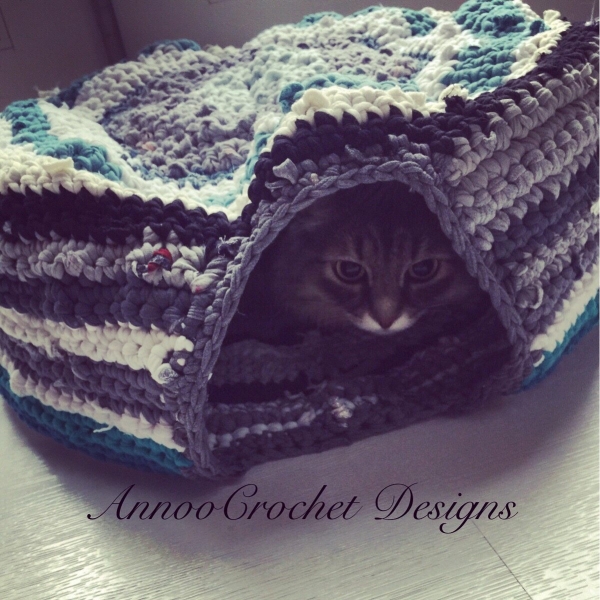 T-shirt yarn crochet pet bed from Annoo's Crochet World; see another option here
10 free crochet snowflake rock patterns from Snowcatcher
10 free teddy bear crochet patterns including this one from Crafty Hanako
Crochet Tutorials
How to Entrelac Crochet at Craftsy
How to crochet a reverse slip knot, an alternative to the magic circle, from Recrochetions
Foundation double crochet photo tutorial from Petals to Picots
How to half double crochet from Illuminate Crochet
How to crochet linen stitch from Fiber Flux
How to crochet split bullion stitch from Moogly
How to size a crochet hat from bhookedcrochet
How to Add Faces to Your Amigurumi: Simple Eyes with Felt and French Knots from Squirrel Picnic
How to use crochet stitch markers @freshstitches
Five flowers crochet necklace tutorial from Craftbits
Upcycled t-shirt dress for kids – crochet tutorial @jessie_athome
Crochet Tips
3 tips for making the biggest impact with charity crochet (+ ten charity crochet patterns) via @Ucrafter
Free printable hat sizing chart from Petals to Picots
Crochet News
New app: "Play the role of a yarn-made boy who creates cloning machines to launch a world invasion from space!" See other crochet and yarn apps here.
Love Crochet reviewed different crochet hooks; this is the Pony Easy Grip
"Traditionally associated with homemaking and "women's work," the textile arts have been subversively co-opted by feminist artists since the 1970s. More recently, the DIY and maker movements have seen a resurgence of fiber-based arts, as well as a blurring of gender affiliation." – LGBTQ Fiber Arts Group
Women knit and crochet prayer shawl for Pope
Yarn Things
How to Make T-shirt Yarn from Annoo's Crochet World
Little Things Blogged shared yarn storage ideas from 5 amazing craft spaces including this one from Wood and Wool Stool
Red Heart shares what to do if you discover problems in their yarn
Other Crafty Stuff
Six fun ways to repurpose vintage handkerchiefs from Stitch Craft Create
Embroidered necklace DIY from Little Treasures
Knithacker shares: "Yoon Ji Seon creates self-portraits by intricately stitching photographs with a sewing machine."
Paper sculptures by Calvin Nicholls – wow! @fubiz
Organic sculptures made from pencils via Fubiz
Special Thanks
To Crochet Planet for interviewing me about all things crochet and translating the responses into Italian for a bilingual blog post!