In this post you'll find links to the best of the best in crochet art, crochet patterns, crochet fashion from all around the web this week.
Something Special
The Amara Interior Blog Awards are sharing 589 blogs in 15 different categories. Two crochet blogs that I follow are nominated for awards. Lazy Daisy Jones is nominated in Best DIY and Craft Blogs and IDA Interior Lifestyle is nominated in Best European Interiors. Take a moment to pop over (just follow each of their two links above) and give them a vote (just enter your name and email for each of them) to celebrate crochet in interiors! You might also find that browsing the site introduces you to some great new blogs.
Crochet Art
Wink's sister-in-law Christina over at A Spoonful Of Yarn recreated her crochet mandalas and turned them into squares for a special blanket. Love this. Wonderful tribute to her. Christina is also sharing individual posts with the memories related to each mandala.
Crochetbug is working on her next state fair crochet art project. I always love her entries!
Crochet, knit and embroidery computer message art by artist Kerry Campbell via Knithacker; it makes me think of the awesome crochet QR codes I've reviewed in the past
Crochet artist Kate Jenkins was featured in the Korean issue of NYLON magazine
"Two yellow woolly bikes are on display at the Musgrave monument in Penrith as the local community gets ready to celebrate the Aviva Tour of Britain coming to Eden District on 10 September 2015."
Crochet Books
Caring Crochet: 18 Heartfelt Projects to Let Someone Know You Care
, crochet book review by Pam Mackenzie
@gocrochet interviewed Mary Jane Hall about Colorful Crochet Lace
Crochet Fashion
Illuminate Crochet shared the beautiful wedding crochet that her friend Rebecca made
Ralph Lauren crochet shorts via Outstanding Crochet; more crochet shorts here
Crochet Designers
@jessie_athome did a lovely crochet designer roundup of Kim Guzman
Crochet Patterns
Crochet flower shawl free pattern from Atty's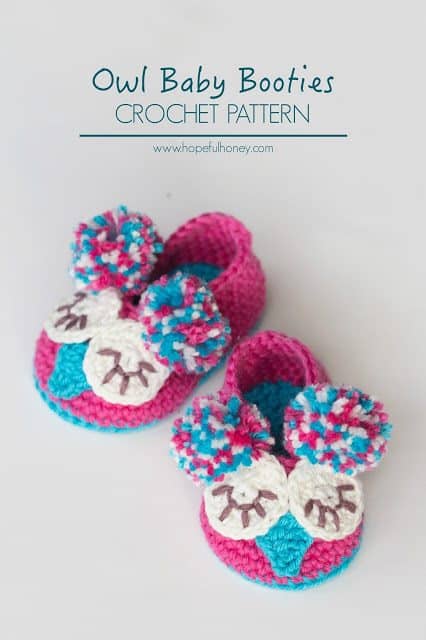 Owl baby booties free crochet pattern from Hopeful Honey
Striped baby set patterns available in both knit and crochet for sale from Melody's Makings
Charlie Crochet Cowl pattern for sale from Rescued Paw. The great buttons give this cowl a terrific rustic wintery feeling. She also shared the Jamie Cowl free pattern this week, which is another great choice.
Square in a Square in a Square Granny Square updated free crochet pattern from Sue Pinner
Wave Stitch crochet slouch hat free pattern from Meladora's Creations
iPad crochet cozy free pattern from Little Monkeys Crochet
Pink crochet bracelet free pattern from @annemariesblog
Crochet Tutorials
How to Crochet Picot Stitch, my tutorial on Craftsy
How to Double Crochet Two Together (DC2tog) @fiberflux
How to Crochet Popcorn Stitch @crochetkitten; fun photo above by the awesome oliviartcreations on Instagram
Crochet flower motif art tutorial from Wallflower Gal
Crochet News and Info
@UCrafter did an interview with Project Night Night, a charity that provides gift bags to homeless children and which accepts handmade blankets for those
One Man Crochet shared his crochet hammock that he takes camping with him; see more crochet hammocks here
Exploring Vintage Crochet and Craft History
10 Things Not to Say to a Crocheter from Top Crochet Patterns. Also check out Love Crochet's animated images for 5 Crochet Problems; I love what they chose for "losing your hooks".
Award-winning crochet from FFA Students. "There would be 40 to 50 kids in there sometimes, sitting in my classroom crocheting. We're not just talking girls. We had football players, honor students, kids from all walks of life. They would be watching an old movie and crocheting."
Yarn Things
Top 10 Fingering Weight and Lace Weight Yarns @Craftsy; pictured here is Rowan Fine Lace
How to Dye Yarn in a Crock Pot from Over the Moon
Other Crafty Stuff
Eek! Phyllis Alberici shared an article about knitting needle injuries. I've done a similar article in the past on crochet injuries.