photo via louloudeane
Whether you're just learning how to crochet or seeking to explore something new in the craft, there are countless terrific tutorials available around the web. I previously rounded up 45 crochet tutorials that I loved, plus another dozen tutorials specifically for Tunisian crochet, and of course I have my own page of tutorials here. But bloggers are always coming out with great new tutorials so I have another roundup today of more than 75 new 2015 crochet tutorials. Plus you'll find an additional small set of other craft tutorials at the end of this post in case you want to expand a bit beyond crochet.
Basic Crochet Tutorials
How to Crochet Foundation Crochet Stitches: FSC, FHDC, FDC by @jessie_athome. You can also check out another version of how to crochet foundation stitches @bhookedcrochet and my own version of foundation single crochet only @becraftsy
How to Crochet around a Foundation Chain @allaboutami
How to split single crochet – video over at Crochet! Magazine via @gocrochet
How to crochet linked double crochet stitch @menglar
How to crochet granny stitch from Cream of the Crop Crochet
How to FPDC (+ 5 patterns for crochet post stitches)
How to crochet bobble stitch @bhookedcrochet
How to crochet puff stitch @crochetkitten
How to count the number of stitches in a round @freshstitches
How to check your crochet gauge from Posh Patterns; also see all about crochet gauge from @elkstudio_
How to invisible decrease crochet from Little Cosy Things
How to invisible join crochet @bhookedcrochet
How to change yarn colors in crochet via @websyarnstore
4 ways to join a new color of yarn @happily_hooked
How to frog your crochet from @artlikebread on @crochetspot
Inline vs Tapered crochet hook types via @planetjune. Also: Moogly asked readers how to hold a crochet hook and got tons of different answers and photos.
Advanced Crochet Stitch Tutorials
Ultimate Beginner's Guide to Broomstick Lace Crochet @redheartyarns
How to crochet double treble stitch via @fiberflux; more about this and other tall stitches here
How to crochet bullion stitch @bhookedcrochet
How to crochet catherine wheel by @UCrafter via Stitch and Unwind
Twists and Turns Crochet Stitch by @stitchin_mommy
How to crochet limpet stitch @crochetme
How to crochet the crossed double crochets stitch via @olgalacycrochet
How to crochet primrose stitch by @RescuedPaw
How to crochet larksfoot stitch from Little Treasures
How to crochet lacy ripple stitch from @olgalacycrochet
How to crochet spider stitch @jessie_athome
How to crochet a six stitch cable from Melody's Makings
How to crochet pom pom edge from Once Upon a Pink Moon via @craftgossip
Tunisian Crochet Tutorials
How to crochet Tunisian bump stitch @crochetme
How to Tunisian Crochet Entrelac @crochetspot
Crochet Techniques
How to starch thread crochet items @happilyhooked. Learn more about thread crochet.
How to start a double crochet row without a turning chain @NYAcrochet
Crochet colorwork tutorial (with info on stranded colorwork vs tapestry crochet colorwork) from @SolRencoret
How to crochet over boning @crochetkitten
Crochet Motifs Tutorials
How to crochet a perfect circle @kpwerker
How to join crochet squares, one option from @spincushions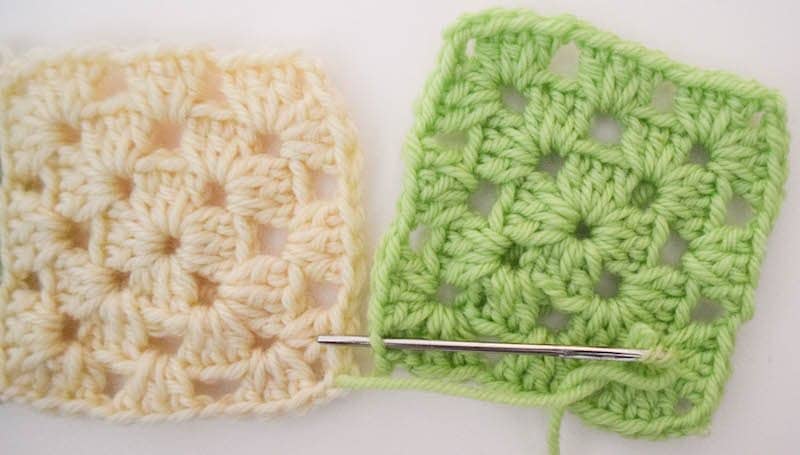 How to join granny squares with mattress stitch @ucrafter
How to invisible join crochet at Happily Hooked
How to turn a granny square into a granny rectangle with blocking via @stitchstory
Tutorial for making a stashbusting crochet scarf @spincushions
Crochet Project Tutorials
How to crochet jewelry clasps @crochetkitten
Crochet necklace tutorial @onemancrochet
Floral crochet wall art tutorial from The Little Treasures
How to crochet a curb necklace from @bhookedcrochet
Crochet lampshade photo tutorial from Lazy Daisy Jones
Crochet lampshade tutorial from Cats Rockin
How to Crochet a Mesh Potato Sack into a Kitchen Scrubbie @creativejmom
How to crochet cord covers for headphones and cables from @NYACrochet; also see the Rainbow crochet phone cord tutorial from @JBHcrochet
How to crochet a blanket sweater for your dog from Little Cosy Things
How to crochet a basket with rope from @EstherMChandler
Vintage-inspired crochet clothes hanger tutorial from My Rose Valley
How to add a felt sole to crochet slippers from Mamachee
How to make a granny hexi crochet butterfly @fiberflux
How to make a square crochet envelope from Hello Hart
Reversible rainbow crochet cushion pattern/ tutorial @holly_pips
How to upcycle containers with crochet granny squares from Hello Hart
Other Crochet Tutorials
How to host a crochet giving circle by @artlikebread on @crochetspot
How to add opposable limbs to amigurumi @crochetkitten
How to Make Your Amigurumi's Head Turn @squirrelpicnic
How to add faces to your amigurumi with satin stitch embroidery via @squirrelpicnic
How to close the hole in a crochet beanie worked bottom up via @elkstudio_
How to make a crochet squares blocking (docking) station via @repeatcrafterme
How to wet block crocheted lace with wires by @artlikebread on @crochetspot
Tips for measuring gauge in crochet swatches from Happily Hooked
How to make yarn tassels for knit or crochet @jessie_athome
How to read yarn labels from Stitch and Unwind
How to calculate yarn length by weight from @artlikebread on @crochetspot
How to DIY multicolor yarn from your yarn scraps from Crochetology
How to use a stitch pattern to make crochet dresses from Crochetology
Other Crafty Tutorials
How to make 6 common macrame knots and a free macrame wall hanging pattern @redheartyarns
Rope coil doormat DIY tutorial from @designsponge
Pom Pom Owl Art DIY from @repeatcrafterme
DIY pom pom mobile tutorial @habitulhomebody
How to make a crochet hook from clay via Stitch and Unwind
How to make a fabric flower brooch @molliemakes
How to Dye Textiles in a Front Loading Washing Machine @apttherapy
10 Rug Repurposing ideas from @apttherapy including this rag rug pillow from @make_haus
@CraftSanity Video Tutorial: How to prep and weave a continuous strip of torn fabric