Link love is my way of giving back to the crochet community by highlighting the great work out there each week from crochet bloggers, designers, artists and more. Here are this week's links …
Get your ad featured right here for just $10! Go to my sponsor page and select the Link Love option.
Crochet Art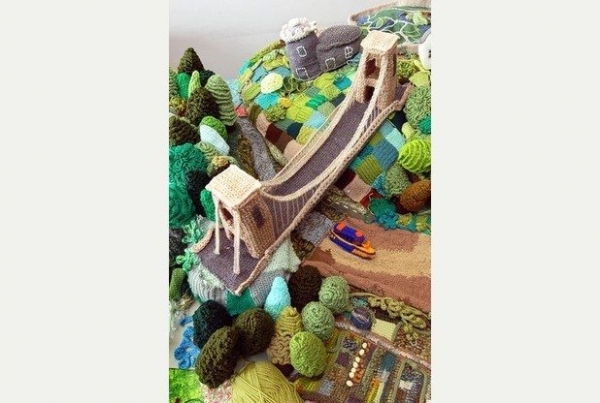 "Bristol's most recognised landmark, reinvented in intricate crochet form, will be appearing in Clifton Village to mark 150 years of Brunel's famous suspension bridge."
Yarnbombing art on TV this week from @YarnbombingLA (via their newsletter)
"Coded messages are hidden in the works of Professor Eid, fastened together in a futuristic funfair. Throughout, the threads of Alexandria's past evident."
Eye Pad crochet art from String Theory Crochet
Crochet Books
New crochet jewelry ebook from @stitchstory
Maki Oomachi, author of Simply Adorable Crochet, has a new book out called Cute Critter Crochet that I reviewed this week on About.com. It was also reviewed this week by @crochetkween.
@stitchlily mentioned a new book: The Irish Countrywomen's Association Book of Crafts: 40 projects to make at home
Crochet baby patterns free ebook from @redheartyarns
Crochet Designers
Little Treasures interviewed crochet designer Darleen Hopkins
ReveDreams shared her first experiences with wire crochet
Crochet Fashion
Irish Crochet Sweater from Valentino via Outstanding Crochet
Crochet Tassel Cardigan from Choies
Twisted Crochet Headband by KLJT
Fair Trade Crochet Leaf Necklace by Kelli Ronci
Crochet Patterns
Crochet square free pattern from Hopeful Honey for the Blog Hop CAL
Crochet flower square free pattern from Little Monkeys Crochet also for the Blog Hop CAL
Crochet Cowl free pattern from @SCCelinaLane
Cube infinity scarf free crochet pattern from Grow Creative
Fingerless gloves free crochet pattern from creJJTion
5 Irish Crochet flower patterns for sale from Irish Crochet Lab
Bobble crochet flower free pattern from @rescuedpaw
Crochet Lady Who Lunches Hat and Sweater Pattern and Matching Dog Sweater, one of 12 knit and crochet dog pattern sets from @lionbrandyarn
Star Stitch crochet cowl and capelet pattern for sale from @vashtirama
Crochet cowl free pattern from @fiberflux
Long double crochet cowl for toddler free pattern from @allaboutami
Thick and thin crochet cocoon pattern free from RAKJpatterns
Newborn textured newsboy crochet hat free pattern from @The_Dainty_Daisy
Helicopter slouchy beanie free crochet pattern from Mon Petit Four
Structured crochet cowl pattern for sale from @UnravelMeDesign
Shawlini free crochet pattern from Crochetbird
Crochet headband pattern free from allicrafts
Mesh crochet shopper bag free pattern from Elisabeth Andree
Crochet market bag free pattern from @madewithloops
Crochet slippers free pattern from @myhobbyiscroche
Crochet reindeer pouch free pattern from @repeatcrafterme
Crochet Christmas Coasters free pattern from @fiberflux for Skip to My Lou (@cindyhopper)
Crochet snowman ornament free pattern from @redheartyarns
Christmas tree garland free crochet pattern from @crochetdynamite
Crochet Tutorials
How to Crochet a Circle (math and all) via @CrochetKitten
How to crochet a bow using a swatch from Illuminate Crochet
How To Read Round Crochet Charts from Little Treasures
Crochet Tips
@crochetme shared some tips for Tunisian crochet stripes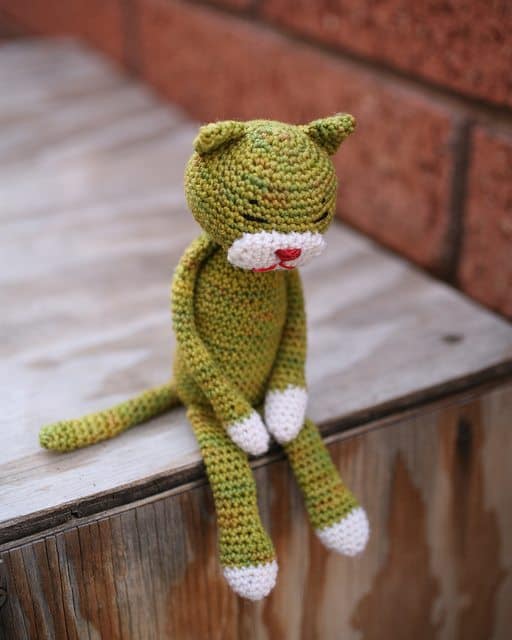 Crochetology shared tips for making the Amineko crochet cat
Crochet News
BellaCrochet has created a new Facebook group for people who love thread crochet
50 year old handmade crochet plastic bags rug stands test of time
Yarn Stuff
@redheartyarns describes the difference between yarn balls and skeins
@freshstitches has rainbow yarn bundles for sale
@acreativebeing shared her love of Sheepjes Stonewashed yarn
Other Crafty Things
@molliemakes shared a roundup of craft book gift ideas
@LeannePrain (author of Strange Material) did a book review of Common Threads: Weaving Community through Collaborative Eco-Art
by Sharon Kallis
Inspiration: Embroidery on Patterned Fabric from @creativejmom
Printable Gift Tags for crocheters from Little Monkeys Crochet
Special Thanks