Link love is my way of giving back to the crochet community by highlighting the great work out there each week from crochet bloggers, designers, artists and more. Here are this week's links …
Do you enjoy link love? It takes a lot of hard work. Donations appreciated to keep it going. Every bit helps.
Something Special
The 5th Annual Knit and Crochet Blogging Week by @Eskimimi is coming up in a couple weeks, starting May 12. I'll be joining in with #KCBW5. I've also just joined in Red Berry Crochet's 52 Week Crochet Blogging Challenge.
Crochet Quote
"I love how crochet unites people from many different places. I'm not just talking about geographic locations. Crochet unites people of all different ages and backgrounds, too. I've met and connected with so many amazing people through crochet who I never would have known otherwise. There are so many talented people out there! It's incredible. I love seeing what others are creating. It's like a positive escalator of mutual passion that lifts all of us up." – Illuminate Crochet who shared the work of Carol Wolf this week
Crochet Art
Crochet Fruit and Veg by L is for Love; reminds me of these yummy food crochet artists
Felted, embroidered rocks for sale from crochet artist Emily Barletta
Crochet and Craft Books
Mommy & Me Crocheted Hats: 30 Fun & Stylish Designs for Kids of All Ages
is on its book tour and had a number of reviews including @CrochetWithDee and Not Your Granny's Crochet
@crochetme is offering a free Tunisian eBook, 7 Free Tunisian Crochet Patterns Plus Tips on Basic Tunisian Crochet Stitches and How to Tunisian Crochet
@crochetkween reviewed The Big Book of Crochet Stitches: Fabulous Fans, Pretty Picots, Clever Clusters and a Whole Lot More
by Jean Leinhauser and Rita Weiss
@foxslane reviewed Sew Together Grow Together by Trixi Symonds of Coloured Buttons
Emma Lamb reviewed My Rag Doll: 11 Dolls with Clothes and Accessories to Sew
by Corinne Crasbercu as part of its @CraftCreateUK blog hop
Crochet Fashion
Outstanding Crochet shared this Oscar de la Renta crochet dress
@vogueknitting shares a sneak peak of their Crochet Fashion issue; congrats to @elevenhandmade who points out what an honor it is to be published in Vogue next to Kaffe Fassett
People Who Crochet
Ada Setser has been crocheting blankets for 70+ years!
Mary Rauch only started crocheting 2 years ago but it's important in her life. Despite having macular degeneration, she crochets about one shawl per week.
@UCrafter interviewed knitwear designer and photojournalist @GaleZucker and I learned she also used to crochet
@SimplyCrochet_ interviewed Bunny Mummy
Kristi Simpson interviewed CGOA founder @crochetkween
World record marathon crocheter Susie Hewer writes about crocheting to link people with dementia
Crochet Patterns
@KRWknitwear is now selling the crochet socks patterns from her Crochet Rocks Socks
book as individual patterns through Ravelry; she's offering a discount through 4/30/14
Crochet baby elephant hat free pattern by @RepeatCrafterMe on @AllFreeCrochet
Free crochet beret hat pattern from Cats Rockin
Crochet poncho pattern for sale from @sandracherryhrt
Loopy Love crochet booties pattern free from @mooglyblog
Picots and Petals Crochet Mandala Pattern for sale from @winkieflash
Free crochet scarf pattern from @ElkStudio_
Quick and Easy Crochet Flower Pattern via @aboutcrochet
Crochet Cushion CAL via @mypoppetshop
Crochet Tutorials
ReveDreams has put together a terrific complete guide to granny squares; worth bookmarking and sharing! Related: Color n Cream shared a beautiful bsaic granny square tutorial.
How to Crochet on Plastic Canvas on Portuguese crochet blog Falando de Crochet spotted via @craftypod
Linked Double Treble Crochet Stitch via @crochetspot
Crochet griddle stitch by @mooglyblog
Crochet Tips and Info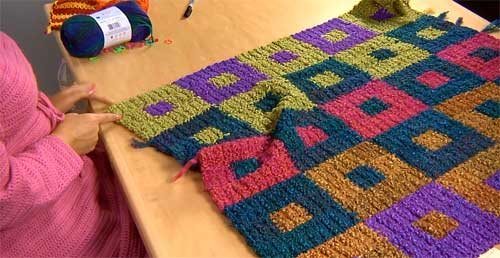 @crochetme shares some ideas from Lily Chin about what you can do with join-as-you-go crochet. I also loved reading about how excited String Theory Crochet was to discover this technique after 50 years of being a crocheter (thanks to an @insidecrochet blanket pattern) … I love how crochet can always offer us something new!
My Rose Valley explains how she used stitch markers to help her when her crochet stitch count was off and her project needed partial frogging.
Crochet News
The Marrakeck Crochet Retreat is happening this week, photo via Wood and Wool Stool; there's another one in the fall. I'm excited for @idalifestyle who is attending and I'm hoping she brings back loads of photos.
@CGOABoard Knit and Crochet Show is scheduled for this July 23-27, 2014, in Manchester, New Hampshire
Other Crafty Things
Knitted comfort food by Jessica Dance and David Sykes via @thebolditalic – reminds me of these yummy crochet comfort food artists
I'm loving the new fabrics from Missoni for their 60th Anniversary (via @domainehome)
And I'm in love with Maryanne Moodie's Tapestry Yarn Art (@houseofmaryanne) via @jealouscurator
@apttherapy asked people – Do You Have a Dedicated Craft Space? I loved reading the answers and it reminded me of the article I did recently @lionbrandyarn about Creating a Sacred Crafting Space
Fabric Covered Photo Mats DIY via @designsponge
Broom Handle Knitting by Will Grimm via @knithacker
Special Thanks
To @YarnBombingLA for accepting my contribution to their Put a Ring On It project
To @OOAKindness for sharing the link to my Happily Hooked magazine feature
To @EmmaVarnamUK on Twitter for saying in response to my request to review her upcoming crochet book: "

You are an absolute legend – so it is a huge privilege to have you look at it"

To Phyllis Serbes on Facebook for highlighting this knitting news article and saying, "Oh, Crochet Concupiscence has been sharing the health benefits of crochet and knitting forever".