Before we move forward into new crochet content for 2014, I wanted to take a look back at all of the amazing things that were shared in crochet last year. We're wrapping up more than a week of those posts now but before we do I wanted to share some of the crochet-related things I published in places other than the Crochet Concupiscence blog in 2013:
I did a guest post series over on Lion Brand Yarn about prayer shawls and was so touched by the many comments that were posted there sharing the power of intentional crafting as both a crafter and as a recipient of a handmade gift. I also did a guest post on the topic of crochet as meditation for @lionbrandyarn; CraftaceousPeriod mentioned the post.
I started writing a new 2013 column in Interweave's Crochet print magazine beginning with Spring 2013. In each issue I interview a regular everyday crocheter to find out what makes him or her special and share their story. I did an article about young crochet artist Ikea Vandross that was published in the Fall 2013 issue of Interweave Crochet. I wrote about Em. And I wrote about Jodie who then shared her experience of doing the interview with me on her blog Lupey Loops.
I have been doing weekly guest posts for the Crochet Today blog, writing about crochet art, crochet bloggers and more. I've also done tutorials for the blog. Some examples of my posts: pirate crochet suggestions for Talk like a Pirate Day, Ultimate Guide to Crocheting for Men, Cross-Crafts for Crocheters, 4 Tips for Choosing a Baby Yarn, tutorials on tall stitches and the Russian Join
Moogly and FreshStitches both interviewed me about my next book project, Hook to Heal
I Was Named a Crochet Hero
And I was Named a Favorite Crochet Blogger
My studio space was featured on Chickiedee Handmade.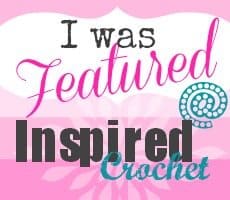 I was interviewed by Inspired Crochet about crochet blogging for the February issue of their digital magazine.
I was named a favorite online crochet resource by Marie of Underground Crafter
Yarn Classes said some nice things about the "wealth of inspiration" on Crochet Concupiscence
Heal My PTSD shared my two-part guest post on crochet for PTSD
Sharon Silverman reviewed Crochet Saved My Life
I was the March featured publisher of the month on IZEA; interviewed here about sponsored tweets
I was quoted by Indiegogo about my experience using their crowdsourcing site for my Hook to Heal project
Bonita Patterns recommended my book, Crochet Saved My Life, in a lovely post about the psychological benefits of crochet. It was great to see all of the comments there from people who have experienced the same benefits that I have!
I received various link mentions in blog posts by Ancora Crafts, String Geekery and Megan's Creative Magic. For example, Ancora Crafts included my post on crochet water bottle holder patterns in an amazing roundup of "healthy water crafts" and also did a book review of Crochet Saved My Life.
I did a guest post on the blog of Crochet Queen Gwen Blakley Kinsler all about crochet art history.
I collaborated with sponsor Lo-Lo by Bar-Maids to do a fun giveaway of yarn-shaped candles over on Facebook.
Nyoki Handmade shared my work on their Nyoki Loves Blogs Pinterest Board.
Boocoos did a book giveaway of Crochet Saved My Life and mentioned my next book Hook to Heal
Yarn Round Hook added my blog to her blogroll
The Sunroom wrote about crochet and health and shared a portion of a post I did on how crochet helped me through depression.
I also did a a guest post about my crochet life over on Made in K-town and a guest post about the Hook to Heal project on MomWithAHook's blog.