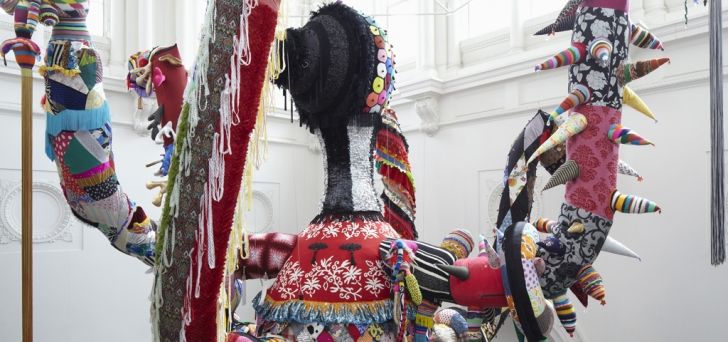 Mary Poppins (detail)
One of the first crochet artists that I profiled on this site was Joana Vasconcelos. She is probably best known for her stunning large works (like pianos) covered in white doilies, although she does other types of fiber art as well. I really like what she does so I was thrilled for her when I recently found out that this summer she's going to have an exhibit at The Château de Versailles. She is the first female artist to be part of this special exhibit series.
This is the fifth year in a row that the Château de Versailles has welcomed a contemporary artist to exhibit work in a series designed to open up a dialogue between that artist and the best artists of the Baroque art period. The first four artists, starting with Jeff Koons, were all male. Vasconcelos is the first female in the series and I'm happy that she'll be using her chance at this exhibit to share crochet sculptures with the audience of the exhibit. Vasconcelos is also the youngest of the artists to exhibit in this series.
Sneak peak of the work, source
According to a press release, Vasconcelos is going to have seventeen works of art in this exhibit. About half of them are work she had previously produced including a crochet and knit sculpture called Mary Poppins that will be located on the stairs at the entrance to the palace. But the other half will be work created especially for this exhibit. I'm especially excited to see this new work.
"Joana does not seek to fit into Versailles, but to confront it. Her work made up of redirections, metamorphoses and displacements of objects, cuts across time and shifts the symbols. Inspired by the mythological and aesthetic force of the palace of Versailles, Joana Vasconcelos questions notions of luxury and beauty by proposing new works especially designed for the palace." – source
The exhibit starts in June so I'll have more info (and hopefully more photos) then. It runs all summer long through September.