Here's what is going on in my world of crochet right now:
iYarny Crochet Chats – Join Me!
Earlier this month I interviewed Cris of Crochet with Cris about the new chat room that's put up on her site called iYarny. Basically this is a 24-hour chat room (video optional) that we crocheters can use to connect with one another at any time. I've been hanging out there periodically (name: CrochetBlogger) and if you see me there you are always welcome to say hi and start a chat. Usually I'm just on text, not video, because I'm on while I'm doing other things online.
Also, there are certain scheduled times when you can expect to be able to join in on a conversation. It's like a virtual crochet meetup. If you're on camera then you should have your crochet in hand but you can join the chat via text chat also. Cris is moderating a group that is on Thursdays at 9 PM EST (6 PM PST). I'm trying to join in regularly on that one although I haven't been too good about it as of yet but Cris will definitely be there for that. And guess what? I'm actually moderating a scheduled time as well. It's going to be on Tuesdays at 2 PM EST (11 AM PST). That starts tomorrow so feel free to come and join me with your crochet work for a nice afternoon chat escape.
Gift from crocheTime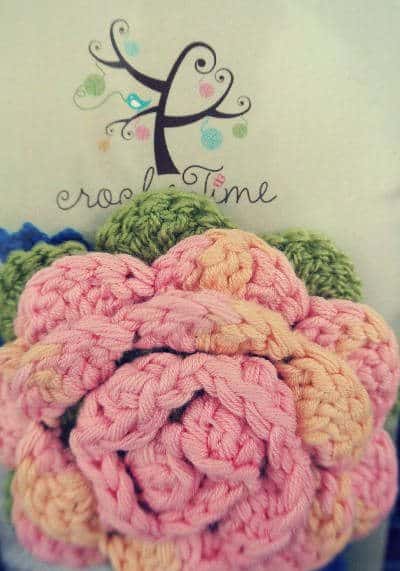 I received this lovely gift in the mail from the wonderful Natasja of crocheTime. If you recognize the name it may be because I've mentioned her multiple times since I love the cool and amazing crochet clocks that she makes. This is a really pretty brooch that she made using the Peony Corsage pattern from Inside Crochet, Issue 14, February 2011. Thanks Natasja – I love it!
Behind on Swaddle and Year of Projects
I'm slow to get started on my own crochet projects in 2012 it seems and slow to keep going on the ones I'd already started last year. I haven't made anything yet this month for my Year of Projects. I also haven't made much progress at all on my crochet art project, Swaddle. I'm crocheting a huge black and white granny square for that to serve as the background for the red squares that make up 40 Variations of a Granny but there's nothing worth showing off on that yet which is why I haven't done another video update. Part of this delay is due to the fact that I'm also behind on my charity project for this month so now that I'm finally starting to crochet that's getting all of my focus. I'm looking forward to getting back on track with some of these other projects in February.
Writing at Handmadeology
A quick note to let you know that I've joined the team over at Handmadeology and I'll be doing posts there about once per week. I kicked it off with a fun post called How to Exploit Hot Men and Sell Crochet on Etsy. What can I say? It gave me an excuse to look at more hot guys in handmade crochet as I put together a fresh Etsy treasury inspired by the ones I previously did of hot guys in crochet cowls and hot guys in crochet hats. :)
This Blog Turned One
I don't know if you already saw Saturday's post but this blog turned one year old last week. It's been a great journey so far and I look forward to lots more crochet fun with you terrific readers. In honor of the blog's birthday I debuted a new Saturday feature in which I take a look back at what was happening on the blog this week one year ago and provide a few related updates.
What's going on in your world of crochet?