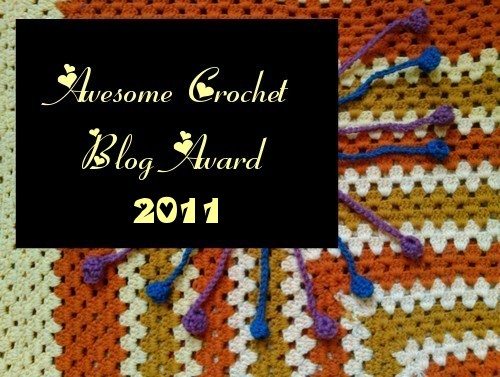 Each day in December is a day of celebration here at Crochet Concupiscence. I'm honoring some of my favorite crochet bloggers with special awards that recognize the most unique and wonderful things about their blogs. Learn more about this project here.
Today is especially special because I'm giving this award to three different blogs. For nearly all of the categories I forced myself to choose a single blog. Otherwise the awards would've really gotten out of hand! But today's award is all about charity and I follow three great blogs related to charity crochet so I decided to honor them all.
Congratulations to today's award recipients:
You have received this award for:
Best Charity Crochet Blog
Each of these blogs has something special and wonderful to offer to readers. SIBOL collects crochet squares to make blankets based on a variety of different themes. Sue does a great job of sharing the end product blankets, and I am always excited to visit the blog and see the truly beautiful, creative crochet work that has gone into the making of these blankets. SIBOL is a UK-based organization and blankets go to people in nursing homes.
Bridge and Beyond accepts donations of a variety of different items to be given to the homeless and people in poverty. It's an Ohio-based organization. The posts share all that's been donated, honoring the volunteers that give their time and effort to the project and letting all of us readers see some lovely crochet work.
Crochet Cabana is a different type of charity blog from the other two and one that I think is worth recognizing. Sandie herself does tons of crochet work that she gives to charity and the blog updates us on all of the work that she's doing. I first started following awhile back when I was doing Scarves for Special Olympics and she was sharing what she made for that. Since then I've seen her do lots of other crochet work for charity and I'm always impressed with how much she gives!
Thanks Sue, Sandy and Sandie for the great work that you do! Happy holidays!
Winners are welcome to snag the above image to share on their blog with a link back to this post. Alternatively, they can grab the sidebar button using the code beneath the button in the sidebar to the right of this post.