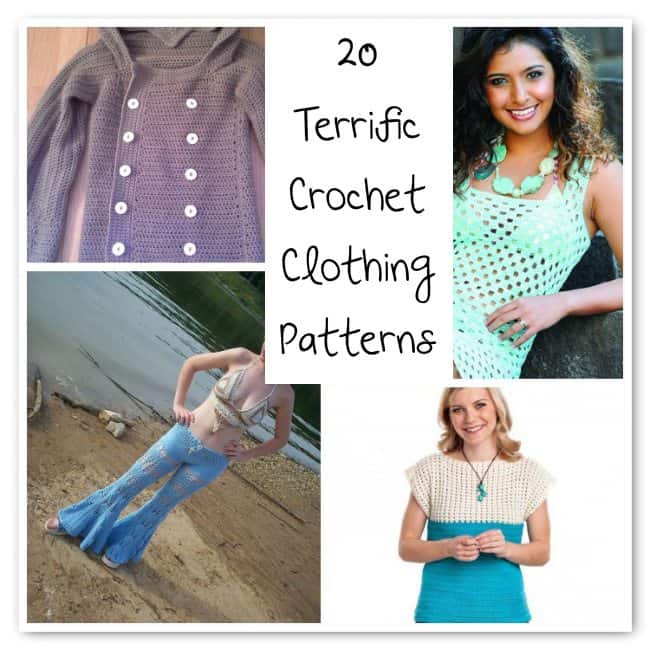 Do you enjoy crocheting clothing? I've done several pattern roundups in the past highlighting great crochet garment patterns. For example, I have roundups of the best free crochet skirt patterns for women, crochet girls' dress patterns to buy or get for free, and white crochet dress patterns for women. The fun doesn't end there. Today I've got a roundup of even more excellent crochet clothing patterns.
Crochet Skirt Patterns
Crochet granny skirt free pattern by High Strung Designs
Striped crochet skirt free pattern by Crochet For You
Scalloped crochet skirt free pattern from Positively Lace
@crochetkitten shares a free pattern for a crochet ruffle tutu using novelty yarn
Crochet skirt free pattern by Gayle Bunn
Crochet Dress Patterns
Scalloped crochet dress pattern for sale from Mon Petit Violin
Easy free crochet dress pattern from NyanPon
Crochet summer dress free pattern from @YFMag
Crochet ripple dress free pattern from Knit Nottingham
Patterns for Crochet Tops
@elevenhandmade has a beautiful Tunisian crochet sweater pattern for sale
Coats & Clark free crochet pattern, designed exclusively by @kristinomdahl. It is called the On-Trend Crochet Tunic Pattern.
Crochet Sweater Pattern free from Yuli Handmade
Crochet t-shirt free pattern from Premier Yarns
I love this detailed 1934 crochet sweater top with matching belt and ascot. The free vintage crochet pattern is available online.
Other Crochet Clothing Patterns
Crochet pants pattern for sale from Farrah for 365 Crochet
Short shorts crochet pattern for sale from Lora M
Crochet pineapple shorts pattern for sale from Heritage Heartcraft
Crochet pineapple bell bottoms pattern for sale from Gwenevere Beesley
Crochet jacket free pattern from High Strung Designs