Earlier this month I did my inspiration roundup of 100 unique crochet skirts. Did it make you want to crochet your own skirt? Here are 20 free crochet skirt patterns that are popular choices for women!
1. Spiderweb Crochet Skirt Pattern
I love this beautiful crochet skirt designed by Josi Hannon Madera. The skirt pattern is offered as a free Ravelry download.
2. Caribbean Crochet Skirt Pattern
Yes, it's true, I want to go on a beach vacation just to have an excuse to wear this cute crochet skirt, a free Red Heart crochet pattern designed by The Double Stitch Twins.
3.Convertible Crochet Skirt / Poncho
Doris Chan designed this beautiful openwork crochet skirt so that it can also be worn as a poncho. I love double duty garments like that! It's a free crochet skirt pattern over on the Red Heart website.
4. Crochet Mini Skirt Pattern
DROPS offers a lot of free crochet skirt patterns including this popular mini skirt pattern.
5. Long Crochet Skirt Pattern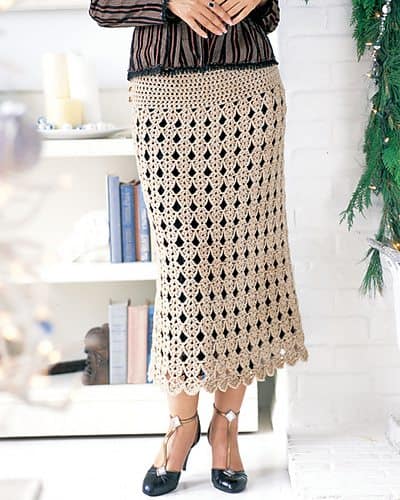 Monica Welle Brown designed this crochet skirt for a 2006 issue of Crochet Today. It is now free through Coats and Clark.
6.Mini Skirt and Matching Top Crochet Patterns
Lana Grossa offers the free crochet patterns for this matching mini skirt and top in both English and German and includes a crochet symbol chart.
7. Little Black Crochet Skirt
Every woman has a little black dress but don't we need a little black crochet skirt too? I know I have one. This one is available as a free crochet pattern from Caron.
8. Crochet Wrap Skirt
Brenda K.B. Anderson's free crochet pattern for this wrap skirt offers a design that can be worn over other outfits for a great bohemian look. Also perfect for dance class!
9. 3-for-One Crochet Patterns for Skirt, Tank and Scarf
This free Patons crochet pattern is for a matching crochet skirt, tank top and scarf, which can be worn together as a full ensemble or as separates with other items from your closet.
10. Hip Hugging Crochet Skirt Pattern
I love the fit and flare of this Minty Green crochet skirt pattern, available as a free Ravelry download from Wena' Knaup.
11. Rufffled Crochet Skirt Pattern
This is a free crochet skirt pattern from About.com. Like the convertible poncho pattern by Doris Chan shown above this one can also be worn as a top. The photo is the version crocheted by Ravelry's Wings.
12. Openwork Crochet Skirt Pattern
This free crochet skirt pattern is from Even Howard. It is offered as a free download on Ravelry.
13. Floral Crochet Skirt Pattern
This floral crochet skirt pattern, designed by Rachel Seeley Merrill, is called the Daisy. It's a free CrochetMe pattern.
14. Spider Stitch Crochet Skirt
Maria Merlino's free crochet skirt pattern is a great way to practice the spider stitch while making a crochet skirt that you can wear as a beach cover-up.
15. Convertible Skirt/ Sundress Pattern
This is a free crochet skirt pattern from Double Stitch Twins (via Red Heart) that has a really clever design that makes it also be wearable as a halter top dress.
16. Granny Square Apron Skirt
Although not a full crochet skirt this adorable apron skirt is definitely a great free crochet pattern! Via @tangledhappy
17. Crochet Granny Square Skirt Pattern
If you'd rather have a full skirt then here's a free granny square skirt pattern from Handmade by Carolyn.
18. Granny Square Border Skirt
Another option is to add granny squares to the bottom of a skirt, as we see with this free crochet pattern from DROPS.
19. Pineapple Stitch Crochet Skirt Pattern
The pineapple stitch seems to be regaining popularity lately. This is a free crochet pattern offered from yarn company Elan for a pineapple stitch skirt. Note that if the yarn is no longer available, they may also not offer the pattern free; I'll try to stay on top of this but leave a comment if you try to get it and it's no longer free!
20. Emi Harrington's Guide to Crochet Skirts
Emi Harrington offers a written pattern as well as free video tutorial for making a crochet skirt in various lengths.