Escama Studio is an interesting company that makes upcycled pop can tab purses using Fair Trade practices. At first glance, these items are bags and other accessories made from aluminum can tabs. With further research you'll find that it's crochet work that is used to hold these pieces together to make fashionable accessories for the modern eco-minded individual.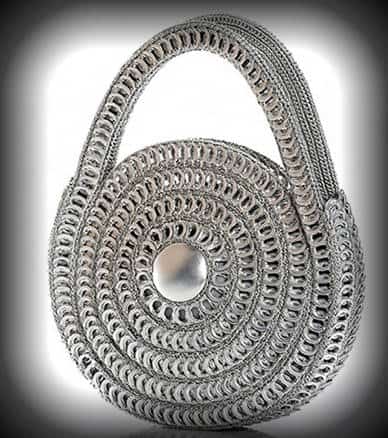 What is Escama Studio?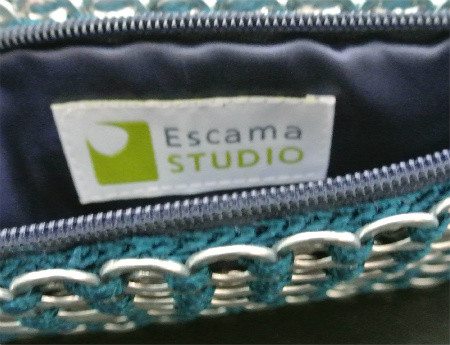 This is a collaborative design studio that is based in two different locations – here in San Francisco, California and also in Brazil. Designs originate from both of the different studios. They say that their mission is "creating innovative and stylish products from post-consumer and other sustainable materials, through partnerships with producers in underprivileged communities." The Escama Studios team is made up of both men and women.
They share:
"The word 'Escama' means 'fish scales' in Portuguese; the name was chosen because our flagship product — crocheted accessories with post consumer pull tabs — appear as if they're made from big metallic scales of a fish."
How Underprivileged Communities are Served
The crochet work that goes into these products is done by hand in Brazil by women's collectives. The women who participate in these collectives are considered artists. Each bag has a tag with information about the artist. You can head to the website of Escama Studio to read about each of the different artists. Consumers who wish to can send a thank you note to their artists via the website. The artists earn a livable wage for their crochet work. Escama Studios also tries to help the artists in other ways, assisting them in opening bank accounts, helping them get computer literacy training and providing them with a percentage of gross sales to benefit the cooperative.
The studio has a basic aesthetic design that it follows when creating its products. They all use recycled aluminum can tabs. They also use traditional crochet techniques from Brazil that have been adapted to create a modern design utilizing these unique materials. Each bag comes with a tag on it that tells the buyer which artisan made the bag. You can the go on the Escama Studio website to see the artisan's bio, a way of helping the buyer feel connected to the process of Fair Trade Crochet.
Escama Studios Crochet Purses
Here are a few more examples of the types of crochet purses that are made by Escama Studio. Thelarger crochet purses that you see here use an average of 700 aluminum pop tabs per purse! "The tabs are 100% post-consumer recycled aluminum pull tabs." Yes, they're all recycled!
 My Crochet Pop Tab Clutch
The pop top crochet bag that I got is the Chica Rosa Mini Clutch. Like all of Escama Studio's products, it is made with 100% post-consumer recycled aluminum can tabs. This one is made with over 200 of them. It is fully lined and zips shut. This bag comes in black, silver, white, bamboo, chocolate, olive and red as well as in the teal color that I chose.
It's sturdy. It's beautiful. It's unique. I'm loving it. It's useful for every day stuff but I actually use it specifically to store an extra set of crochet hooks inside of a bigger bag (usually my Jordana Paige crafter's travel bag).
Pop Tab Crochet Ornament
Escama crochet has published a video sharing how to crochet a pop tab ornament for winter holidays.
The video was filmed by designer Francisca Ribiero de Souza in Brazil. Her "who made this" profile on the site shares from the designer:
"My name is Francisca Ribeiro de Souza. I am 41 years old and have 6 children. I have been at the association for 5 years. I work making bags, accessories and home furnishings with recycled can tabs. I love my job. I am the president of the group. I am really happy for being able to help other mothers, who otherwise couldn't get a job. Because of my age, I am really thankful to God that I can work."
She was also the very first crochet designer for Escama.