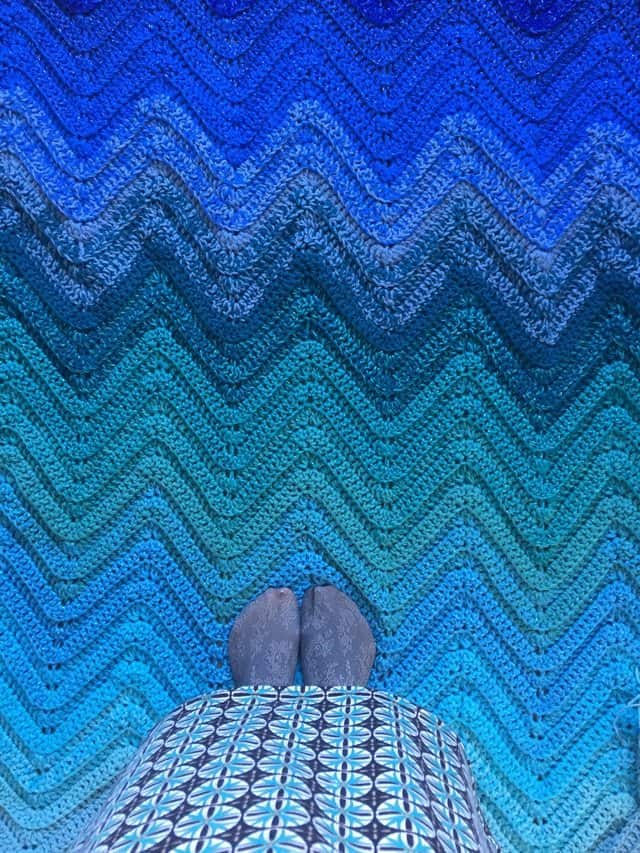 This was originally shared in my June newsletter. This newsletter goes out to anyone who contributes a minimum of $1 / month through Patreon. It includes exclusive interviews and other unpublished content.
This year I completed one of my favorite crochet makes, yet – a blue ombre chevron crochet blanket. This was my first big chevron project, and I confess that I had to start over once because I completely got the count wrong the first time but after that it was smooth sailing. I used this Red Heart free pattern just to get the numbers for starting my project; basically it's ten double crochet stitches then a  decrease, ten more and an increase, across the row. I worked in the back loop only to get the ridged appearance.
I used my own tutorial for creating an ombre in crochet, adding in a few colors that weren't strictly in the right hue so that it's not a true ombre. I did it double stranded, working with a combination of Red Heart Super Saver, Cascade Cherub Aran Sparkle and Martha Stewart Extra Soft Wool Yarn. After it was wide enough, I added length with a thick border.
I have also been working for awhile on a double-stranded blue/green crochet granny blanket. I had put it aside for quite some time but then after I finished the chevron crochet blanket, I had a lot of blue yarn leftover, so I picked it back up again. It is now large enough to be complete, and I've finished it off and woven in the ends. However, it is still square in shape and has no edging, so I might ultimately add a border that elongates it into a rectangle. We'll see; for now it's decorating my couch.