Have you been out in the garden much? Have you spotted any snails or caterpillars or other critters? Maybe, maybe not, but you can see a bunch of them here today in crochet.
Amiguruma shared this crochet snail tucked into a real snail shell. Smart! Via @knithacker.
This crochet snail cozy was shared awhile back on my Facebook timeline from the @jamiegardenshop timeline
Colorful crochet snails from atnanasknee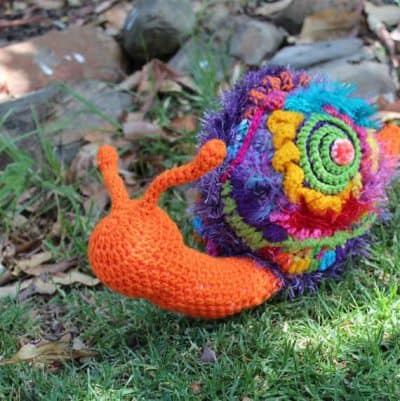 Loopy the Snail from Loopy Lost His Lettuce iPhone game, which features crochet characters
Nata's Nest offers a micro crochet snail pattern
Even tinier crochet snail art from Su Ami
Crochet snail free pattern from smeddley
Crochet snail tissue cozy on Etsy from Millionbells
Crochet snail via thegirllovesyarn on Instagram who also brings us the crochet slug below
Crochet slug by Cheezombie
Crochet sea slug pattern by ChromoCrochet
Crochet banana slug free Ravelry download pattern by Deanna Williston
Crochet caterpillar via Instagram. The original account it was on was amigurumi_pieceofcake. I believe that's now been changed to mimamami_.
Crochet caterpillar wall art on driftwood from Etsy's Cottontailandwhisker
Crochet caterpillar baby teething ring sold on Etsy by ZanesCrochetTreasure
Crochet caterpillar from stinaross87 on Instagram
This scared red apple with large worm is an amgiurumi piece by Vanessa Chan of Etsy store The Pudgy Rabbi
Crochet worm and apple pattern sold on Etsy by CAROcreated
Amigurumi crochet worm pattern on Folksy by Liz Ward