I'm continuing on with my series of 25 lists of 25 things to inspire crocheters. Up on the list this week is "25 crochet hooks to try". That's good timing since I just looked at a bunch of hooks last week for my Amazon feature of the week. Including the ones from that list, here is my personal list of 25 different types of crochet hooks I'd eventually like to try:
(these don't light up but are made from glow-in-the-dark plastic so I assume you get a similar effect)
I want to try ergonomic hooks at some point
Plastic crochet hooks in K,L,N size
(I haven't tried any from Crochet Dude's collection yet and I'd like to try to)
(these look so fun!)
11. ChiaoGoo crochet hooks
bamboo handle, metal tip
14. Handmade Crochet Hooks by TwinBirch from Etsy
15. Handmade Wood Crochet Hooks by RParishWoodworks on Etsy
(what can I say, I like the handmade wooden designs!)
(so far I don't like any plastic hooks I've tried but I'm willing to keep trying!)
(I would love to try glass crochet hooks!)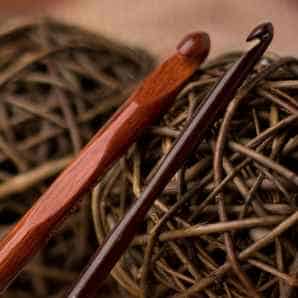 (also available in ebony but I love rosewood!)
(not even sure quite what these are used for but they look fun!)
25. Any set of vintage crochet hooks that I might find someday!
What other hooks would you add to my list? Do you have a favorite hook set?