Each week there are more than 100 photos that people choose to share with the Crochet Concupiscence community through tags on Instagram. Here is an inspirational roundup showing what people are crafting. Learn how to join in on Sunday's Instagram Crochet posts here.
I do this as a way to help connect the crochet community, provide a platform for showcasing the amazing work that people are doing and highlight some of the current crochet trends. It takes me several hours each week to compile these posts. If you like them, you can support Crochet Concupiscence by becoming a sponsor, which also puts your ad in front of more than a quarter million people monthly.
Here are this week's awesome shares!
Featured Crochet Item
The single most outstanding crochet photo submission this week was this close-up detail of weaving in ends on crochet by louloudeane:
Featured Crochet Instagrammer
This week's featured crochet Instagrammer is Aglaé Laser/ aglaelaser. This French crocheter, knitter and sewist describes herself (in part) in her IG bio as "Serial crocheteuse". This week she was participating in the granny-a-day challenge, a seven day challenge (described on her blog) for which she completed a crochet flower each day. Visit her on Twitter and Pinterest as well. Her IG feed shares her love of crochet and other crafts, beautiful images of yummy-looking food and some photos of people here and there, too. In addition to these crochet flowers, she shared a crochet wrap with us this week as well.
Crochet Square Motif Projects
This week seemed to be a popular week for blankets and other large crochet projects made with crochet granny squares and other crochet square motifs:
stelcrochet
peeka_bo_crochet
mumtothreelittlemonkeys
mlissabethgr
hookybren
hanrosieg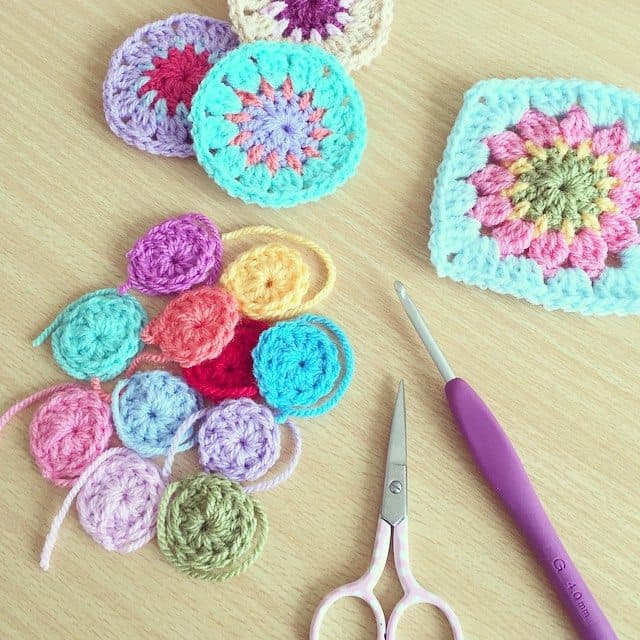 crochetgirl99
Other Granny Crochet Projects
In addition to the motif projects, there were a few other granny crochet projects this week:
anastaciaknits
annesurr
crochetbyshelby
crochetcrossstitch
cuddlebugkids crochet bike cozy
gigididthis crochet granny heart
holly_pips
lyndapc
mariwish
nessbombaert
queen_babs
stelcrochet
sweet_sharna
teaandcrafting
Crochet Baskets
Several people showcased crochet baskets / boxes for the home:
stephaniedavies
mlissabethgr
mamma_made_that
62soso
Crochet Chevrons
Chevrons / ripples were a popular choice this week as well:
annesurr
gooseberryfool
raimarie16
wendysquiltsandmore
Crochet Star Blankets
A few people were making crochet star blankets:
thegirllovesyarn
sweet_sharna
lou.teacrochet
Crochet Flowers
With springtime around the corner, many people are beginning to make crochet flowers:
forestflowerdesigns
joyfuljaxcrochets.and.knits denim crochet flower; see other denim + crochet upcycling ideas
jysoulikmamma_brilliantmommy crochet flower art
lisesolvang mixed media flower art
lyndapc crochet flowers
silvery_cloud
variaciones_en_su
Yarn
Here are some photos of yarn showcased in the roundup this week:
woolyana
stephaniedavies
stelcrochet
silvery_cloud
queen_babs
hookybren
holly_pips
dojocrochet
And More
62soso
artesdapessoa
crochet hearts by caseyplusthree
crochetinpaternoster
crochetzoneblog
piggy ice cream cozies by cuddlebugkids
doily crochet by daniellajoe
crochet coaster by dojocrochet
ektelykke
crochet donuts by flamingpot
ganondorf42
garnkorgen.blogg.se
hanrosieg
hayleyarious
helenolding
crochet blankets by holly_pips
crochet hangers by hookybren
jenjendb
tunisian crochet by kmdcrochet
sheep art by lisesolvang
littlecosythings
crochet donuts and treats by littlefoxcrochet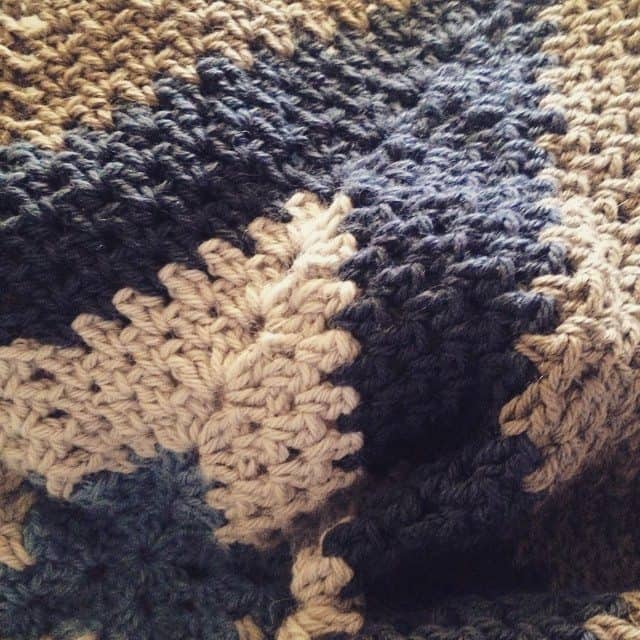 lou.teacrochet
marretjeroos
crochet bunting by missmotherhook
mlissabethgr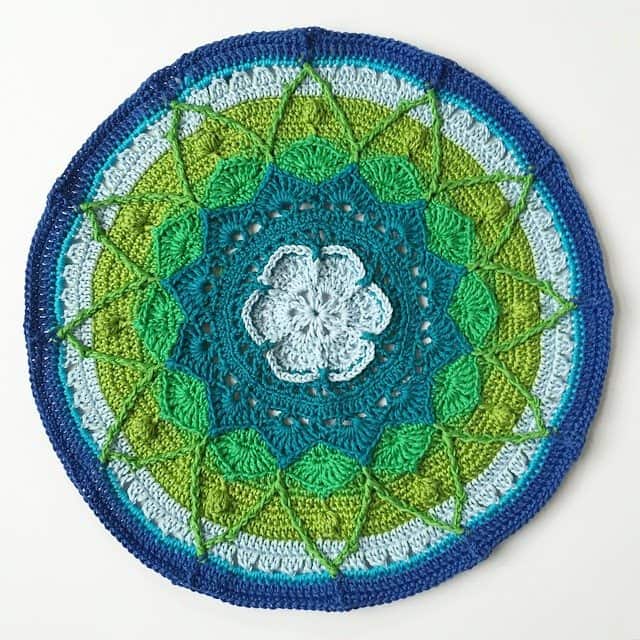 mandala crochet by mobiusgirl
crochet hat by mrsdaftspaniel
mumtothreelittlemonkeys
oakherder
patternpiper
peeka_bo_crochet
queen_babs
rebeccabeedesigns
silvery_cloud
stelcrochet
stephaniedavies
stitchyimpressions
sweet_sharna
thegirllovesyarn
thatgirlwhocrochets
thecosmiccrafter_
vaynilla_love
My Crochet On Instagram
This week I shared several granny square crochet blankets that I sent off for donation to the World's Largest Stocking / Children of Fallen Patriots charity.
I also shared crocodile stitch crochet images related to my posts on the crocodile stitch tutorial, crocodile stitch infinity scarf free pattern and how much I love the reverse side of this stitch!
I shared two different flower art projects: a collaborative piece my mom and I sent off to Prudence Mapstone's art project and a piece I put together using WIPs I hadn't made into anything, yet.
And More:
Crochet blankets that I put on my couch this week after doing the laundry
An old crochet hat adapted into a drawstring pouch gift bag
Crochet puppy cowl on Miso
Granny square crochet cowl (above) adapted into a skirt by adding more rows including a row of quadruple treble stitches at the bottom to act as faux fringe
Not all of the tagged photos from the week make it into the roundup post. For example, any accounts set to private don't show up here, and when a lot of photos of the same item are shared there may be only one or two shown here. Take a look on Instagram at #crochetsavedmylife and #crochetconcupiscence to see all of the amazing contributions.