Easter image from littlefoxcrochet on Instagram
In this roundup you will find lots of crochet patterns and various crochet inspiration for Easter Eggs. You'll also find a variety of other Easter-related crochet ideas.
Crochet Easter Eggs and Easter Egg Cozies
10 free crochet Easter egg cozy patterns including this one from Lucia
Yarn Round Hook offers the free crochet pattern (using UK terminology) for this bunny egg cozy.
No pattern for this one but cute inspiration from marretjeroos on Instagram
Chevron crochet egg free pattern from @jahuston
Greedy for Colour free crochet Easter Egg pattern
No pattern – just some inspiration from ektelykke on Instagram
Delight's Gems crochet Easter egg pattern
Fun! Awhile back, Las Teje y Maneje shared the funky crochet eggs of Donkey Creative Lab
These crochet egg cozies are in the book Cute & Easy Crochet by Nicki Trench
Free Easter crochet pattern for egg ornament or applique from Lacy Crochet
Other Easter Crochet Patterns
Top 10 amigurumi Easter patterns
Daisy Cottage Designs shared this free crochet Easter hat pattern
10 free crochet Easter basket patterns including this one from @gleefulthings
Easter Egg Treat Bag, a free @petalstopicots crochet pattern
Free little crochet Easter bunny pattern from @twinkiechan
Crochet bunny rattle pattern free (Spanish and English) from @lanukas
Crochet bunny Peeps garland free pattern
Tiny Bunny Basket Free Crochet Pattern from String Theory Crochet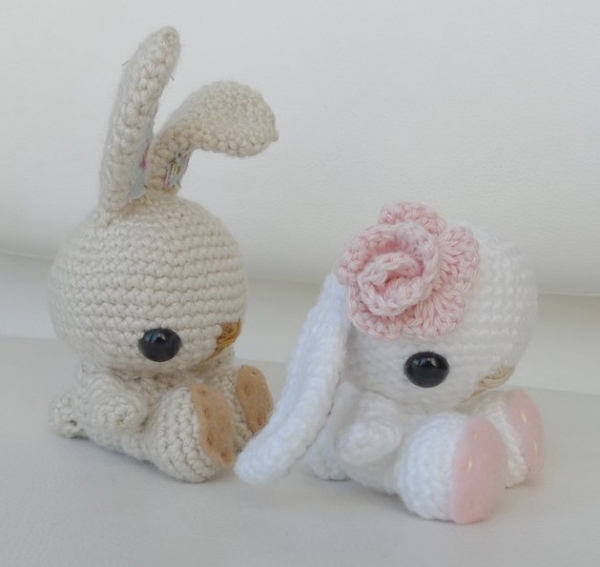 Free crochet bunnies pattern from Craftzine
Mr. and Mrs. Bernard Bunny, a free amigurumi pattern from The Lazy Hobbyhopper
Crochet Easter Inspiration: Bunnies
Just photos that people shared to Instagram:
thegirllovesyarn
sweet_sharna (bunny basket above and bunny toy below)
stephaniedavies
littlefoxcrochet
hanrosieg
cuddlebugkids
creativedesignsbysheila
atnanasknee
More Easter Crochet Inspiration
Not Quite Crochet But Still Cute
Sugar String Easter Baskets DIY via @apttherapy