We all use scissors. Some people have a full scissors collection with ergonomic scissors, vintage scissors and scissors that cut a variety of shapes. I only have a few basic pairs of scissors (enough that there's always one close at hand) but I can't imagine what my crafty life would be like without them. Today I thought I'd celebrate that sometimes-overlooked part of our craft tool box with a roundup of some cool items that celebrate these simple tools.
1. Scissors Scarf
We all love to wear our own handmade crochet scarves but every once in awhile you might want a fabric scarf instead and this silk antique scissors scarf by Snoozer Loser is a great choice.
2. Scissors Storage Bin
This canvas storage bin would make a great addition to a craft room. I'd put my yarn in it! Queen Bee by Rebecca Pearcy also sells a similar design on totes and smaller pouches.
3. Scissors Art Print
Add some art to your craft studio walls with this scissors print by Anna Tovar, available in this mint color or in red.
4. Wooden Scissors Necklace
You can incorporate scissors into your personal expression by wearing themed jewelry. I've gathered a few options in this roundup, starting with this wooden scissors and thread necklace by Neogranny, who also makes a wooden granny square necklace that I love.
5. Copper Scissors Pendant
This is also a scissors and thread necklace on wood but it's a copper necklace so it has a bit of a different feel that might suit your personal style more. It's by Once Again Sam.
6. Brass Scissors Pendant
Sora Designs offers a pendant necklace with an antique brass ruler and a functional pair of scissors.
7. Scissors T-Shirt
Especially appropriate for people who like to make T-shirt yarn, this scissors Tee print by Mad Love is also available as a tank or sweatshirt.
8. Crochet Scissors Holder
Use this Western crochet rodeo boot to hold your scissors; for sale on Etsy by HermitsOfAfton
9. Scissors Grip Crochet Pattern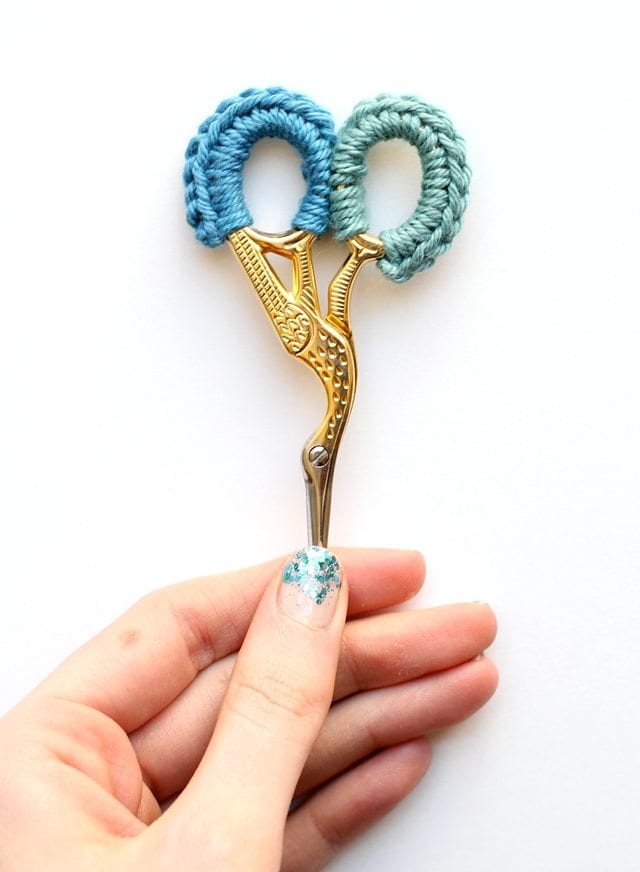 One Sheepish Girl shares a crochet pattern to make scissor grips.
10. Crochet Art
Nathan Vincent incorporated scissors into his crochet / yarn art.
11. Scissors Crochet Coffee Cup Cozy
Announce your craftiness to the world each morning with a scissors-embellished crochet coffee cup cozy from CreationsbyKT
12. Crafty Pint Glass
Later in the day you can use this pint glass decorated with scissors, crochet hook and other crafty items. Sold on Etsy by Vital.
13. Crochet Scissors Earrings
These clay earrings by Etsy's MyCrock are decorated with crochet and mini scissors.
14. Scissors Crochet Hook Case
LoloGina on Etsy sells knitting needle and crochet hook cases like this one that incorporates vintage scissors fabric.
15. Crochet Scissors Cuff Bracelet
Crochet cuff bracelet with scissors charm sold on Etsy by Elvescraftgallery
16. Crochet Scissors Case Pattern
This crochet cozy for your scissors is a pattern sold by Crochet Memories
17. Scissors Rubber Stamp
This rubber stamp set by Assemble Shop & Studio includes a scissors stamp.
18. Scissors Charm Bracelet
Scissors charm bracelet sold by ShearStyleJewelry on Etsy; designed for hairstylists but works for crafters too :)
19. Scissors Bobby Pin
Scissors necklace and matching hair bobby pin by annabellandlouise on Etsy
20. Crochet Scissors Pattern
Adorable little crochet scissors pattern (really more of a crochet recipe) from Howie Woo on Craftster
Note: Full disclosure – some of these are affiliate links.