Tapestry crochet is a unique niche of crochet that emphasizes colorwork and graphic patterns. It is made by carrying yarn colors along behind the work and switching out those colors to create your patterns. It can be done using just the very basic crochet stitches that you probably already know. This roundup has nine tapestry crochet tutorials/ patterns plus another 32 photos of tapestry crochet designed to inspire you with all that can be done in this craft.
Tapestry Crochet Tutorials and Patterns
How to Carry Yarn in Tapestry Crochet via @crochetme
Tapestry crochet tote pattern free from @SolRencoret, a beautiful Morocco-inspired design
Lilliputian baskets free tapestry crochet pattern from [email protected], a great little project for beginning to practice the technique of tapestry crochet!
Tapestry crochet Shamrocks phone cozy free pattern from My Hobby is Crochet

Tapestry crochet coin purse free pattern from @mypoppetshop; check out these other crochet coin purses
Beautiful tapestry crochet washcloth patterns for sale from Little Woolie
Margaret Wilson's Scandinavian crochet pattern, for sale through Ravelry, is a great example of a sweater done in Tapestry Crochet; previously posted in my roundup of 100 unique crochet sweaters
Amy O'Neill Houck offers this free crochet tutorial for a tapestry crochet heart hat
Harlequin Pattern Tapestry Crochet Tutorial from Little Woolie
Tapestry Crochet Inspiration Photos
Here are some beautiful, wonderful tapestry crochet photos shared, from various sources including instagram and vintage crochet books, collected here to inspire you!
From tintocktap:
From knitpurlhook:
From Carol Ventura, a tapestry crochet master:
Crochet I saw during my Belize vacation:
And more:
Caroline Routh tapestry crochet art

Rachelle Vasquez tapestry crochet art
Tapestry crochet coat by Frank Lincoln Viner, from Creative Crochet
Hard Crochet hat by Mark Dittrick
Tapestry crochet mandala by Stacey Glasgow via Tapestry Crochet Blog
Portrait crochet art by KatikaArt that appears to be done in tapestry crochet, although I haven't confirmed that
Likewise with the crochet portraits by Jo Hamilton
Silk Tapestry Crochet Scarf, Interweave Winter 2007, included in the section of Tapestry Crochet Scarves in my 100 unique crochet scarves roundup
Tapestry Crochet Summer Bag via lastejeymaneje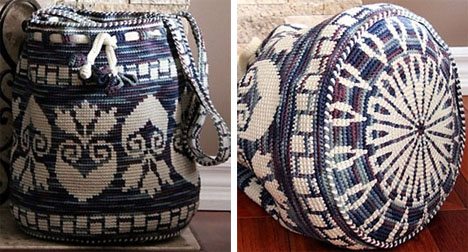 Marina Gavrilov's striking tapestry crochet bags via Tapestry Crochet blog