Next up in my series on designer crochet is the fashion due Dolce & Gabbana. Before I even get started I know that I'm going to find crochet here since their crochet bags are currently popular with celebrities. Let's see what else they've got for us
About Fashion Designers Dolce & Gabbana
Domenico Dolce and Stefano Gabbana debuted their first collection together in 1986. Ever since this brand has been known for dramatic, sexy clothing inspired by Italy. Corset dresses and leopard print coats are among the items that they've gotten attention for. What they do right is presenting clothing that a woman can wear and feel powerfully sexy but not at all smutty. Crochet seems right up their alley since its lacy peek-a-boo nature lends itself well to sex appeal. Let's see what they've got for us …
Dolce & Gabbana Crochet
2011 Fall Fashion Week featured a crochet pencil skirt suit from D&G
Actress Monica Bellucci in a D&G Crochet Skirt, a skirt that might not exude sex appeal if it weren't worn so fabulously!
Yep that's a crochet flower on a pair of nearly $600 D&G pumps.
2010 Dolce & Gabbana crochet shirt with cute cap sleeves
Dolce and Gabbana crochet handbags have been a hit lately. Here's Kylie Minogue wearing one that costs more than $1300.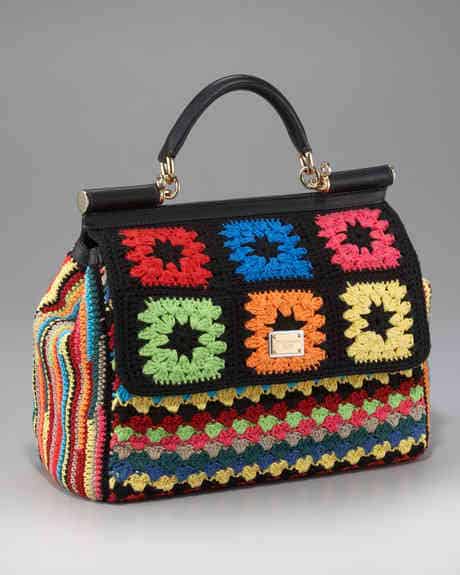 Think that last bag was pricey? This designer crochet bag by D&G was priced at almost $2900.
I love these black D&G Boots with crochet detailing.
2011 D&G crochet dress
Dolce and Gabbana getting risque with crochet
Madonna in a D&G crochet dress
Dolce & Gabbana Designs I'd Love to See Reinvented in Crochet
Could this be redone in tapestry crochet?
It's tough to do a corset in crochet but it could be inspiration for a cute top.
Simple T-shirt with so much style.
Note: sometimes I get it wrong, calling an item crochet when it's not (read more here) and I always encourage my readers to let me know when they think an item I've said is crochet might not be. That way the blog can have the right information. Regardless, know that I always intend the designs to serve as inspiration for crocheters whether or not they're truly crochet!