Lately I've been thinking about the different kinds of blankets there are. Like is there a difference between a blanket and an afghan or are those just synonyms? I'm not sure about the answer to that but I do know that I think quilts are a little bit different, even when they are crochet quilts. Technically a quilt has stuffing in the middle, so crochet blankets that are stuffed are quilts. And then there are unstuffed blankets that probably don't technically qualify as quilts but their designs are drawn from those of quilts. What do you think makes a blanket a quilt? Here's my roundup of crochet quilt patterns and quilt-inspired crochet patterns.
In addition to the patterns shown below, you might like …
Crochet Quilt Patterns
These are crochet blanket patterns that include stuffing, making them, in my eyes, true quilts. The blanket at the top of this post, by Julie Blagojevich, is one example. Here are some more:
Apiary Puff Blanket, a free crochet download on Ravelry
The Hexa-Puff crochet blanket pattern, free on Ravelry, was inspired by the Apiary Puff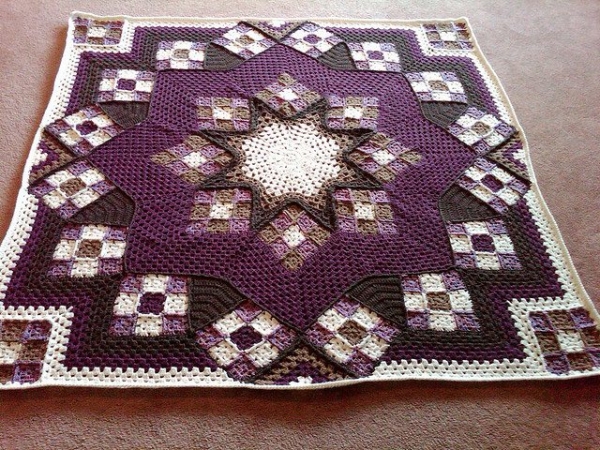 Although not quite stuffed, this blanket is layered, giving it quilt status for me. It's an old Leisure Arts pattern. Image on Ravelry by CyndieLynn.
Quilt-Inspired Crochet Patterns
These patterns aren't designed to be backed / stuffed so they aren't true quilts but they're designed with inspiration from quilt designs.
Prairie Star, a free Red Heart crochet blanket pattern, image from yarnjunkie82 on Ravelry
The Log Cabin blanket design is quilt-inspired; this example of one is another free Red Heart crochet pattern
The Desert Star Crochet Quilt is a free crochet blanket pattern on Ravelry
The Lancaster Quilt crochet pattern by Katherine Eng in Crochet Today is inspired by Amish Quilt design
Stars and Flowers crochet blanket pattern for sale by Gingerbread Lady Designs
Mended Hearts crochet quilt free pattern
I don't know if the 3d effect on this crochet blanket is truly quilt-inspired or not but I like it! Free crochet blanket pattern.