I recently did a post featuring 15 beautiful free crochet dress patterns. Free patterns are terrific but it's also great to buy patterns if you can. You often get higher-quality, more detailed designs plus you're supporting the work of a dedicated crochet designer with your purchase. If you're interested in buying a crochet dress pattern online, here are 15 terrific options to get you started:
1. Cinnamon Dress by Eleven Handmade
Eleven Handmade is one of my favorite crochet garment designers. She does some really amazing designs. I love the color blocking on this cinnamon dress – so high fashion! This crochet pattern can be bought on Ravelry.
2. Striped Crochet Dress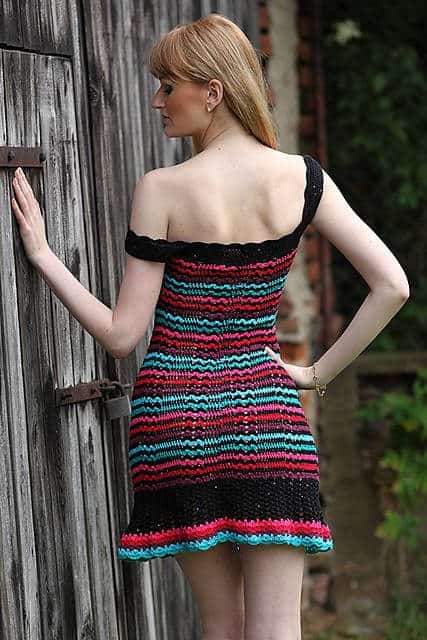 Ravelry's FashionMartina has many great crochet dress designs for women. She's especially good at doing striped crochet designs. I especially like this one, which is called Magic Girl.
3. Most Popular Crochet Dress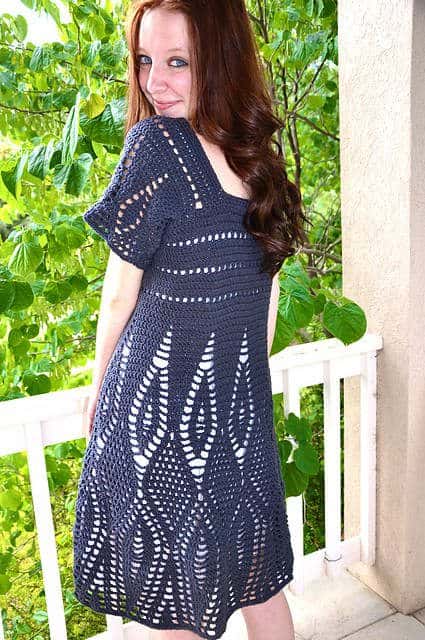 This Diana Dress by Sara Dudek is the most popular adult women's crochet dress pattern for sale on Ravelry right now. I can see why. So stylish!
4. Little Black Crochet Dress
Every woman needs a little black dress; make yours unique by making it in crochet! This crochet dress pattern by Mari Lynn Patrick is sold through Patternfish.
5. Day to Night Dress
This crochet dress by Catherine Jeandel is promoted as a beach dress but I think it could be dressed up and worn out on the town at night, too. It's sold through Patternfish.
6. Floral Crochet Dress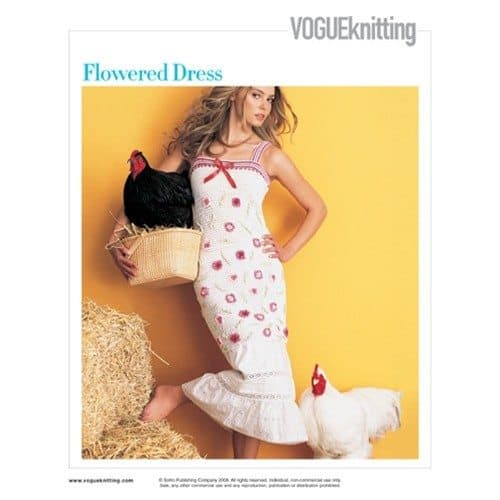 There is so much detail in this flowered crochet dress sold online through Vogue Knitting! The pattern is by Rima Mikneviciene. It dates back to 2006 but I think it's still absolutely relevant in fashion today.
7. Lily Chin Lace Crochet Dress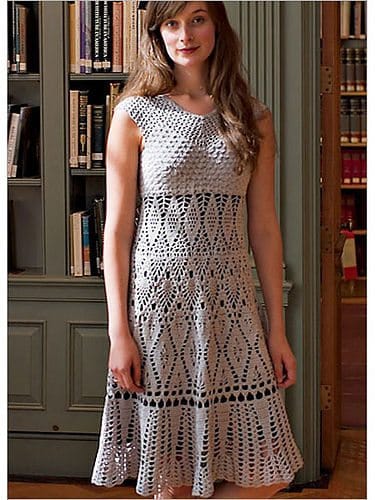 This lace dress by Lily Chin can be worn as a casual day dress or for a special occasion. It could even be a casual bridal dress. It's sold through Interweave.
8. Silk Bamboo Crochet Dress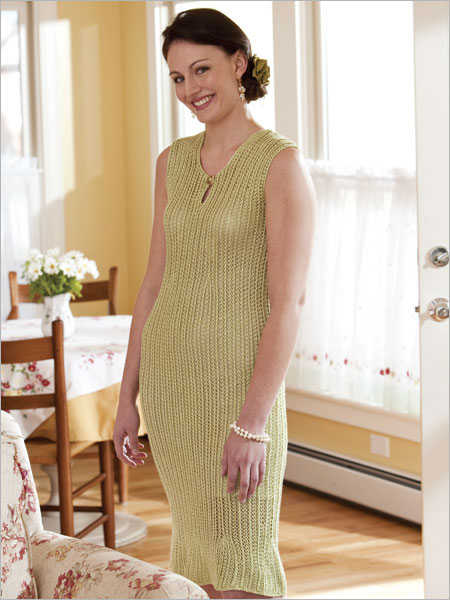 This Mimosa Dress pattern sold through Interweave is described as, "The silk and bamboo yarn creates a fabric that embraces the body for an elegant dress perfect for a luncheon or an afternoon wedding. The dress is worked vertically, for a long, lean look, with short rows and godets that flare the hem for a gratifying swirl when dancing." The pattern is by Rhonda Davis.
9. Super Cute Crochet Dress
I love the cute flare on this well-fitted crochet dress by Amanda Critchley. The pattern is sold through Ravelry.
10. Doris Chan Top-Down Dress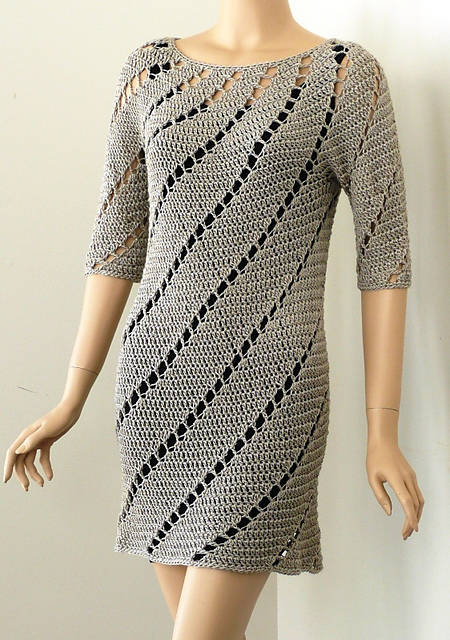 This spiral crochet dress design by Doris Chan is worked top-down for a fairly easy pattern. It's sold through Designing Vashti.
11. 1930's Crochet Dress
This elegant vintage crochet dress pattern is sold through Etsy by babydee. This seller offers several other vintage patterns, too.
12. Retro Style Crochet Dress
Etsy's onhooksandneedlesct sells this finished crochet dress but also offers the crochet pattern for sale. I love the combination of a "print" top with a solid bottom and I also love the hints of retro style.
13. High Waisted Black Dress
I love a high waisted skirt because it creates the illusion that I'm not quite as short as I am, plus it's flattering on the figure. This crochet pattern offers that as well as the chance to play with some different crochet techniques including Tunisian crochet. The design, by Pyogazel, was originally published in Interweave's crochet magazine but the pattern can now be purchased through Ravelry.
14. Hairpin Lace Dress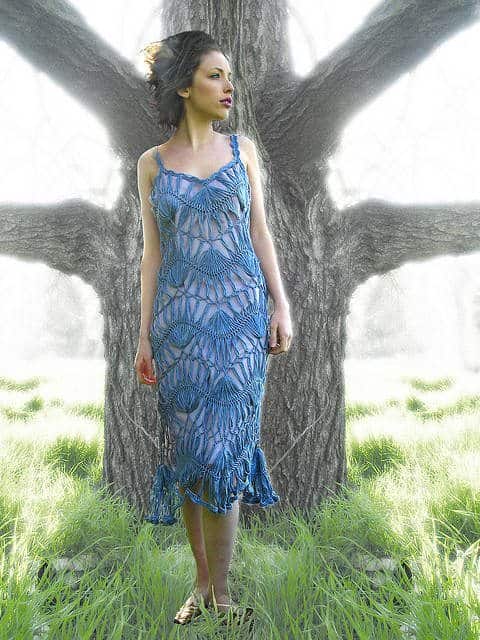 Hairpin lace has such a great feminine look to it and no one does it better than Stitch Diva who designed this crochet dress pattern. It's a try-on-as-you-go pattern to help you get the right fit.
15. Crochet Wedding Dress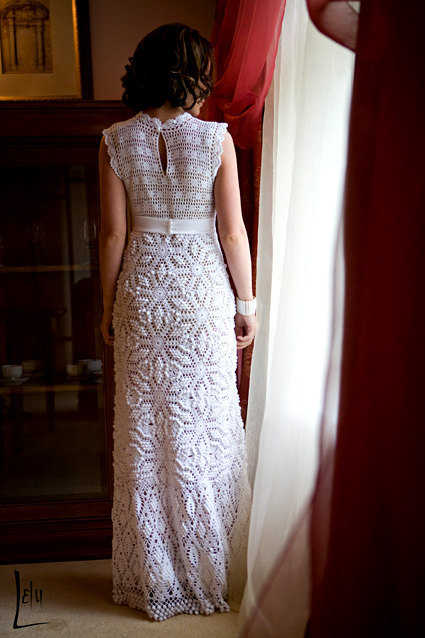 The pattern for this crochet wedding dress is very affordable on Etsy sold by marifu6a.