There is no end to the number of things that you can do with crochet granny squares. You can use square crochet patterns to make blanket squares (or large square blankets), curtains, placemats, the foundation of wearables, accessories and more. Here are ten fabulous, new, detailed crochet square patterns for you to play with.
12″ crochet square pattern from LillaBjorn who shares, "12" afghan square is a classical size for making blankets, afghans and throws. But I believe they can be used in many other different ways. For example if you take thick yarn and make a larger square, it can become a wonderful decoration for your pillow cover. And I decided to try to make a stool cover from mine."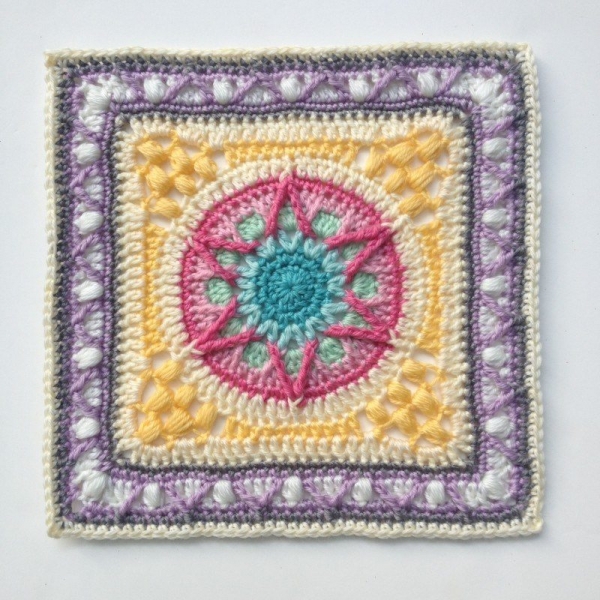 9″ crochet square pattern from the Lovestruck Collection by Every Trick on the Hook. There will be twelve squares in the collection when it is complete. This one is called Yvaine. The designer explains further, "Each block in the Lovestruck collection comes with the pattern for a 9 inch afghan block and the pattern for a complimentary border that will bring the square to 12 inches. Better yet, all of the borders are interchangeable among the other blocks in the collection so you can mix things up and play matchmaker!"
RedAgape says, "Granny squares are the most versatile motif of all crochet motifs. Make just one or two to create washcloths and potholders, five to ten for scarves, table runners and cushions, or more for larger projects like blankets, bags and shawls. I'm calling this granny square the Jewel Miner Square for its colours and shape." This is a free crochet pattern.
12″ flower square free crochet pattern by Little Monkeys Crochet
These colorful chevron dishcloths from Moogly also make great squares that can be used alone or together in a variety of different projects. Have fun with this free crochet pattern!
Granny square cushion pattern for sale from Sarah London who says, "I worked mine in neon yellow and orange along with muted egg yolk yellow and tangerine. A solid purple centre paired with pastel pink balances out the lively colour."
This is a houndstooth-inspired free crochet square pattern from KatiDCreations who says, "This would be a great stash buster square!  Or use it for those little balls of yarn that you can't bring yourself to toss!" This could be made in a  diverse range of colors for different impact.
Creative Crochet Workshop shared a series of crochet square patterns including this spiky granny square, which combines basic stitches with front post stitches to get the little bit of texture seen in the design.
These crochet afghan blocks are designed in three sizes – 6″, 9″ and 12″. You could make a blanket using just one size or incorporating all three sizes. This is an affordable crochet square pattern on Ravelry by Margaret MacInnis.
Rings of Change square crochet pattern by Frank O'Randle. He created the beautiful, popular circular crochet pattern of the same name, which is a mandala in its small form and a round blanket in its large form. This pattern inspired the new square pattern.