I mentioned last week in my post about the 2013 serie planned for Crochet Concupiscence that my Sunday posts are changing a little bit. Laat me vertellen dat u een beetje meer over de nieuwe zondag posten en een beginnen op de eerste van het jaar.
Why the Slight Change

?

In de gehele 2012 I did my "een jaar geleden" series posts on Sundays. In these posts I reviewed everything that I'd shared on the blog in that same week in 2011 and provided updates where I could. It would be unreasonable to think I'd could continue this in the same way as the blog moves into a new year. It would just be way too much content to review and share each week!

Echter, I want to keep the spirit of these posts. I love looking back and seeing what happened on this blog in the past. It's a great way for me to introduce my newer readers to the posts from the early days. Plus it reminds me of some of the great things that happened in crochet and gives me an excuse to find updates for those things so that all of my readers can have the latest news in all areas of crochet.
So The New Style Is

…

Each Sunday I will share a few highlights of the week from 2011 en 2012 plus a few of the most important things in crochet news for the same week in 2013. So I'll look at the week's same dates in 2011, pull out the three most interesting crochet things and see if I can even find some updates for those things in 2013. I'll do the same for those 2012 dates.

And then I'll also use these posts as a way to highlight some of the current news from the past week in crochet today. This last part gives me an opportunity to share more crochet news with you guys than I have in recent months and I love being able to do this. So I'm excited to get started!
Deze Week in haak (2011)
Haak wellust werd geboren op januari 15, 2011. So I don't have any 2011 posts to share this week. Should I do something special for the upcoming 2nd birthday of Crochet Concupiscence?
Deze Week in haak (2012)
It was during this week in 2012 that I first shared the Haak speelplaatsen van Toshiko Horiuchi Macadam, die heeft proven to be one of the most popular posts ever on this blog. I can see why since this artist's large-scale crochet installations are truly amazing! Over 6 months later I did a visual chronology of her playgrounds to show the long history of her work. I've also mentioned that there are other artists doing work that reminds me of hers (zoals Ernesto Neto). One year ago when I first profiled this artist I couldn't find her website and didn't see many good videos about her work; a year later that has completely changed and you can see photo galleries of her work as well as many videos like this one:
Another great post from this week in 2012 was my interview with Cris about the benefits of crochet and knitting groups and the then-just-launched online meeting space called iYarny. Cris and I chatted a few times via iYarny. In one of these chats she introduced me to the Haak hexaflexagon. I tried to get a group going that I could moderate there but I wasn't successful in getting enough people together. iYarny remains pretty quiet but it is still available as a 24 hour space to meet up and chat via video or text with others, a place you can make plans to connect with your online crochet friends at any time if you so desire.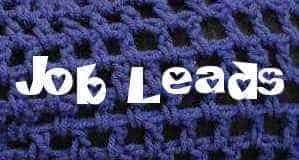 Tot slot, at this time last year I tried to launch a crochet job board. I really wanted to help people find paid work in crochet. Helaas, running that job board was too time-consuming and nobody seemed interested in paying for that service so I had to discontinue its availability. I'd love to be able to offer that again in some form someday. For now here some of the other resources that I recommend if you are on the hunt for a crochet job:
Tot slot, you can always just use Google to search for the latest crochet jobs. I would recommend narrowing your search by date to just the last week or so. Some search terms that you can try include: "Haak banen", "crochet help needed", "will pay" Haak, "crochet wanted", "paid crochet" en "crochet teacher". Natuurlijk, you sometimes have to sift through a lot of irrelevant entries when you use a major search engine but this can narrow it down.
News from This Week in Crochet

(2013)

Here are three of the most interesting items in crochet news I spotted in the past week:
1. Elderly Ukrainian Orphans Receive Crocheted Gifts. I had never even heard of an elderly orphan until I read this article. These people are in their 70s and were orphaned as infants; they have continued living in an orphanage in the Ukranian mountains their entire lives. Mandy Cullison, owner of Groovy Girl Yarn Shop, and a woman named Deb Copeland decided to work together to make handmade blankets for each of the fifty or so elderly orphans in this place. Geweldig verhaal!
2. Stay-at-home Dad Hires Crocheters for New Luxury Baby Business. Manhattan-based stay-at-home dad Gary Osborne has decided to start a business called Oliver & Adelaide (named after his kids). It offers customized packages of high-quality clothing and toys for kids. Basically they put together expensive, customized packages for parents who want their kids to have luxury items but don't want to spend the time it takes to find the best items themselves. The company has hired New York crocheters and knitters to make unique handcrafted items to include in these packages.
3. Every Baby Born in One Hospital Goes Home with a Handmade Hat. Er zijn ongeveer 2200 babies born each year at Beverly Hospital in Salem, Massachusetts. Each one is sent home with a knit or crochet hat made by a volunteer. Many are made by a senior crafting group that gets together weekly to craft for charity. I'm sure this offers them the joy of community and joy of crafting as well as the joy of giving to others.