This interview was originally from 2012; I'm re-publishing it to share with an audience that might have missed it the first time around!
Today we interview Lenore, the crochet designer at StrawberryCouture.
Innovative Crochet Hats
Lenore of StrawberryCouture designs different accessories but is best known for her innovative crochet hats. It's no surprise then that she was part of my roundup of the 100 Most Unique Crochet Hats. One of my favorite hats of hers is the sparkly crochet cloche hat seen above. She explained to me in her interview that her goal is to be unusual, not to create "dime a dozen" patterns but to really produce something original and noted that what most inspires her hat making is mathematical designs with twisted and unusual shapes.
Etsy Crochet Interview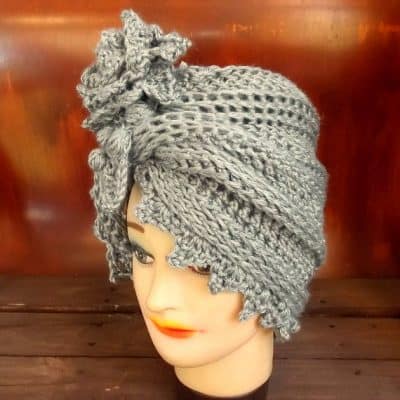 I asked Lenore first about how she learned to crochet. She said:
"My late grandmother, Louise Couture taught me how to crochet when I was a child. She was a retired teacher who crocheted nonstop. We crafted together: she crocheted afghans. I latch hooked rugs."
Yes, you read that right; her grandmother's last name was really couture. In fact, the name of her shop comes in part from honoring her grandmother. The rest of the shop name also comes from Lenore's name; her maiden name was Berry and so she was nicknamed Strawberry by kids at school. There you have it: Strawberry Couture.
Next I asked Lenore about how she came to start doing mathematically-inspired crochet rather than plain old crochet. She shared:
"Ideas come to me between asleep and awake. I'm constantly experimenting with new things. To me, too linear is too boring. I like to make things unusual, meaning that my things are not a dime a dozen. Grandma taught me to crochet in the round when making hats. She would always crocheted beret hats. I started out making hats and scarves – hats being the circle and scarves being the long rectangles. I mastered the shapes. I began to see that these only lye flat. I wanted to take it up a notch. I wanted to create a three-dimensional shape that is wearable without looking excessive.

I constantly search on the Internet looking for different techniques to crochet. Hyperbolic crochet is a three-dimensional shape where not all of it touches the surface. In other words, it's a non-flat surface scrunchy sculpture. I soon became inspired by Cat Bordhi's knitting of the Mobius strip. I learned how to knit it. Because knitting takes longer than crochet, I learned how to crochet the Mobius strip. It is a one-sided surface with an odd number of twists."
And here's the rest of the interview:
Q: Is there a particular reason you have chosen to focus on crochet hats rather than other objects? (I know you do some other accessories but hats seem to be the main thing, right?)
"When I started my Etsy shop, I wanted to make something that takes a short amount of time to make. I had my mannequin head and then experimented with hats. I crochet scarves, ponchos, shrugs, arm warmers, etc., but hats have been the primary focus. It is one of the most noticeable accessories that frames the face well."
Q: I'm loving your newsboy hats! Did something in particular inspire those?
"My newsboy hats are one of the ordinary creations I have in stock. I use the Fibonacci numbering technique when I crochet circles. I make sure the circle measures 13 inches across before I decrease. The top of the brim measures 8 inches across. I like to use those measurement numbers as it creates a pleasing effect. It reminds me of the Selena hat. I'm very glad I am able to create the brim without using any hardware to make the brim stand up. The newsboy hat has a style all its own."
Q: What have you found to be the pros and cons of selling your items through Etsy?
"The greatest thing about selling Etsy is that it is the lead handmade selling venue around. It is a high traffic selling platform. It has allowed me to sell nationally and internationally. I have a greater chance to sell to a bigger audience than I would on my own platform. I live in Corpus Christi ,TX. Because it is a warmer climate, my hats would not sell here.

The only thing I wish Etsy allowed is to have customers buy without having to have an Etsy profile. Some people are new to Etsy and they need all the help they can get so at least let them purchase without a profile.

Tip for others selling on Etsy: "Invest in a great camera such as the FUJIFILM or a high resolution camera that will take great close-up pictures. Great photos equals great results."
Q: Do you tend to sell more finished products or crochet patterns?
"I recently started writing and selling patterns of my hats. They sell. Lately though, I've sold more finished products than crochet patterns. Perhaps during the summertime, the patterns might sell more. Lately during the busy holiday season, I have not had time to write patterns."
Q: If there was one thing that you could make sure everyone knew about crochet, what would it be?
"You can create anything you'll want quickly and efficiently. Though I know how to knit, I always end up going back to crochet. I often like to make the crochet version of knit items. All crocheting is is pulling loops through loops. Think of it like that."
Q: What might we see from you next?
"I would like to merge surface topology into crochet: knot structures, more twisted shapes, and other shapes I can use in my work. It's the joy of thinking outside the box!"