Wilma Poot is a self-taught crochet artist in The Netherlands who makes figurative portraits of both people and animals using crochet. In this interview we learn more about who she is, what she makes and her process of crochet.

Tell us a little about yourself …
My name is Wilma Poot and I was born in 1963 in Woerden, in the Netherlands. I am a Graphic Designer. In 2012, I started painting; I am an entirely self-taught artist. Since 2014, I have found a new love in the technique of crochet, and with this technique I make figurative portraits of people and animals. The portraits have a fresh and powerful charisma with energetic shapes and interesting colour combinations. My work is expressionistic with a bright and colourful palette.
Did you ever crochet before 2014?
I learned the basics (chains, single crochet, double crochet) at the age of 8 or 10. I initially learned to crochet from my grandma. I saw her crocheting and I was curious to try but the only thing that I ever made, in my younger days, was a little crochet skirt for my doll. After that skirt, I never crocheted again as I liked knitting and drawing more than crochet at the time.
So your grandmother crocheted. What about your mother?
Actually, I taught my mother to crochet when I was a child. She is left-handed and she never learned to crochet at school or from her own mother or grandmother. After I taught her how, she made a lot of items for the home like tablecloths and bedspreads. Once she tried following a pattern to crochet curtains. In the pattern there was a double crochet, which at the time I thought meant two stitches crochet together. Of course this was completely wrong which we realised many years later.
What is your favourite crochet stitch or technique? How would you like to call this form of crochet?
I do not have a favourite crochet stitch per se. I use the different crochet stitches to emphasis direction, similar to a brushstroke in painting. I use the hook and the crochet stitch as a painter would use a brush and brushstrokes to get the right effect. It is a kind of freeform crochet, I think.
What is your favourite yarn?
I use all sorts of yarn (acrylic, polyamide, alpaca, viscose, wool , cotton, silk, etc.) and I work with them in a variety of thicknesses, too. I am not bothered too much by the differences in yarn, as my main concern is the colour and the texture of the yarn. The colours should, like a painting, fit together. They create the depth and the roundness, that 3-dimensional quality, in what is essentially a flat piece of work. 
What is your favourite crochet hook?
I usually use my yellow hook, which is 2.5 mm. Sometimes I use my red hook, which is one size larger, 3.0 mm. I find the thickness of the hook is not my main concern. It is more important to me that the hook is ergonomic, otherwise I get cramp in my fingers. 
What crochet project are you most proud of?
I really started to crochet in 2015. I saw a blanket at a craft fair, called CAL2014. The idea is that you, each week, download a new part of the pattern and then, bit by bit, over the entire year you create a blanket. So, I decided to join the CAL2015 group. It seemed like a really nice way for me to learn new stitches.
It took me awhile before I found the right colours because I wanted the blanket to match the decor in my living room. So, I was running a few weeks behind schedule but I quickly caught up and I ended up finishing the first 3 rounds of the blanket quicker than I had expected.
At the same time I was busy with a commission to paint a portrait and I noticed that I was using a similar colour palette in both the painting and the blanket. So, I started to ponder the idea of whether or not I could crochet a portrait. I had some leftover yarn so I started trying to make my own face in crochet stitches. I started with my eyes and they looked pretty good. I was really proud of the result and I became very enthusiastic about this way of crocheting.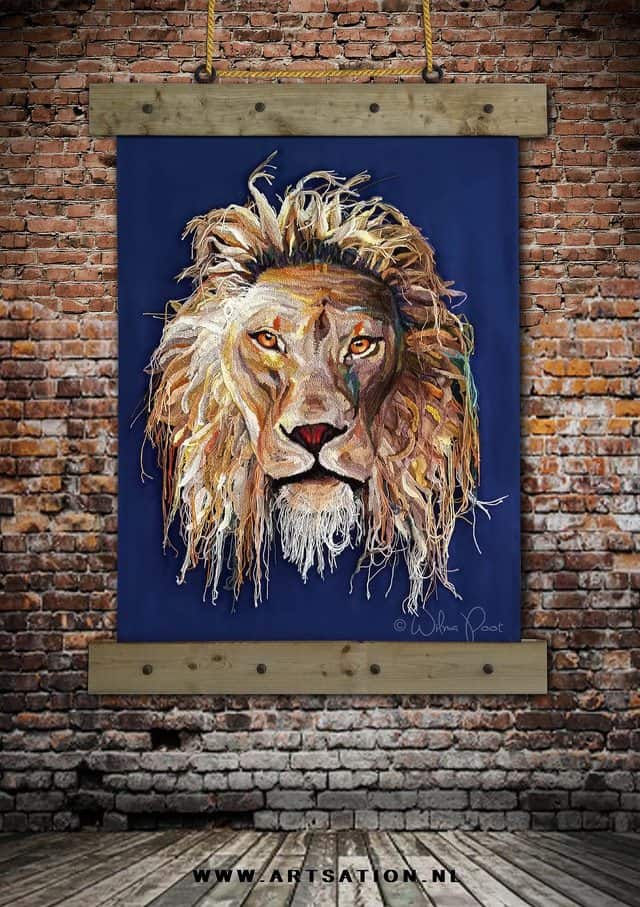 When the face was almost finished I started thinking about what my next project would be and I had decided to make a portrait of a lion. The idea for this portrait came from hearing the strange story of Cecil, the famous lion from Zimbabwe, who was shot dead by a safari tourist for fun. By using the crochet hook in the direction that follows the contours of the lion face I have been able to create an image with depth. The portrait is mounted on a royal blue canvas.  The canvas is mounted by wood with bolts and nuts. The dimensions of this portrait are 100 x 140 cm, and I am very proud of this project.
Do you crochet more for yourself or for others?
I made the CAL2015 blanket for myself, something to use in the winter when it is cold. Obviously, I made the self-portrait for myself. I am also still currently working on an Eagle Owl that has caught a mouse, which is for me. But as a result of making the lion and the cat, Saartje, I was commissioned to make a portrait of a cat called Stinkie, which had passed away the previous year at 21 years of age.
The owner of the cat had given me a few fuzzy photos from which I was able to make a pencil drawing. This sketch gave me my basis from which I could start to crochet the cat. I also currently have a commission for a portrait of a dog. The dog is very old and I think that clients really enjoy having a very original way of preserving the memory of a beloved pet.
How do you work? What is your way of working?
Sometimes I work from some photos of the subject. If there are no usable photos, then I first make a drawing. If the drawing is approved, I can start crocheting. The photos or the sketch are my guide. I look closely at the pictures and try to capture the character of the subject in a 'painted' work of crochet thread. I never make a pattern of the work, which in turn makes each piece unique.
What is your favourite quote or saying?
My favourite quote is from a rebel and role model with the name Pippi Longstocking. She said: "I've never done so I think I can". In the 70s she was my TV hero.
And a saying that my dad uses a lot and it's also one of my favourites (in Dutch): "zonder bluf is het leven suf". It means something like: without bluff life is dull.
Is there anything you don't know in crochet that you would like to learn?
Yes, how to be faster! The portrait of Saartje, the cat, took me about 100 hours to make and the portrait of the lion was around 350 hours of work and this was simply the time it took to crochet. After this I still had to make the work presentable by mounting it so that it could be displayed.
And I have so many more ideas…