Nous allons jeter un oeil à ce qui se passait ici sur le blog, et dans le monde du crochet, pendant ce même temps l'année dernière. This week was American Craft Week and also the week of the first ever I Love Yarn day.
Crochet d'Art
J'ai profilé Julie Kornblum, an artist who uses fiber arts to share an environmental message. She is teaching a variety of workshops and classes and has an updated website.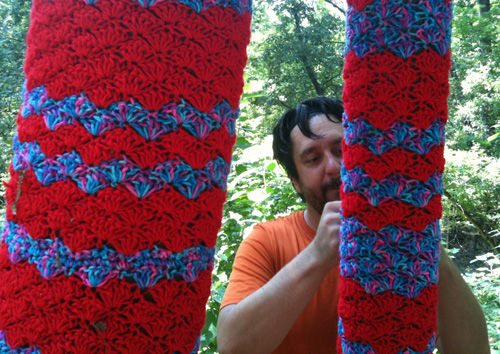 The Atlanta BeltLine Green Space was launched and included yarnbombed trees as art réalisé par Kniterrati; this is one of many art projects in the public space
Livres de crochet
I reviewed Stacey Trock's Doudou au Crochet. I also went on to review her next book, Doudous au crochet. Stacey has a third book of crochet toy patterns in the works.
I wrote about some crochet books that were available sur le Kindle. You can get my book, Crochet a sauvé ma vie, sur le Kindle, trop!
Crochet Inspiration
25 Façons d'économiser de l'argent sur le Crochet
Crochet-Actualités
Male inmates crocheted sweaters for the annual Mr. Rogers contest; I later wrote a more in-depth article about the benefits of crochet in prisons as a guest post for Crochet Liberation Front
A new African Center was teaching women in developing nations to crochet as a business skill. I haven't seen any updated information about this spot; I hope it's still active! (photo via http://twicsy.com/i/F36eF)
101-Year-Old Continues to Love Crochet
Crochet mode
A news article recommended that menopausal women wear openwork crochet clothing for comfort
Crochet-citations
Ici ont été quelques-unes des choses intelligentes ont dit:
"Injecting each granny square with a rush of bold colors makes my heart skip a beat with each stitch made, les couleurs plus on rit le. J'adore tout simplement des carrés de mamie!" – Sarah London

"One of the magical things about crochet is its ability to keep me centered in the present or "now" moment. I'm completely focused on what my hands are doing with hook and yarn, whether I'm working from a pattern or simply crocheting from memory. All of the trials and tribulations of the day fade away as I become absorbed by the stitches effortlessly falling from my hook and becoming a beautiful piece of fabric. I'm not thinking about the bills I have to pay tomorrow or focused on some pain or hurt from yesterday. Crochet has my complete attention, and I begin to relax and unwind." – source

"Some crocheters are looking for a blanket pattern made by assembling squares so that they can crochet on the go. Others despise assembling and want a blanket with miles of single crochet. Some want a blanket made with a bulky yarn so that it can be crocheted in a snap. Others are looking for an intricate design to expand their crochet abilities." – Stacey Trock

"I look in my bag and see eighteen bundles of delicious colour and I squeeze my eyes tight shut and try to picture it all strung out and converted into blanket form. WoW. I see it! I can see it so clearly! This bag of yarn is going to transform into one a-MA-zing blanket, and I'm incredibly excited to be starting out on this new creative Blanket Journey." – Attic24

"Crafting relaxes me and helps me de-stress. When I'm working on a project, Je me sens paisible et calme; my hands seem to have a mind of their own, and my brain relaxes. Some people do their best thinking in the shower or while driving; pour moi, my best thinking happens when I'm up to my elbows in vintage buttons or cutting out inspiring images from magazines or winding yarn." – Kari Chapin
Crochet sur Etsy
J'AI interviewed KAIJ who makes beautiful fascinators, many of which incorporate crochet
Fil
I provided a link roundup for 15 yarns I'd reviewed
Ce que j'ai été jusqu'à
I crocheted myself a little ipod case, which I still use
I started using Twylah to organize and display my Tweets. I can't believe I've been using it for a year now! I continue to like the way it organizes what I share. Vérifiez-le dehors.
Ce jour dans l'histoire du Crochet
I looked up this date in crochet history and found a column from 1971 appelé Polly's Pointers where people wrote in with their tips. Here's the one I was looking at:
"Margaret said she had trouble crocheting plastic bread wrapper rugs as the plastic would stick to the crochet hook. I have found they are less sticky if I put several cut wrappers into a plastic bag, sprinkled a bit of talcum powder over them, close the bag and swoosh them before crocheting."
I found this interesting because it shows that "plarn" was being used more than forty years ago. We think of this eco-friendly recycled yarn as a new idea but it's not. I can't imagine it would be fun to crochet plastic with talcum powder all over it though!
Vous avez manqué un de ces postes l'année dernière? Vous pouvez visiter les originaux en utilisant les liens tout au long de ce post.