2011 crochet: Leslie Blackmon, Pam's Comfort Cables, Jessica Alba, jewelry hanger
Ce qui se passait à la mi-mai 2011 dans le monde du crochet? Jetons un coup d'oeil:
Crochet d'Art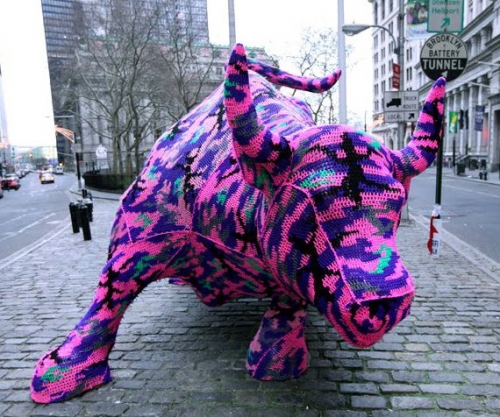 Wall Street Bull by Olek
At this time last year there was an article that came out about Olek saying that she didn't want to be called a yarnbomber. I thought it was an interesting perspective and I hope you'll click over and see what it was all about. Olek has since produced tons of great work, some that the public would probably consider YarnBombing and some that was done as gallery art work. In related news, I've seen tons of articles lately about yarnbombing. For several months there weren't many people writing about the topic anymore and then recently there seems to be a surge of reinvigorated interest in the topic. The Chronicle-Telegram brought it up as a new topic, calling it "grandma graffiti". The Philadelphia City Paper had an opinion piece opposed to yarnbombing. And the Saline City Council approved a Yarn Bombing Day, showing that this remains a controversial topic. Share your thoughts on the pros and cons of yarnbombing in the comments below!
Work by Leslie Blackmon
The fiber artist I did a profile on at this time last year was Leslie Blackmon, who I dubbed a happy crochet artist because I really love the joy I see in her work. Shortly after that profile I had the wonderful opportunity to interview Leslie Blackmon about her crochet work and inspirations. Blackmon currently has work in a juried exhibit called Bedtime Stories at The Art League Gallery in Virginia although it's not crochet art in that show.
Livres de crochet
The book I looked at last year at this time was Fiber Gathering by Joanne Seiff. It wasn't crochet-specific but instead offered designs for two dozen projects in crochet, tricot, filature, dyeing and more. What I loved was that the projects were based on fiber festivals around the nation and I got to learn about many different fiber fest histories through it.
Crochet-Actualités
Confort de PAM câbles Afghan
At this time last year I was really supportive of a project called the Confort de PAM câbles Afghan. Although I don't know Pam, she had worked with and inspired many crochet designers so when she was diagnosed with cancer a group of them came together to help raise money for her care. Each designer created a pattern for a crochet cable square and those were put together into an afghan pattern that was sold through KnitPicks to raise money. I was one of the first people to purchase that pattern, and I'm still glad that I did because I think it was a good cause. Cela dit, my experience with KnitPicks wasn't a good one. I purchased the pattern but didn't try to execute it until months later when I was ready for a big project. Quand j'ai fait, I discovered that the top and bottom of each page of the pattern was cut off. I learned through connecting with folks on Twitter that this was a problem that was discovered and remedied shortly after the pattern was released and was told by several folks that I just needed to contact KnitPicks, explain that I had the pattern with the flaw and I'd be sent the new one. Cependant, I emailed KnitPicks multiple times and didn't get any response. I then made some noise on Twitter with an @ mention to KnitPicks so they'd see it. Still nothing. So in the end, I gave up, and I never made the pattern. It's too bad because I have always wanted to practice crochet cables and I think the blanket is beautiful. Eh bien. Sometimes you win, sometimes you lose. Comme je le disais, I'm still glad I supported the cause, and the problem wouldn't affect anyone purchasing the pattern now.
Another cancer-related afghan was also news-worthy at this time last year. It was the Afghan of Awesomeness featuring more than 750 crocheted squares.
In other crochet news:
Crochet mode
Selena Gomez wore a crochet top on the cover of Teen Vogue
Jessica Alba decked out her little girl in a cute crochet dress
A Charlie Sheen PSA featured this crochet de haut
Crochet sur Etsy
J'ai partagé les cinq éléments de fonctionnalité de crochet sur Etsy:
Et voici quelque chose que ces magasins Etsy ont maintenant:
Crochet-citations
"Crochet has morphed from homespun to hot. Une fois communément associés avec des couvertures et des plats à gâteaux, le knit lâchement tissé fait un printemps fort montrant des robes, beachwear and ballet flats." – source

"We wandered deliciously through the museum and then waited around until it closed. There was an excellent stop sign pole across the street from the entrance,"elle a dit, describing how she plotted out the perfect location for her yarn bomb. – Streetcolor

« Crochet agit comme une thérapie physique et mentale, et il y a beaucoup de belles choses qui est créées dans le processus. » – source

"Freeform crochet, by some definitions, is a combination of stitches and colors, worked in a multidirectional way." – Margaret Hubert

"Strong foundations are the making of all good projects. Take time to understand the basic skills and equipment you will be using. With such a variety of supplies available, the choices you make will influence the end product you create." – Pauline Turner
Voici ce que j'étais jusqu'à il y a un an:
I shared some crochet WIPs:
Here's how some of those turned out in the end:
Aussi, j'ai partagé mon crochet cintre bijoux, which I've recently updated. Et j'ai partagé le fabric crochet hooks organizer bag a friend made for me, which I still use and love.
Visitez les liens tout au long de ce post pour en savoir plus sur chacune de ces choses!