Last week we looked at crochet wedding dresses. Weren't they beautiful? But wedding dresses aren't the only thing that can be crocheted at a wedding. Here are 20 more ideas for items that can be crocheted for a wedding.
1. Crochet Wedding Veil
Make a bold statement with a great crochet bridal veil!
Green Trunk Designs made the crochet wedding veil on the left to match the one on the right that Padme Amidala wore in Star Wars II.
2. Crochet Fascinator
Fascinators have been all the rage at weddings ever since The Royal Wedding. My favorite fascinator maker is KAIJ, who made the small hair clip fascinator above, which I think would be great for a wedding. Did you know that vintage fascinators actually looked a lot like bridal veils:
3. Crochet Wedding Jewelry
In 2009, blogger Aromy had a wedding in which everything was eco-friendly and compostable and much was handmade including the crochet necklace and bracelet you see here. You could also crochet earrings for your wedding.
4. Crochet Ring Pillow
Once Wed has a free crochet pattern for this ring bearer pillow.
Extra: Etsy's LifeJewels has another cute crochet wedding ring pillow.
5. Crochet Flower Basket
Send the flower girl down the aisle with a handmade flower basket.
This one was designed by Julie A . Bolduc who sells the crochet pattern at JPF Crochet Club.
6. Crochet Bunting
Decorate your reception area with crocheted bunting!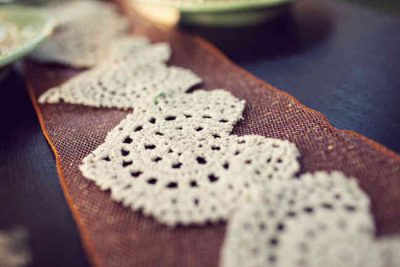 You already saw one example of a doily-backed bunting in my previous roundup of upcycled doily ideas. However, another great option would be to do heart-shaped bunting like this example from Ruffled Blog.
7. Crochet Wedding Shawl
Outdoor weddings can get chilly so it's important for the bride to have a great bridal shawl. Crochet is a terrific idea here.
This crochet bridal shawl comes from CrochetButterfly
8.Crochet Wedding Shrug
Some ladies don't like the look of a bridal shawl; get contemporary with a bridal bolero or shrug instead.
This modern bridal shrug comes from Etsy's denizy03
9. Crochet Bridal Umbrella
I found this crochet umbrella for sale on DaWanda but you can also find several others on Etsy that would add to a bride's magical look.
10. Crochet Stones for Centerpieces
Do something unique and different; use crochet-covered stones as table centerpieces instead of using costly flower bouquets!
These stones come from Etsy's knittalatte
11. Crochet Bridal Shoes
These crochet bridal shoes come from the Bay Area's own Anyi Lu. They are designed to be comfortable enough for the bride to dance all night long.
12. Crochet Wedding Gloves
I like these fingerless crochet wedding gloves from Etsy's Lasunka because they look modern and comfortable. However, you could also use full-coverage vintage crochet gloves for a more classic look.
13. Crochet Bouquet
Why waste your money on a flower bouquet that's going to die before the honeymoon is over? Crochet your bouquet instead!
This crochet bridal bouquet comes from Italian crochet website Non Solo Fiori (not only flowers).
Note: The bridal bouquet doesn't have to be the only set of crocheted flowers at the wedding. Crochet all of your floral decorations as well!
14. Crochet Bridesmaid Dresses
The bride isn't the only one who can wear crochet!
This pretty picture was posted on Facebook by WeddingsOnline.ie
15. Crochet Bags for Wedding Favors
Personalize your wedding favors by handing them out inside small crochet bags.
Lion Brand offers a free crochet pattern for this little wedding favor bag.
16. Crochet Wedding Favors
Instead of crocheting bags and putting something else in them as wedding favors, just crochet the favors themselves!
Etsy's cherrytime makes these cute little birds as wedding favors.
17. Crochet Tablecloths
Beautify the tables at your wedding reception with handcrafted crochet tablecloths. (Wash them afterwards and give them to the wedding party as a gift!)
I really love the story about relationships that was shared at Busted Halo about making this crochet tablecloth.
Ideas: If you don't want to make full-size tablecloths, you can always crochet tablerunners or doilies instead.
18. Crochet Wedding Invitations
There are lots of ways to incorporate crochet into your wedding invitations. For example, you can use a photo of crocheted lace as the border for the invitations. But an idea I really like is to do handmade invitations and envelopes that incorporate crochet.
This example of a linen envelope with crochet edging comes from Etsy's donAlberta.
19. Crochet Wedding Cake Topper
Wedding cake toppers seem to be one of the most popular crocheted items for DIY weddings.
These adorable lovebird wedding cake toppers are sold by Etsy's Denizmum
20. Or Even a Crochet Wedding Cake
I don't know exactly what the point is of a crocheted wedding cake but I do know that I've seen a bunch of them online!
There's a tutorial for this crochet wedding cake over at DIY Bride.
You can use heirloom crochet for something old and you can also use crochet for something new, something borrowed and something blue!