Father's Day is coming up. Why not make a crochet sweater for the man in your life? Here are ten crochet sweater patterns for men.
Top-down men's crochet sweater pattern for sale from Crackers in Bed
Vintage men's crochet sweater pattern for sale on Etsy from ozarknomad
Crochet aran sweater pattern for men sold on Craftsy by MrsCrochetDesigner
This men's Star Trek sweater crochet pattern by Patrick Hassel-Zein uses Tunisian crochet, zipper work and more.
Chain Male Design crochet sweater pattern for sale on Ravelry
Tunisian crochet sweater pattern for men free from crochetkim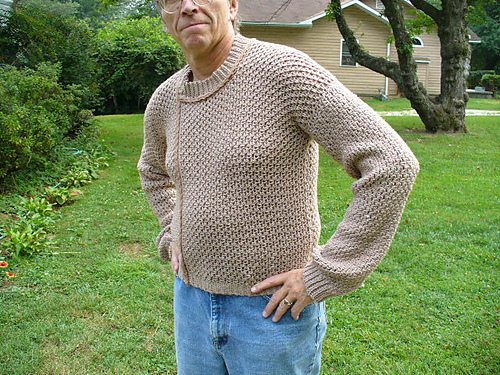 Men's custom fit crochet sweater pattern by Deborah E. Burger for sale on Ravelry
Zippered crochet men's sweater pattern for sale from VogueKnitting
Men's sweater vest and matching scarf crochet pattern for sale on Craftsy from Hidden Meadow Crochet
Skull sweater crochet pattern free from @redheartyarns
And 5 More Men's Sweaters for Inspiration
No patterns online for these but they might inspire you if you want to create your own crochet men's sweater:
Kate Jenkins of Cardigan created men's crochet sweaters for Topman for the London runways
The Tuxedo Front Pullover is a Kim Kotary crochet sweater pattern from the November '09 issue of Crochet! Magazine
 Otis Sweater by Peter Franzi from the Jan/Feb '13 issue of Crochet Today
This men's cotton crochet pullover by Etsy's toivima has color details that are unique to see in men's sweaters.
Vintage 1965 men's granny square sweater from old McCall's magazine