When you add crochet to your bicycle, you make it more personal. Your choice to use colorful crochet or a sophisticated simple color palette says a lot about who you are. It makes your bike easier to find in a crowd. And it will make you smile each time you set off for a ride. These bicycle crochet patterns include crochet skirt guards, bike seat covers and more.
Bicycle Skirt Guard Crochet Patterns
I spotted this pineapple lace crochet bike skirt guard in the storefront of a California yarn store. There is a pattern for a similar design below …
Bicycle skirt guards (which have also been called dress guards and coat guards) are designed to fit over the back tire of a bicycle to prevent skirts and other long clothing items from getting stuck in the spokes of the wheel. They are functional but they can also be beautiful. Personalize your bike with any one of these beautiful bicycle skirt guard crochet patterns.
Pineapple Lace Skirt Guard Crochet Pattern. This isn't quite the same design as the skirt guard (shown above) that I spotted in a California yarn store but it's pretty close. This pattern, designed by Lorna Watts and sold through various online channels, is made using pineapple lace but written with the beginner crocheter in mind. It is a lovely, lacy design for beautifying your bike.
Floral Crochet Skirt Guard Pattern by Meertje, sold through Ravelry. Crochet bicycle patterns are especially perfect for springtime since this is a common season for many people to start getting their bikes out of storage and into action. Crochet flowers are a favorite spring project so it makes perfect sense to add flowers to your bicycle skirt guard crochet pattern! This pattern is available in English as well as in Dutch and German.
Lara Messer's Bicycle Skirt Guard Crochet Pattern. Crochet designer Lara Messer originally created this beautiful bike skirt guard crochet pattern for Mollie Makes magazine; Lara now sells this pattern through Ravelry. The colors are perfect for spring but could also work anytime of the year. I love how it combines granny squares and circle motifs with curved rows of crochet. Smartly, the skirt guard is designed to be removable so that you can wash it as needed.
Bicycle Skirt Guard Crochet Pattern with Hearts. This crochet pattern is sold on Ravelry by Ashley Nicole. It has hearts in the center and a repeating motif that looks a bit like hearts throughout. This makes a bold statement and keeps you safe on your bike at the same time.
Cotton Crochet Bicycle Skirt Guard Pattern. Make a really simple crochet skirt guard using a single color of cotton crochet pattern and this bicycle skirt guard crochet pattern sold on Ravelry by Amy Gawthrop.
Rainbow Bicycle Skirt Guard Crochet Pattern. Netherlands-based crochet designer Dorien of JustDo over on Etsy offers several different bicycle crochet patterns for different styles of skirt guards. My favorite pattern is this rainbow colored design although her floral bike skirt guard pattern is also cute. This designer also sells finished crochet skirt guards and will make them in the color combination of your choosing, so if you really love the idea of getting a crochet skirt guard but aren't prepared to make one right now then she's still a great resource for you!
Crochet Bike Seat Patterns
This crochet bicycle seat was crafted by LouizaMakes on Instagram; no specific pattern here but you can see it's built with simple hexagon shapes.
You may not see your bike seat when you're actually riding your bike but it's the first part of the bike you notice when you're walking up to it. Make yourself smile each time that you get onto your bicycle with a personalized crochet bike seat cover.
Cotton Crochet Bike Seat Cover Free Pattern. This crochet pattern is free from DMC and uses their cotton yarn, which is a great choice for bicycle crochet. I love the simple textured stitch pattern it uses.
Bike Seat Cover Free Crochet Pattern. This bicycle crochet pattern by How to Crochet a Heart is a guest post over on And Sew We Craft. It uses very simple stitches worked in the round to create a bike seat cover. Personalize yours with your color choices!
Crochet Heart Bike Seat Cover Free Pattern. Interweave shares this free bicycle crochet pattern from Amie Hirtes, which uses a chart to create the three-color heart. The heart fits perfectly inside the center of a bike seat!
Crochet Bike Seat Pattern. Patchamano on Etsy sells the crochet pattern for this bike seat cover. Interesting color changes here have created a unique design on the seat!
Striped Crochet Bike Seat Cover free tutorial. This is more of a tutorial or recipe than a crochet pattern but it provides enough free information for you to easily make striped bike seat. You could also use the info here to get a general idea of how to make your first crochet bike seat cover and then design your own! This is a guest post from Jasmin Blanc on the Kittenhood blog.
Granny Crochet Bike Seat Cover Free Pattern. This crochet pattern, which is available as a free download on Ravelry By Selena Wallce, also includes matching crochet handlebar cozies.
Crochet Bike Seat Cover Pattern. This crochet pattern uses basic stitches to create an adult-sized bike seat cover that seems inspired by granny stitch. It is sold on Etsy by RustyfishKT.
This chunky bicycle seat crochet pattern can be found in the book Big Hook Crochet. You'll notice there is also crochet on the handlebars of this bike.
Crochet Bike Basket and Bag Patterns
Do you have a basket on your bicycle? If you do then you can add crochet to it to make it a bit more fun. And if you don't then you can make a crochet basket for your bike!
Easy Crochet Bike Basket Pattern. This crochet pattern is sold on Etsy by jspirik. It is an easy crochet pattern worked in single crochet with simple handles that loop over the handles of the bike and button closed. Easy to add and remove depending on whether or not your want a basket on your bike that day.
Kids' Bike Basket Free Crochet Pattern. This crochet pattern by Amour Fou uses very simple stitches and so is another easy one to make. It is designed for a child's size bike.
Hemp Twine Crochet Bicycle Basket Free Pattern. This hemp crochet pattern by Brenda K.B. Anderson was featured in the spring 2012 issue of Interweave crochet and is now offered as a free crochet pattern on the Intweave website.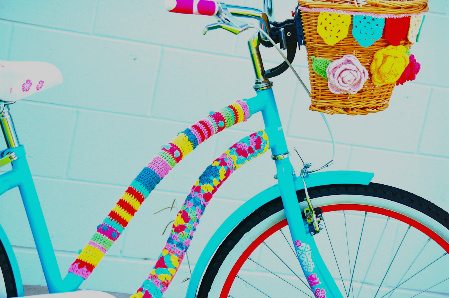 Bike Basket Bunting Free Crochet Pattern. Greedy for Colour offers a free crochet pattern for bunting that you can add to your existing bike basket.
Bicycle Basket Bunting Free Crochet Pattern. Felted Button also offers a free crochet pattern for bike basket bunting. You could also adapt any other bunting crochet pattern to the right size for hanging on your bicycle basket!
Bike Rack Bag Free Crochet Pattern. This crochet bag is a basket-alternative for your bicycle. It attaches to your bike rack to hold small items. This pattern is free through Ravelry from Jennifer Popham.
Crochet Bike Bag Purse Pattern. This crochet pattern is called "walk and ride" because it designed to strap on to your bicycle and serve as a basket for carrying your things but then it can easily be popped off the bike and used as a purse. It is sold on Etsy by TheCountryHooker.
Other Bicycle Crochet Patterns
Bicycle Bell Cozy Free Crochet Pattern. Decorate every single part of your bike including the bell. This free crochet pattern by Amidorable Crochet is designed to allow the bell sound to come through even though it's slightly muffled by the yarn.
Crochet Bicycle Streamers Free Patterns. Hello Speckless has come up with a simple but smart design for adding crochet bicycle streamers to your handlebars.
Bike Lock Cozy Free Crochet Pattern. Don't forget your bike lock when making crochet accessories for your bike. The Knit Cafe offers this free bicycle crochet pattern.
Bicycle Helmet Cover Free Crochet Pattern. This crochet pattern by Jaime Maraia for All Free Crochet uses reflective yarn to add visibility to your bicycle helmet – and it makes the helmet cute at the same time!
Colorful Bike Helmet Cozy Crochet Pattern. Here is another option for a crochet bike helmet cozy. This one is colorful and fun! Sold through Etsy by SewAndSoUK.
Men's Bicycle Vest Vintage Crochet Pattern. This vest was apparently in the style of something men wore for bicycling as well as golfing. Princess of Patterns sells the vintage pattern affordably as a Kindle PDF.
Find even more bicycle crochet patterns in the book Craft Bomb Your Bike!
If you don't necessarily need bicycle crochet patterns and are just looking for some inspiration then you might also want to check out Bicycle Crochet Inspiration, a roundup of yarn bombed and crocheted bicycle ideas.