We all have different crochet hooks that we prefer. I'm a Boye girl myself but I know a lot of people who like Addi hooks and Etimos and various others brands, shapes and styles. Whatever type of hook you have, it probably looks exactly the same as almost everyone else's collection of those same hooks. I know that my Boye hooks look just like every other Boye hooks I've ever seen. But your crochet hooks don't have to stay run-of-the-mill. There are tons of cool ways that you can decorate, embellish and personalize your crochet hooks.
Some people add clay handles to make their hooks more ergonomic. Others use upcycling to make their crochet hooks unique with found objects. And some just add crochet hook decorations because they want to be able to pick their hooks out of a crowd. Whatever your reason, here are some ideas to get you started with making your crochet hooks one-of-a-kind works of art:
Old Pens = New Hooks
FreeCraft has a basic tutorial for taking apart old pens and replacing the innards with a crochet hook. What a fun way to upcycle dried up pens and give them a new creative life! This article also provides a lot of helpful tips for making crochet hook handles out of a wide variety of other materials so it's one to bookmark if this is something that interests you.
Pencil Grip Crochet Hooks
One of the quickest, easiest and cheapest ways to decorate a crochet hook is to add a storebought pencil grip to it. DonnasDecembers, which is where the photo above comes from, explains how this helps prevent hand injuries and shares some tips for getting the grips into the right position.
Polymer Clay Handles
In the video above Carol Ventura shows us how to make polymer clay handles for crochet hooks and explains why they're especially good for the hands when doing Tapestry Crochet. I have to give a shout out in this section to Debi Y. because she makes many, many beautiful polymer clay hooks and also has a good written tutorial for making your own handles out of Polymer clay. Here you can see one that she recently made:
Masking Tape
Carol Ventura told us that bigger, more grippable handles are a smart choice, especially for Tapestry Crochet. This isn't new news. Mark Dittrick also emphasized this in his 1978 book Hard Crochet, which is an intro to Tapestry Crochet. In this book he says, "masking tape, cloth and a needle and thread are all it takes to turn an ordinary steel crochet hook into an impressivlely powerful tool". He lays out the specifics for the best ways to wrap and stitch the hooks in the text of the book.
Knotted Crochet Hook Handle
It's Knot Art shared this unique crochet hook decorating idea
Felted Crochet Hook Handle
Among Swirling Realities made this felted hook handle using a tutorial from Dyakcraft. Unfortunately, the link for that tutorial no longer seems to work and I can't find another one on the web. Anyone have any tips for making a felt handle to decorate a crochet hook?
Rhinestone Studded Crochet Hooks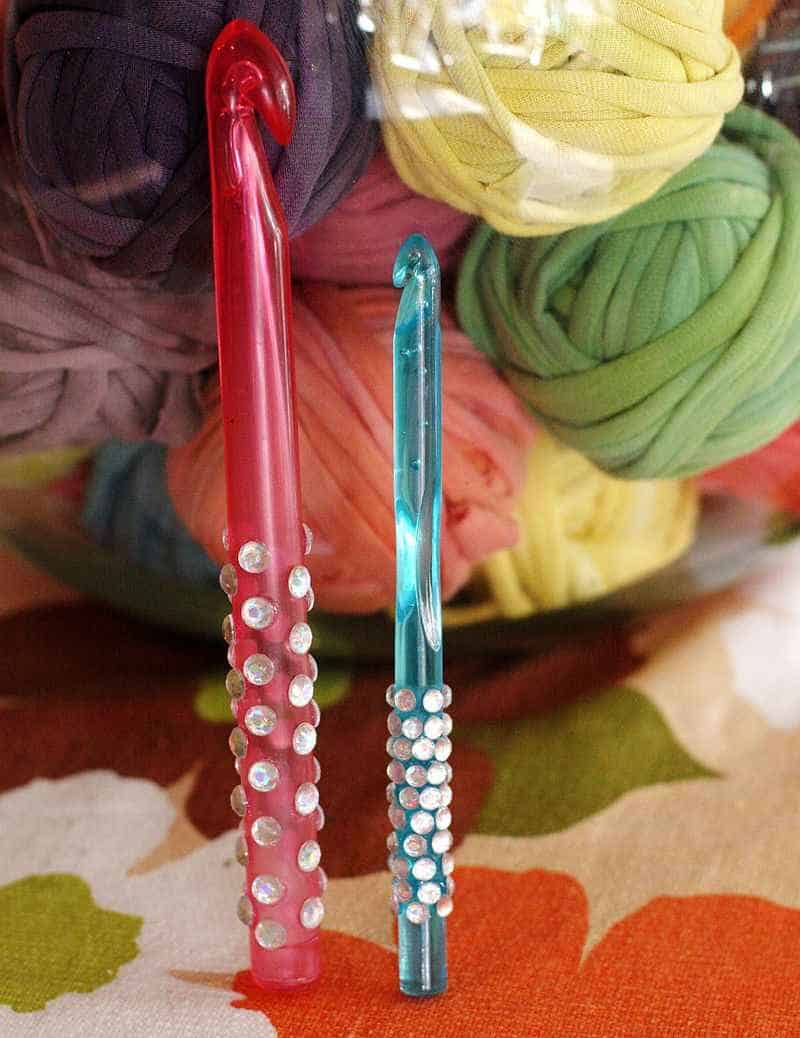 Visit A Beautiful Mess to find out how Twinkie Chan blings out her plastic crochet hooks. Twinkie has also been known to make super cute candy inspired crochet hooks.
Cushiony Crochet Hook
Crochet Uncut shares how to use a commercial shelf liner to make a comfortably, cushiony handle for your crochet hook. I would imagine that you could do a lot of fun decorative things with the shelf liner, such as dyeing it somehow, to make a really cool look for this type of handle. The article is written by Andee Graves.
Decoupage Crochet Hook
The items in this set were part of a giveaway over at Kathy's Victorian Tatted Lace. She says there that the crochet hook has been decoupaged. I tried to find more info on the maker's blog but couldn't find anything. Does anyone know how this would have been made?
Bent Crochet Hook
This image comes from a fun tutorial by Girl on The Rocks for making a crochet hook that can go on a keychain. Couldn't the same concept be used to bend the bottoms of your crochet hooks into decorative designs?
Wooden Crochet Hooks
If you know how to work with wood then you can make your own wooden crochet hooks or your own wooden hook handles. The hooks above are from Jimbo. The hooks below are from Etsy's pjturner.
Some Additional Ideas
It seems like you could also quickly and easy decorate your crochet hooks by:
Putting stickers on them
Tying a ribbon around the base
Painting them
What other ideas do you have for decorating your crochet hooks to make them special? Share ideas in the comments below!
Once you have your cool handmade hooks, you will probably want to display them. Check out 10 smart ways to organize crochet hooks for some display ideas.