There is a really popular wedding dress made of doilies that I've seen again and again online. I shared it a few times already in my roundup of crochet wedding dresses and my roundup of upcycled doily ideas. But the thing is, although it's the most popular doily dress I've seen online, it's definitely not the only one. And in fact, I'd say that it's not even the best one. So I thought I'd put together a roundup of some other awesome doily dresses from around the web.
Blue Doily Prom Dress
After @CrochetToday saw my post about the crochet wedding dresses, they did a post mentioning it (thanks folks!) and in that post they also mentioned this pretty blue and white doily prom dress. It was made by Janelle Ponte of Pontepretties Specialty Crochet and crafted using Aunt Lydia's crochet thread.
Rainbow Doily Prom Dress
@Galapril, a blogger from Denmark, shared these beautiful photos last year of the rainbow hued doily dress she wore to prom. Love it! There are lots more pretty photos in the blog post if you want to see the dress from different angles.
White and Cream Doily Dress
This patchworked doily dress by Etsy's RubyChicOriginals was featured in the Summer 2011 issue of Belle Armoire. I decided to show the back of the dress here because I think it's especially unique but you can see the gorgeous front of it over in the Etsy store. I also like styling with the boots here because it shows that a really feminine doily dress can have a tougher side.
Artistic Doily Dress
The idea of upcycling doilies into beautiful dresses isn't new. This one, by artist Darlene Mande, was featured in a 1996 recycled art calendar. You can't see the details of the doilies too well but you can get the gist and it's such a beautiful photo, isn't it?
Vintage Doily Dress
We can go back even further than 1996, of course … this great vintage photo shows doilies on a dress back in 1924. The woman is at The Grand Prix. Found this one over on Strawberige where there are other great photos from the same era.
Upcycled Doilies Slip Dress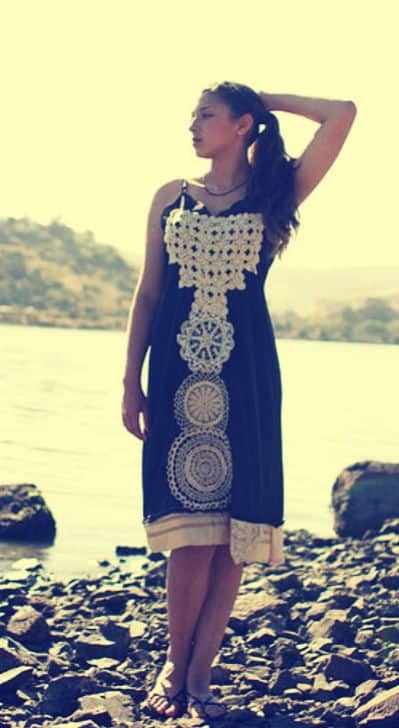 Etsy's BaysideBoutique sells lots of terrific upcycled dresses including this one which is just a black slip dress that's been embellished with vintage doilies. It shows a great example of using doilies of different sizes in a cool layout to create a really fresh and fun design.
Orange Doilies Dress
This is another example similar to what BaysideBoutique did above. It's an orange slip dress embellished with doilies. What I especially love here is the hem border made from small doilies. This one is from Etsy's ByKatDesigns.
Black Dress Upcycled with Rainbow Doilies
If you know her work then you'll be able to tell at a glance that this gorgeous dress with an asymmetrical rainbow doily skirt comes from Babukatorium. You can learn all about it and see more images in the artist's Etsy store.
Dyed Doily Dress
Wings of Lace sells a number of different dresses made from vintage doilies. From what I gather, the whole thing is hand-dyed to give it a finished, coheisve look.
Beautiful Blue Doily Dress
This comes from Etsy's ArmoursansAnguish, a shop with many, many beautiful OOAK wearables.
Pretty in Pink Doily Dress
Actually, Etsy's rubypearl calls this the Alice in Wonderland dress. But I think it's pretty in pink – and peach! Really feminine and girly and yet edgy at the same time.
Babydoll Doily Dress
I adore the dresses that are made entirely or mostly of doilies. But a doily dress can also be a dress embellished with just a single doily. I think that Etsy's jiorji does a great example of this by using a really cool underlying dress and adding an untraditional large oval doily.
Girls' Doily Dresses
This is another example of how one large doily on a dress can make a big statement. Especially when you do the same thing on three dresses and put them side by side. I found this one on a Flickr roundup of creative ideas for vintage doilies. It's from @VintageFern who has lots of other gorgeous photos totally worth taking a look at!
Colorful Doily Dress
The aforementioned Flickr roundup also included this colorful dress pieced together from doilies and fabric remnants. I can't decide if I like the colorful doily dresses better or if I prefer the ones that are just whites and creams. What do you prefer?
Doily Dress Collar
Holly Made shows how she took leftover doilies and added them to a dress to make a new DIY style for herself. Visit Holly on Pinterest to her other cool stuff.
Intentional Doily Dress
Most of the doily dresses that I like are upcycled items that use a variety of doilies originally intended for use as doilies to make a new stitched-together-dress design. However, you could do a play on the doily dress with some intentional stitching by finding a small doily design that you like and making enough of them to stitch together into a motif dress of doilies. This one was a thrift find over at Wasted Wardrobe.
Designer Doily Dress
This is that same idea – where you take the basic idea of a doily but you intentionally make the pattern starting from scratch. This one was a runway walker by Alexander McQueen and I had to include it in the roundup (despite not being strictly "doilies") because I absolutely adore it. Via @art_of_wore.
Doily Dress WIP
Etsy's DazedandDoilied is working on this peasant dress draped with doilies.
Paper Doily Dress
This gorgeous dress is made from paper doilies, not crocheted ones. In a way, that makes it even more awesome! But this type of layering could likely be done with lightweight crocheted doilies, too. Beautiful! Via Stealfinder.
Layered Doily Dress
In fact, I was able to find a crocheted doily dress that shows some layering, although different from the layering in the paper doily dress because these doilies are bigger. This one is from Etsy's sistersroseandruby, a store brimming with shabby chic upcycled designs.
Doily Dress Cards
While I was looking around the web for doily dresses, I came across a bunch of examples were doilies were shaped into dresses and used as decorations for cards and invitations. What a great way to make a handmade card even more special! I do know that usually these are done with paper doilies but I'm sure you could do something similar with crocheted doilies.
Paper Doily Dress Card via Cricut Community
Vintage Pink Doily Dress Card via Folksy
Would you wear a doily dress?