Decorate your entire home in crochet from crochet rugs on the floor to crochet shades on the lamp and cozies for absolutely everything. Here are sixty fresh crochet patterns for the home.
Crochet Rugs
Dress up the floors of your home with warm crochet rugs.
Radiance floor rug crochet pattern for sale from @spincushions. This stunning crochet rug would add magnificent flair to any room in your house.
T-shirt yarn round rug free crochet pattern from Meladora's Creations. T-shirt yarn is one of the best options for creating a plush rug for your home.
Basketball rug free crochet pattern from Sarah of Repeat Crafter Me. Leave the black detailing off if you want to create a simple crochet rug instead of one that looks like a basketball.
Crochet Pillows
Add crochet pillows to your couch, bed, chairs or even your floor.
Bobble stitch cushion free crochet pattern from @annabooshouse. The texture of this crochet pillow is rich and perfect.
Crochet pillow free pattern from Rescued Paw. These little squares are a great motif to learn and they work perfectly as a patchwork crochet pillow.
Frilly striped crochet pillow cover free pattern from Lazy Hobbyhopper. Make it in a solid color for a more neutral design.
Mega Mandala cushion free crochet pattern from Red Agape, see 40+ crochet mandala patterns.
Adjustable crochet ottoman pouf pattern for sale from Crochet Spot. Functional and fun to make!
Crochet Towels and Potholders
Your kitchen towels and potholders don't have to be boring. They can be art when you make them yourself in crochet.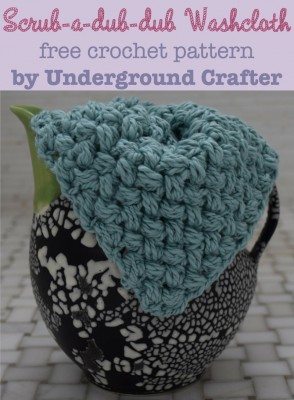 Free crochet washcloth pattern – a textured and plush pattern from Marie Segares so it's good for washing dishes or take it to the shower to wash your own body.
Water lily washcloth crochet pattern for sale via Crackers in Bed. Such a great, truly unique design!
Crochet dishcloths free pattern from Rescued Paw. This is a really great one to play with!
Crochet granny square potholder free pattern from Mama in a Stitch. I personally love the black and white design here but you could also make a really colorful version using the same pattern and different yarn for each square.
Bobble stitch heart crochet potholder free pattern from Sew Simmer and Share spotted via @creativejmom. My kitchen needs one of these. Does yours?
Tunisian crochet dishcloth free pattern from Stitch and Unwind. See more Tunisian crochet patterns. Or learn how to Tunisian crochet.
Orange crochet potholders free pattern from My Recycled Bags. Simple circles and squares with ribs and rings can easily become decor for your kitchen as we see here.
Free crochet dishcloth pattern from @fiberflux; this also just works really well as an afghan block or any kind of square crochet pattern.
Crochet hedgehog potholder free pattern from Crochet Spot. Take a circle, add some arms and a face and you've got an animal crochet pattern. The edging really gives it the shape though.
Towel topper free crochet pattern from My Recycled Bags. Adding crochet to the tops of towels personalizes them. Great gift idea and good for making your own kitchen more creative.
Crochet star trivet free pattern by Jessie Rayot. make a set of them and they could be super fun placemats. Or use a bulky yarn and larger hook and you could have a star-shaped crochet rug!
Crochet square scrubbie pattern set for sale from @crochetspot. Designs like this make doing the dishes a whole lot more fun.
Bowls and Baskets
Corral everything from yarn to trinkets into organized style with crochet bowls and baskets.
Crochet basket pattern for sale from Gleeful Things. Rich texture in the design is enhanced even more with the amazing idea for handles here.
Simple storage basket free crochet pattern from Rescued Paw; the handles on this one are crocheted right into the design.
Cotton crochet basket free pattern from B.hooked Crochet; cotton is a great yarn choice for a crochet basket because it retains its structure better than many other fibers.
T-shirt yarn crochet basket free pattern via @molliemakes article on 10 ways to use t-shirt yarn. T-shirt yarn also retains its structure well so it's another good choice for bowls and baskets.
Bread basket free crochet pattern from Jessie At Home. Put some fresh bread in this and bring it as a housewarming gift to a very happy friend!
Rope crochet basket free pattern from @EstherMChandler. The rope makes a great basket! And the unique handle shaping is so fun!
Crochet Cozies of All Kinds
You can make absolutely anything in your house cuter by adding a crochet cozy to it.
Crochet mason jar cozy free pattern @bhookedcrochet. Dress jars with cozies and use them for storage for all sorts of little things from beans to buttons.
Crochet coffee cup cozy free pattern from Fiber Flux. Cup cozies are great for on-the-go drinks but can also be used as decoration around extra cups you have at home.
Crochet coffee maker cozy free pattern from Crochet Spot. Coffee makers of all kinds can be prettified with crochet!
Striped jelly jar cover free crochet pattern @fiberflux, showing how any type of jar looks nice with some colorful yarn around it!
Crochet bowl cozy free pattern from Jessie At Home. This smart crochet pattern wraps nicely around your bowls so you don't burn your hands when eating soup and other hot items. Plus they make your bowls cuter.
iPad cozy free crochet pattern @bhookedcrochet. Electronic gadgets are safer and look better when dressed up in crochet cozies.
iPad crochet cozy free pattern from Little Monkeys Crochet
Crochet dish soap apron free pattern over at Crochet Spot. I have one similar to this that my mom made using a vintage pattern and I love seeing it every time that I go to do my dishes.
Diamond mesh bottle holder free crochet cozy pattern from Meladora's Creations.
Crochet Lamps
You can make a crochet lampshade to fit on any type of lamp. Here are some great patterns. And you can see more crochet lighting ideas here.
Crochet lampshade tutorial from Cats Rockin, a design that looks great with or without the "diamonds".
Crochet lampshade tutorial 2 from Cats Rockin; the perfect shell of a crochet lamp!
Crochet lantern free crochet pattern from ByClaire, a colorful, retro-inspired lamp with a great stitch pattern.
Crochet Mandalas and Wall Art
Crochet mandalas are great for all types of things including wall art.
Crochet Mandala Dartboard free pattern from WallflowerGal. Now that's a unique use of a mandala inspiration!
Maya from The Little Treasures created a free crochet mandala pattern in honor of Wink and the #MandalasForMarinke remembrance project. You can see Wink's mandala patterns here.
Fair Isle Mandala free crochet pattern from Sue Pinner. As you can see it works as a pillow design among other options.
Rose mandala doily free crochet pattern from BellaCrochet. The flower itself is also a great crochet pattern that can be used as an appliqué on other items.
Crochet dreamcatcher pattern by Little Things Blogged via Craftbits. These are intended to catch your dreams in the web so that you can access them, letting the hindrances slip through so that they don't block you. A great thing to add to your creative space!
Crochet flower fairy light pattern for sale from A Bag Full of Crochet. Fairy lights? Crochet flowers? Garland? Yes please.
Crochet Doilies, Table Toppers, Coasters
Everything on top of your table should have crochet underneath it!
Dorothy's Roses free crochet flower doily pattern from BellaCrochet. As you can see, she makes really beautiful crochet doily patterns, often with a floral feeling.
Crochet table centerpiece free pattern from @madewithloops. What a great idea for incorporating different motifs into one design!
Vintage crochet doily free pattern (and instructions to make it into a full tablecloth) from Lacy Crochet
Crochet coffee mug coasters free pattern @repeatcrafterme. See more crochet coaster patterns here.
Peppermint swirl crochet coaster free pattern from Petals to Picots. This is designed as a Christmas holiday crochet pattern but it works all year long, especially if you switch up the colors.
Crochet coasters free pattern from Spincushions. Beautiful whether you make it in a solid color or a rainbow.
Nautical coasters crochet pattern set for sale @crochetspot. It's fun to make themed sets of coasters that are not all the same. This set is a great example of that.
Vintage inspired cotton crochet coasters free pattern from Mama in a Stitch. Here's another set where color choices make all the difference from one coaster to the next.
How to turn a paper doily into a crochet placemat and how to make the placemat lie flat @patchworkposse
And More
Look around your house. What else can you enhance with crochet? Everything!
Vintage-inspired crochet clothes hanger tutorial from My Rose Valley
How to upcycle thick wire coat hangers with t-shirt yarn crochet from Lazy Daisy Jones
Free crochet edging pattern by Sarah of Annaboo's House via @CraftCreateUK
Three triangles crochet wall hanging free pattern by The Lazy Hobbyhopper
Little crochet pumpkin free pattern with garland tutorial from @mamainastitch
Adjustable bunting free crochet pattern from String Theory Crochet
Crochet cake dome free pattern from Women24
You Might Also Like …
The Crochet Home
 by Emma Lamb