There are so many good reasons to crochet for babies and children. The designs are adorable. They don't use up as much yarn as adult-sized crochet projects. They can be gifted to your own children, to friends or even to charities that help children in need. And it's just fun! Here are more than 40 crochet patterns for babies and kids to inspire you!
Crochet fox hood free pattern from Bustin Stitches. Really, how could you not love everything about these hooded animal cowls that have become so popular in the past year or so? This particular design is more hood than cowl and really showcases the cutie's face that's wearing the pretty design.
Bear hooded cardigan crochet pattern for sale from Mon Petit Violon. This crochet pattern goes even further than the hooded cowl and actually gives you an adorable animal hood combined with a cute cardigan. It's designed for kids but I want to create one for myself!
Toddler's crochet lamb hat free pattern from Mama in a Stitch. Crochet hats with ears really are all the rage for kids right now. This lamb design is so precious it's already giving me sweet dreams!
Crochet puff stitch hat free pattern for babies/ toddlers from @bhookedcrochet. Of course there's nothing wrong with a classic crochet hat pattern either and this puff stitch design is a great option.
Crochet earflap hat for baby – free pattern from Melody's Makings. Earflaps are always a great addition to any crochet hat and they look adorable on babies!
Mommy and Me Infinite Twilight Cowls free crochet pattern from Jessie. If you've got little girls then these cute crochet cowls are perfect for them – and you!
Cabled bear hat pattern for sale from Melody's Makings, available in both knit and crochet versions. This designer always offers her patterns in both yarn crafts so that you have options if you're a bicraftual crafter.
Crochet baby hat free pattern from Lindsay Obermeyer. This simple crochet hat has a lovely scalloped edge and is adorned with a girly heart appliqué.
Simple shells toddler legwarmers free crochet pattern by Chaleur Life via My Hobby is Crochet. This is another pattern that may be for kids but I want to adapt it to suit my own size!
Crochet kids' slippers free pattern from Moogly. Keep your kids' tootsies cozy and warm with these great crochet slippers!
Free crochet pattern for flower purse by @LittleMCrochet. Little girls who like to feel like princesses and enjoy flirty floral things will want to carry this purse around everywhere.
Pencil case crochet monster pattern for sale from @JBHcrochet. School-aged kids need pencil cases (and younger kids can always stick crayons in them!)
Alligator pencil pouch free crochet pattern from @allfreecrochet – a pencil pouch pattern that packs a punch!
Colorful crochet pencil case free pattern from Fiber Flux. This crochet pattern would also work for adults who want to store their crochet hooks in a pretty striped bag. Just sayin'.
Convertible rainbow cowl hat crochet pattern for sale from ACCROchet. It's always fun for kids to have things that they can play with and the way that this item changes from a cowl to hat is precisely fun like that.
Crochet baby cowboy booties free pattern from Stitch and Unwind. What baby isn't going to be cute in these?!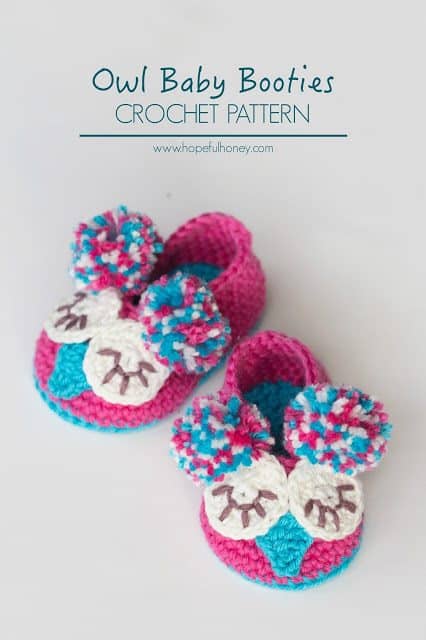 Owl baby booties free crochet pattern from Hopeful Honey. Awwwww!
Lacy Vintage Bonnet, Free Crochet Pattern via Lacy Crochet, which is designed to match the baby sweater that is shown below:
Crochet baby sweater free vintage pattern from Lacy Crochet. This is one of the prettiest kids' crochet patterns in this roundup in my opinion!
Girls' crochet purse pattern free from @COTCcrochet. The yarn does all of the work to create the lovely color pooling here.
Newborn slippers free crochet pattern from Little Things Blogged. This pattern is perfect for making baby's first pair of handmade slippers!
Cute-as-a-Button Crochet Baby Bib free pattern from @allfreecrochet. All kids need to wear bibs so why not make them fun and unique by making your own?!
Joy (Inside Out) Inspired Crochet Hat Pattern free from Sarah of Repeat Crafter Me. She's a great designer who is often inspired by her own children when making her patterns.
Crochet baby cocoon free pattern from DLY's Hooks and Yarns, a design that keeps the baby cozy all winter long!
Keiki Top girls crochet shirt pattern free from Crochet Kitten. I love the stitch pattern on this shirt!
Striped baby set patterns, available in both knit and crochet of course, for sale from Melody's Makings
Extended single crochet hat pattern free from Posh Patterns. This is a great pattern for practicing a stitch that you might not use that much. And it's cute too!
Baby hat free crochet pattern from JR Crochet Designs. This is definitely a go-to crochet pattern for making baby hats for charity or anyone!
Newborn beanie free crochet pattern from @myhobbyiscroche. The ribbing keeps this hat sitting comfortable on baby's head and the stitch design is is fun to work.
Dainty flower crown free crochet pattern @JBHCrochet. Just perfect.
Floral crochet baby booties pattern for sale from Hopeful Honey. And if you leave the flowers off then these are a good unisex crochet design.
Zara Sleeveless Crochet Cardigan pattern for sale from @monpetitviolon. This designer is just so perfect as you can see from this cardi as well as from the kids' dress pattern below:
Crochet dress pattern for sale also from Mon Petit Violon
Toddler's chevron crochet top and matching bolero free patterns from @myhobbyiscroche. Just so cute! And it's always fun to play with chevrons.
Bobble stitch crochet sheep square free pattern @repeatcrafterme. This was shown previously in my roundup of 40+ crochet square patterns and is worth showing off again because it's just too adorable.
C2C crochet sheep graphgan blanket pattern also from @repeatcrafterme. Doesn't she just create the cutest designs? Each one is better than the last.
Crochet baby booties free pattern @mooglyblog. These look cozy!!! And the button is a great detail.
Premie baby crochet giraffe hat free pattern from Cream of the Crop Crochet. Animal ears are great but full on animal heads are sometimes even better when it comes to baby hats.
Minnie Mouse Crochet Hat free pattern from @crochet_stuff. Minnie!
Rosy newborn hat free crochet pattern from Hopeful Honey. That flower is such a statement piece!
Ruffled edge crochet baby bib free pattern from Lanas de Ana. The way that the ruffle is worked on just two edges makes this a terrifically unique piece.
Rainbow granny square crochet blanket pattern free @redheartyarns by @jessie_athome
Crochet sun hat from Repeat Crafter Me. This hat combined with the blanket from Jessie At Home shown just above here would be a fabulous set to gift to a baby!
You might also like: