Many crochet blankets have been abandoned over the years, relegated to yard sales, thrift stores and basement storage. Bring those beauties out of hiding and put them to use. Here are 15 fabulous examples of crochet blankets that have been upcycled into stylish new items.
StoneMountainPrim turned a crochet blanket into a beautiful bell-sleeve crochet dress perfect for summer music festivals.
Lord von Schmitt rescues vintage crochet afghans and turns them into clothing and accessories for both men and women. I love his crochet leg warmers, shorts and pants – but the onesies are my favorites! Here are two more from this artist:
UpTickChic does similar work and says, "I made these from vintage afghans that I laundered at hot settings before sewing (to make them machine washable) and then fashioned into comfy elastic-waist shorts."
Darrylblack took a granny square blanket and turned it into a buttoned crochet cape with unique "dreadlocks" fringe. This upcycling artist makes a lot of great things. Here is another upcycled blanket crochet cape:
MountainGirlClothing takes crochet granny square blankets and turns them into crochet shrugs. She also makes other things like this crochet blanket cowl:
TiffanysCraft found this crochet blanket, which she upcycled into a great textured crochet poncho. She then made matching crochet wristers and hat to match.
Upcycled oversized crochet blanket jacket "Made by Woods Fiber Goods using an upcycled crochet blanket which was disassembled then carefully reassembled into a warm and oh so cozy one of a kind piece with a rustic appeal."
This striped upcycled crochet flower shawl is by ILoveMyAuntDebbie who shares, "This colorful, soft shawl started life as just another hand made afghan, doomed to a sad forgotten life at the resale shop. Luckily, Aunt Debbie came to the rescue. The yarn is soft against the skin, and the fringes give it a happy feeling. I adorned it with an heirloom doily and yellow yarn flowers; all sewn on securely." She also made this great upcycled crochet blanket poncho: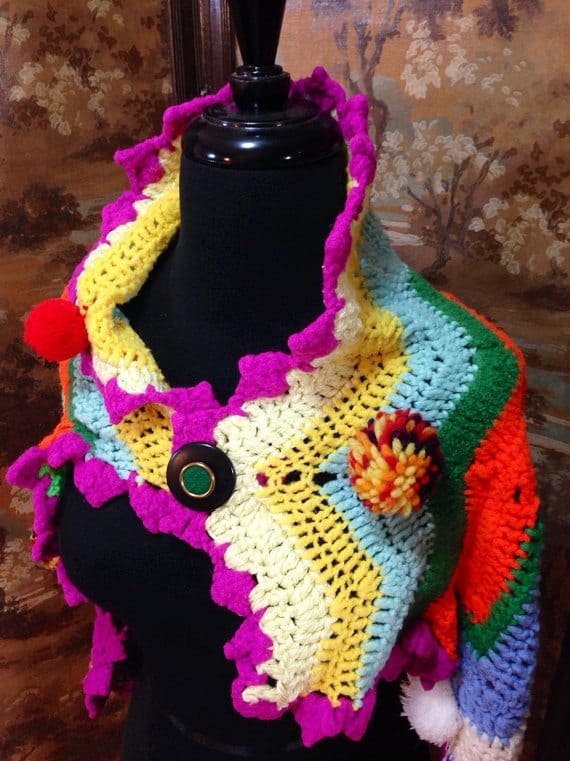 Yes, indeed, this crochet romper was made by Bree Rose from a single crochet blanket. She describes it as a sexy tomboy piece and says, "Rope straps and bow detail add an exaggerated, innocent look."
Crochet blanket jacket free pattern by KatiDCreations. This one isn't upcycled per se but it serves the dual purpose of being a jacket when it's buttoned and a lap blanket when it's not.