Crochet cowls and crochet scarves are such great items to make. You can work them up quickly or give them a lot of detail, try out new stitch patterns or rely on old favorites and use them for yourself or gift them to loved ones and charities. Here are some of the best crochet cowl patterns and crochet scarf patterns.
Free Crochet Scarf Patterns
Roses & Lace scarf, a free crochet pattern from the Talking Crochet newsletter. It is worked with a Q hook so it works up quickly.
Free crochet pattern for keyhole closure scarf by Crafty Begonia
Scrapadelic Crochet Scarf Pattern from Crochet in Color
Free Crochet Puppet Scarf Pattern by Nancy Anderson on @redheartyarns
@AboutCrochet shares a lacy crochet scarf pattern that is actually just a repeating single crochet stitch but uses two different yarn weights for an interesting effect.
Crochet Scarf Patterns to Purchase
@twinkiechan has a crochet pattern for sale: gummy sharks scarf!
Crochet lace scarf pattern for sale from Jude Butterworth
The Circle in the Square crochet scarf pattern for sale from Ann Wicker
Square crochet scarf pattern for sale from Erica Kempf Broughton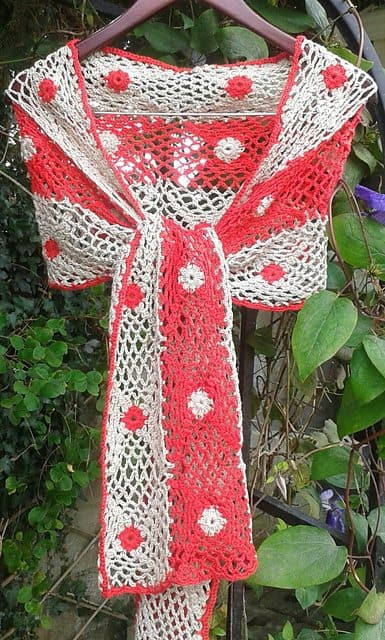 Two tone crochet scarf pattern for sale from Sonya Gibbons
Broomstick lace crochet scarf pattern for sale from April Hubbard
Free Crochet Cowl Patterns
This free crochet cowl pattern comes from Suzana of indigoDOT designs. It's a Ravelry download.
Braided Crochet Cowl, a free crochet pattern from @CalleighsClips
Easy free crochet cowl pattern from @fiberflux
Starstuff free crochet cowl pattern from @mooglyblog
Striped crochet cowl free pattern from Daina Mickus
Zig zag crochet cowl free pattern from @gleefulthings
Other Crochet Neckwear Patterns
Fall trim collar crochet free pattern from Cann Crochet
Crochet yoke free pattern from Berroco
Floral crochet collar free pattern from Chabe Patterns
@craftybegonia has free crochet scarflette pattern