Recently we looked at the work by Jem's Crochet Creation who creates faceless crochet African hijab dolls that are in line with Muslim teachings. Umm Maryam is another crafter who also creates Faceless Crochet Dolls. She shares that her daughter, born in August 2013, was her inspiration for creating these dolls:
"I wanted my daughter to have something that was Islamically appropriate. I wanted it to not have eyes and I also wanted it dressed more modestly than the dolls that are available in the U.S. market."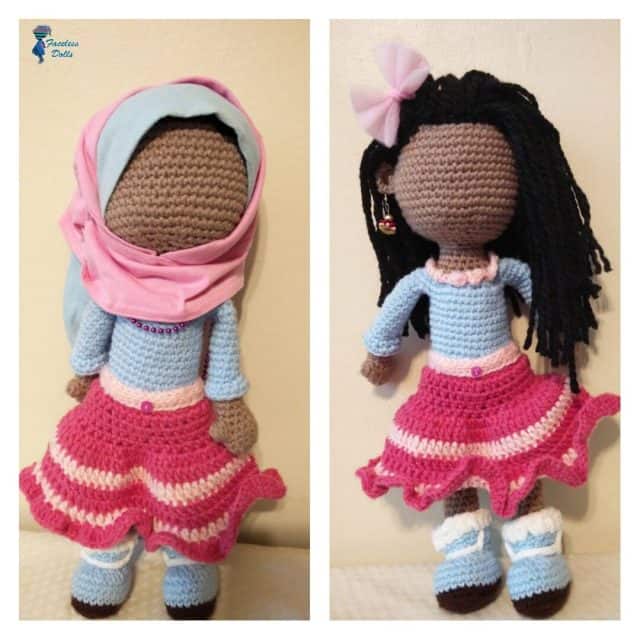 This doll has a removable hijab
She couldn't find any dolls that she liked at first. Finally, after two years, she was on Etsy and she started seeing amigurumi dolls. She decided that she would learn to crochet, teaching herself with YouTube instructional videos. She practiced as much as possible and found that it didn't take too long before she could make her own amigurumi crochet dolls, which, of course, she could adapt to suit her beliefs.
She started her blog to share the crochet dolls that she makes. She wants to inspire others who are just starting to learn to crochet. She has sold a few of her dolls through Facebook. She makes a variety of different types of dolls, include custom requests. She explains of the one shown below that it is a white American Muslim man and his wife, designed to look like the parents of the 3 year old the dolls were designed for. She says, "The niqab on the girl doll is attached to the hijab, which is attached to the head. It isn't removable but it can be flipped over to show the face."
In an email exchange with me, she shared that although she lives in the San Francisco Bay Area now, she is originally from Syria. Her parents immigrated here when she was three years old. She says, "I am not directly affected by the travel ban, as I am a US citizen now, but I still worry about traveling and about my family overseas."