Celtic Cable Crochet
is a new book by Bonnie Barker who uses her extensive experience in the niche of Aran Isle crochet and cabling to bring us 18 beautifully textured clothing and accessories patterns.
About Celtic Cable Crochet
This is a book that celebrates the many possibilities of cabling in crochet. The designs are primarily chunky, textured designs that are perfect for fall and winter when you want to be totally cozy. However, there are several patterns that could work for use all year long, especially the accessories patterns. Bonnie has used a range of different fibers, from fingering weight yarn through bulky yarn, to create different effects across the patterns in this book. She also provides some great tips about choosing yarn, clear explanations about some of her decisions (such as her unusual approach to turning chains), and precise instructions including both the written patterns and their accompanying symbol charts.
5 Favorite Celtic Cable Crochet Patterns
The Cabled Boot Cuffs are a great accessory. The cables stand out perfectly against the rest of the texture on this soft pattern that uses baby alpaca yarn (my very favorite fiber).
The Aranmore Sweater Wrap has that classic Celtic Cables feel of a textured, warm accessory. It's a unique shape that is not quite scarf, not quite sweater. So cozy!
One Big Braid Scarf is a crochet pattern for a bulky infinity scarf consisting of one thick cable. It's topped off with the perfect detail of a huge rustic button.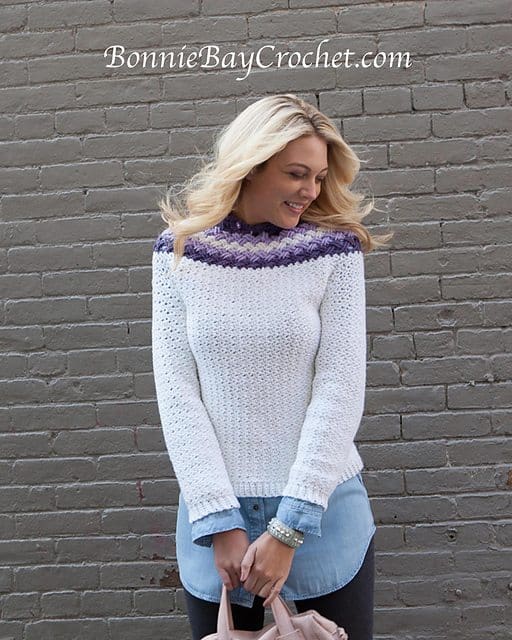 Vicki's Sweater is such a pretty crochet pattern with a textured purple yoke and a simpler textured bodice. It's feminine and eye-catching without being over-the-top.
The Tic-Tac-Toe Messenger bag is a cotton crochet purse pattern that uses cables in a fabulous way to create its rich textured detail.
About Crochet Designer Bonnie Barker
Bonnie Barker has more than four decades of crochet experience and has authored a number of crochet books. Her book Contemporary Celtic Crochet
provides a great starting point for the crochet cabling technique that is further developed and explored in this new title. She offers crochet video stitch instruction on YouTube.