I have been perusing the archives of this blog, going back several years to find the gems. Here is a collection of great crochet art pieces that appeared on this blog a long time ago but shouldn't be overlooked today!
Crochet and Bead Peacock Brooch. @knithacker shared this pretty design crafted by Vendula Maderska. I adore everything about this piece, from the flirty eyelashes to the textured beaded plumes. Perfection. And so inspiring.
Mixed media freeform crochet art piece by Gwen Blakley Kinsler who always does beautiful work in freeform crochet. I love this example because it shows how different colors of pink can be crafted in ombre to create a gorgeous feather headband.
Beautiful crochet art wall hanging by the mom of the blogger at Nero's Post and Patch. This is one of those pieces that the maker may or may not even consider to be a brilliant piece of art but any outside eye can see it. The color layout is genius with pops of brightness in a few key spots that highlight the flower shapes.
Colorful crochet turtle from Le Monde De Sucrette. This is a simple little motif-based design that is stuffed and has grown legs, a head and a tail. The colorful choices are what make it such a little work of art.
A crochet tissue box cozy made to look like a work of art from karinaandehaak. The combination of colors and texture here elevate a simple domestic item to something completely worthy of display.
Crochet larynx by ADHD Crochet. It is always interesting to see when people make anatomically correct crochet. It combines science and math and art.
Things Bright shares the meta art of crocheting a skein of yarn. I'm not sure where the image originally comes from but it's so much fun. It looks like a great place to tuck your hooks away and it's a really fun gift for crafters.
Adorable crochet dolls from byClaire. The facial expressions, color choices and bow details are all perfect artistic choices.
Crochet Latte Art sold by One Sheepish Knit. I adore coffee art of all kinds so of course I also adore crocheted coffee art. It's a cute homage to the art of barristas everywhere.
Crochet coffee break mat from Sewing Daisies. This cute filet crochet placemat adds a little bit of art to any home or office.
Steamed dumplings crochet painting by Twinkie Chan. She's always great at turning food into crochet art whether it is wearable or not. In this case, the piece could definitely be framed and hung on a restaurant wall!
Cute crochet dinosaur pillow from In The Loop. Sometimes it is just the little things that really make art, like a polka-dotted appliqué on a pillow for the home.
Crochet-adorned necklaces by This Mama Makes Stuff (includes brief tutorial). Little works of wearable art, with each one more inspired than the other.
Leather and Lace crochet jewelry by Donna's Decembers. Combining these two classic materials just never gets old.
Xenobia Bailey's Western Medicine Hat. Here is another creator that turns everything she makes into a work of art, with deep inspirations and beautiful results.
Tapestry crochet art by Jocelyn Brown. I happen to think that almost anything worked in tapestry crochet is a work of art because of the way that the colors play against one another. These three dimensional examples even more so.
Freeform crochet bag by Sara Aires via Knithacker. It is inspired by the amoeba. Bold colors and bright lace!
Bullion crochet flower square from Underground Crafter who used a pattern but created the artistry through her color choices. I love the boldness of it!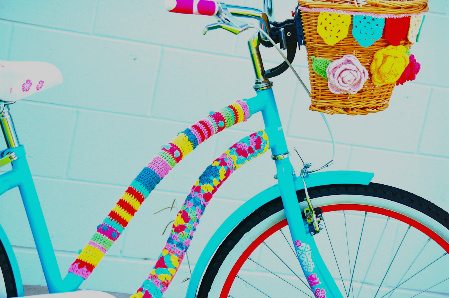 Greedy for Colour made this yarn bombing for her bike and its basket and I never get tried of coming across it when I look for bicycle crochet
And a crochet flower basket from Stitch of Love for a teeny tiny little basket. A great mixed media work of miniature art.
Shoebox dollhouse with crochet blanket from Creative Jewish Mom. Dollhouse crochet makes great micro crochet art.
Large tree yarnbombing from Beberouge, in a post where she describes her first yarnbombing experience. This is a form of performance art.
Crochet Eye Chart by I Live on a Farm