In this week's edition of link love, you'll find links to more than sixty crochet patterns. You'll notice that crochet necklace patterns seem to be trending this week. And you'll find lots of other goodies including links to crochet designer interviews, tips for crochet design, thoughts on washing your handmade wearables and more. Enjoy!
But before we delve into the amazing links in crochet that the beautiful crafters of this world have shared with us in the past week, I want to give a huge shoutout to the people who have chosen to support my work through Patreon.
THANK YOU!!! To Jane Feagans-King, Susan Teshu, Joanna Weston, Marie Segares and Erica Durante. Your support means more than you can know; the money helps and the sentiment behind it really, really means the most.
I write up link love because I believe thoroughly in the importance of sharing the beauty of what's happening in the crochet community, letting people who want to know about new patterns and art get connected with the amazing designers and artists who make it happen. I love doing this. But I won't lie; it takes hours and hours each week. As do my Instagram highlights, my themed pattern roundups and my posts that delve into the history of crochet. I believe immensely in sharing this work but it's also costly in time and I'm trying to find a viable way to keep this up after five years of doing it essentially for free. So my solution is Patreon. If you believe in this work and enjoy the links and are in a position to give a $20 or $10 or even $2 monthly donation, you can make a huge difference in whether or not this work continues. Support Crochet Concupiscence here.
Crochet Art
David Bowie and Alan Rickman amigurumi crochet tribute by Anamaria Androne. The article is annoying in that it talks down about crochet but the work of the artist itself is really cute and I'm glad it got featured.
Little Treasures did a roundup of creative ways to use doilies including the one pictured here, which was originally a DIY from A Beautiful Mess. See more creative doily ideas here.
Poppy flower and fern Irish crochet motifs wall art patterns for sale from Outstanding Crochet
Crochet sausage art by Kate Jenkins who made this piece a few years back but has created new prints of it for sale.
Crochet Books
Ultimate 2016 Crochet Book Buying Guide – the hottest new and upcoming titles to add to your wish list. This list (which I created over at About.com) includes Cold Weather Crochet by Marly Bird, which was reviewed this week by Marty Miller.
Cute Crochet Chat reviewed Broomstick Lace Crochet
Crochet Designers
Crochet designer profile and free pattern roundup of Sarah from Repeat Crafter Me, one of my favorite creative crochet designers, especially in all that she makes for babies and children. One thing that she's really great at is creating pattern sets – like a set of animal appliqués, one for each letter of the alphabet and her set of Christmas squares for a blanket. Right now she's started a new set and I love it – C2C crochet square and pixel graph emojis for a blanket! And actually, she also had another great free crochet pattern this week for a bulky hat and mittens crochet set.
Twinkie Chan crochet interview by Danyel Pink and Salena Baca at Happily Hooked. They begin, "We called the fashion food queen, Twinkie Chan, and she gave us the scoop (Haha, get it?) on mastering the art of amigurumi, and how to pull off these sweet and savory accessories."
Keep Calm and Crochet On UK did a crochet designer interview of Lucy Collin aka Lucy Ravenscar, the designer/ author of Hollywood Crochet and Star Wars Crochet.
Jessie At Home shared the Make It For Me crochet month events that ElkStudio has been doing and mentioned that this includes a directory of crochet patterns created for people who are seeking to make things just for themselves. Crocheting for yourself is one of the exercise in my "self-care" chapter in Hook to Heal.
Illuminate Crochet wrote a really solid article with information on how to write a good indie crochet pattern. Notably she also did a great article this week on intuitive crochet.
Crochet Fashion
Fashion Blog The DeBrief says that the crochet blanket coat is back in style after spotting one on Gigi Hadid
Crochet Health
Phyllis Alberici shared, "Last Spring, when my life had been turned upside down by illness, I wrote about finding color and life in a timeless craft, knitting. Forgive me if I say it again: it's incredible to see color flow through your fingers, to turn a length of string into wearable art. Green became my color, the color of Hope. Red because it's the color of blood and the heart and life. All those things I wished for: hope, a healed broken heart, and another chance at life."
Roving Crafters shared a great article called Stitching It Together that discusses what friendship is, especially for women, how a crafting group can help provide that friendship and how to go about joining one.
Crochet News
Happy In Red shared some photos showcasing crochet inspiration in Turkey. She shares in part, "It really warms my heart to see the ladies making one of my favorites, a ripple stitch blankets. Thouhg they don't seem to use DC's, but rather SC's I think. Whoah, lots of work that."
Annaboo's House told us more about Little Box of Crochet, which we first learned about here in last week's link love roundup
Crochet Patterns
10 Free Valentine's Crochet Patterns: Clothing and Accessories for Adults; pictured: Feather and Fan Top by Rebecca Averill
Winter roses necklace crochet pattern for sale from Little Treasures who shares, "Again, what I am building as my signature piece – a Mori inspired necklace. For this one I used a bluish grey Irish roses and taffeta rosettes sprinkled with pearls. I wanted to capture the very essence of the Mori style and aesthetic."
Beaded chain crochet necklace free pattern from Andee Graves who says, "It's a very simple project to crochet, but does take a bit of coordination."
Celtic choker necklace crochet pattern for sale from Outstanding Crochet
Loopy necklace free crochet pattern from [email protected]
10 Most Unique Free Crochet Heart Patterns; pictured: Anatomical crochet heart free pattern from Louie's Loops
10 Most Adorable Free Crochet Squirrel Patterns including the one pictured by SquirrelPicnic, whose upcoming book The Big Acorn Race looks like it's going to be a great choice for people who like storytelling, squirrels and crochet.
Amigurumi crochet horse free pattern from Colour and Cotton who says, "This crochet horse pattern is super easy and provides so many options for customization depending on which colors you choose."
Bear-ear crochet hats free pattern by Kate Eastwood on LoveCrochet. These are designed for newborns through age 2, although they'd look super cute on older kids if you're able to adapt your sizing.
Tunisian crochet cowl free pattern from One Dog Woof who says, "It's almost un-crochet-like, and yet, not quite knit-like either. The front and the back both have a great feel and texture." This crochet blogger also offers another new pattern this week: a ribbed pom crochet beanie free pattern.
Easy crochet muff free pattern from Little Treasures
Free crochet wrap / scarf pattern from Sue Pinner; beautiful unique fringe isn't it?!
Looped in Love free crochet skirt pattern from Jessie At Home who shared, "The Looped in Love Skirt was inspired by my Dragon Wing Scarf. I love the way the increases work within the Jacob's Ladder Stitch, and it just screamed "make me a flared skirt!!" I learned a long time ago, when a yarn or stitch pattern talks to me, it's in my best interest to listen. So here it is, a fun skirt for all ages that flares between vertical sections of looped stitches. It's made from the top down, so it can be made to any length that suits your fancy. The longer the skirt, the more yarn it will take."
Colorful poncho free crochet pattern from Meladora's Creations. This pattern, which uses the winsome stitch, is available as a written crochet pattern and also with right and left handed video instruction.
Baby vest free crochet pattern from Annemarie's Haakblog
Warm and cozy "sleeping Nancy" hat crochet pattern new from ACCROchet who also has a second crochet pattern for sale this week for a different hat called Snow Angel. Both are cute hats sized child to adult.
Lilac and Lace vintage-inspired crochet hat pattern for sale from Hopeful Honey who shares, "This hat was designed with the swinging 1920's in mind, making it the perfect accessory for layering throughout all the seasons".
Tartan cushion crochet pattern for sale from Little Doolally via LoveCrochet. The designer says it was "Inspired by the summer sky, picnics and lazy afternoons". Cozy and cute!
One-skein crochet scarf free pattern by Underground Crafter using Lion Brand Scarfie bulky yarn and a stitch she calls "pebble stitch" that works really well asa men's or unisex crochet scarf.
Crochet t-shirt yarn rag rug fre pattern by Lindsay Obermeyer in conjunction "with the young company Cotopaxi on developing this blog post. Their mission is sustainability and the repurposing of materials into great outdoor gear". This unique crochet pattern uses yarn that is crocheted over the t-shirt yarn for a great texture.
Irish crochet kite motif thread crochet free pattern from Ann Reillet who worked it with a 1.3 mm crochet hook and size 20 thread.
Twisted headband free crochet pattern from Mama in a Stitch who created it in moss stitch but lets beginners know that you could get a similar item using just single crochet stitch if that's all that you know so far.
Stargazer crochet blanket pattern for sale from Amanda Perkins; this is a sister blanket to a beautiful crochet blanket she designed about a year and a half ago. All of her work is stunning.
Chromatic cobbles blanket crochet pattern for sale from Felted Button – also part of Design Wars. Designer Susan shares, "In typical Felted Button style, I designed a blanket with loads of texture and a chromatic flow of rainbow hues. It can be made to any size you wish, too."
3d crochet flower granny square free pattern from Repeat Crafter Me, which she designed for the 3rd annual Moogly Afghan Block CAL.
6″ square free crochet pattern by Moogly who encourages you to mix and match it with other crochet squares when you make things. Moogly also has a great crochet pattern for sale this week called the Garden Arches Babyghan.
Crochet Tutorials
Easy ripple stitch free crochet tutorial from Hopeful Honey who says, "It's rolling lines remind me of waves gently crashing on the shore, which makes this stitch very pleasing to the eye."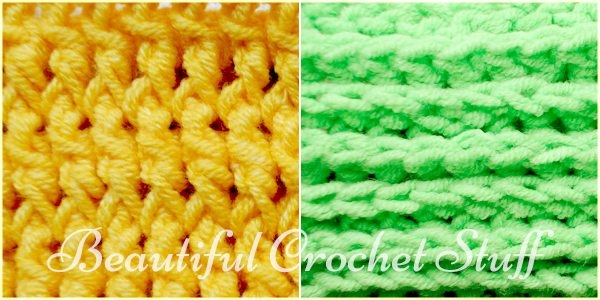 How to crochet front and back post stitches via Beautiful Crochet Stuff
Crochet Tips
B.hooked shared 10 Things Every New Crocheter Should Know including the basic stitches, the ways to learn crochet, the difference in US and UK crochet terms and more. Smart stuff.
How to Store, Wear and Launder your crochet clothing to keep it lasting a long time via Happily Hooked. WEBS also offered some tips this week for laundering handmade fiber items.
Five beginner tips for your first filet crochet piece via Crochet Spot; pictured: vintage filet crochet flag
Yarn Things
Creative uses for leftover yarn ends by Colour and Cotton
Other Crafty Stuff
How to Make a Tassel Wall Hanging via Mollie Makes