Mandalas for Marinke is a collaborative crochet art project. People have sent in so many beautiful contributions, and I've been posting them almost daily (although I took some time off in December because it was such a busy month). Each post includes the mandala, any messages the maker shared, and some depression awareness raising information. Here's a roundup of the posts that went live on the blog in December and January, in case you missed any … or just want to enjoy seeing them all in one place!
Free Mandala Crochet Patterns
First we've got a couple of free crochet mini mandala patterns that were featured this month. I've re-opened submissions specifically for mini-mandalas. Be sure to read the details here.
Pink Mambo's Crochet Mini Mandala Free Pattern
Gzhel Mini Mandala Free Crochet Pattern … and roundup of many mini mandalas
Crochet Mandalas Exhibit
A few of the mandalas were also featured in a crochet art exhibit.
More Crochet Mandalas
Kate's Crochet Mandala Bracelet
Christina's Crochet Mandala + New Depression Screening Recommendations
Anonymous Crochet Mandala from Australia + The Grey Color of Depression
Maddy's Crochet Mandala + Depression in Children of Divorce
Gwynneth's Crochet Mandalas for Marinke
Janice's Butterfly Peacock Crochet Mandala + Memoir: The Beautiful Unseen
Shelley's Crochet Mandala Rugs
Felicia's Crochet Mandala + Depression in Prostitution
Jen's Pretty Pale Crochet Mandala and Her Story of the Healing of Crochet
Caroline's Crochet Mandala + Obesity and Depression
Sarah's Crochet Mandalas + Longform Depression Articles on Medium
CrochetKitten's Crochet Mandalas + Isolation in Depression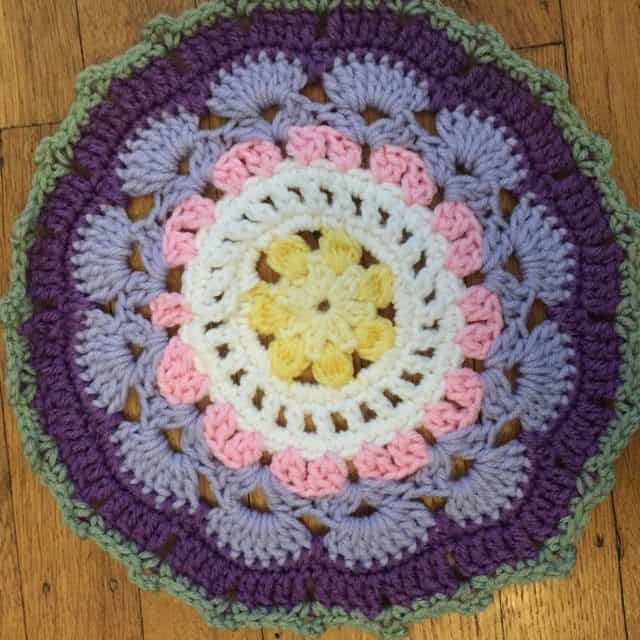 Ash's Crochet Mandala and Grief When Celebrities Die
Wendy's Crochet Mandala + Professionals with Depression
Emily Z's Crochet Mandala and Crochet Heals Story
Lauren's Crochet Mandala and An Artist With Depression
Pauline's Crochet Mandalas for Marinke
Cindy's Crochet Mandala + Suicide in Schools
Wendy's Crochet Mandalas + Depression vs Sadness
Anonymous Crochet Mandala and Mini Mandala
50 Beautiful Crochet Mandalas for Marinke by Jennie's Yarn Shop!
Angela's Crochet Mandala + Native American Youth Suicides
Kathryn Olson's Crochet Mandala + Resilience for Overcoming Depression
Susana's Crochet Mandala + San Francisco Mental Health in Jails
Helene's Crochet Mandala + Mental Health Among Entrepreneurs
Lhizz's Crochet Mandala + Wink's Crochet Mandala Book
Ana Sudy's Crochet Mandalas for Marinke + Thoughts On Richard Brautigan
Patty Simpson's Crochet Mandala + Aspartame May Increase Depression