Sponsor Love
Red Beauty Textiles is "your home for fabulous yarn and gorgeous fabrics". This online resource sells some of my favorite brands of yarn including Malabrigo, Noro and Madeline Tosh, plus several I am not familiar with and would love to try!
Crochet Art
I've been checking out the wire crochet art that ClaudiasElliott sells on Etsy. Claudia lives in Reading, England, and says, "I predominantly create modern contemporary pieces of artwork using mixed media including steel & copper wire great for anyone looking for that 'something a little bit unique and different'."
February exhibit: ""Under the Same blanket" is an exhibition of wool objects curated and created by Barbara Touati-Evans from Let's Crochet UK with work by Gemma MacLennan and Liz Hilton, children from Grange Community Junior School and the Westy Nepali Craft group."
Crochet Books
Pixel Crochet: 101 Supercool 8-Bit Inspired Designs to Crochet
, shared by Crochet in Color who contributed a dog blanket pattern to this unique crochet book
Big Hook Rag Crochet: 25 Quick-Stitch Designs to Make Using Leftover Fabric
book review by Cute Crochet Chat who says that it "is great for the beginner crocheter or anyone who wants to learn the techniques of crocheting from and creating your own fabric 'yarn'." This book was also reviewed this week by FiberFlux.
Broomstick Lace Crochet: A New Look at a Vintage Stitch, with 20 Stylish Designs
by Donna Wolfe, featured in an interview this week by Marie Segares, sharing not just the book but info on broomstick lace.
Crochet Designers
Marie of Underground Crafter, who is one of my very favorite blog interviewers, is now writing for the CGOA blog. This week she shared an interview with crochet designer and CGOA member Beth Graham
Crochet Fashion
Yves Saint Laurent geek-chic crochet sweater vest on Grace Hartzel via Vogue
Crochet Health
Prawn and Pebble shared the link to a radio show on the health benefits of yarn crafting done by Betsan Corkhill of Stitchlinks, whose research I mentioned throughout my book Crochet Saved My Life
Tips for Healthy Crafting from WEBS
Crochet News
Congratulations to Caissa of Art, Like Bread who has joined the team of CGOA bloggers
"Teammate Emily Sweeney and I crochet! We get real crazy! We started crocheting on the road to pass the time during travel days, and Emily's sweet headband design became pretty popular so we turned it into a business, Emrin Headwear." –Erin Hamlin, 2014 Olympic luge bronze medalist
Crochet Patterns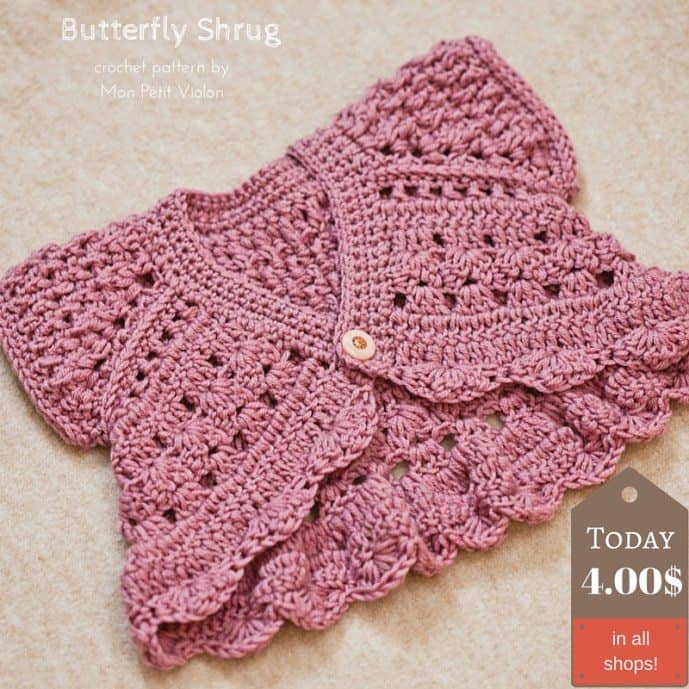 Butterfly shrug crochet pattern for sale from Mon Petit Violon who is in love with the pattern and says it might be the cutest she's ever made. It's available in five different kids' sizes from 6 months – 6 years.
Margot Skirt crochet pattern for sale from Potter and Bloom, available in 3 sizes from ages 2-6. She describes: "Using two strands of Drops Baby Merino for extra oomph and complete washability this pattern is simply worked in straight rows and then sewn up the back at the end."
Rose chocolate crochet cowl free pattern from Betsy Makes. This is a free download on Ravelry that is written in UK crochet terms.
Crochet woven mitts free pattern by Bhooked who shared: "The woven mittens feature one of my favorite stitches, the woven stitch. It's completely unique, unlike any other stitch you've experienced. I love the woven stitch so much, I've decided to make it the central theme for all January 2016 projects."
Rock Star hat and scarf free crochet patterns from Jessie At Home. These are designed to match the Rock Star Mitts and make a great complete winter accessories set utilizing the lovely linen stitch.
Small crochet doily or mandala free pattern from Little Treasures who breaks down how to read a crochet chart using this design. Don't forget that small mandalas are still being accepted for Mandalas for Marinke.
Pretty Posies crochet hat free pattern by Country Willow. This crochet pattern is part of the two dozen free patterns featured by different designers in Holiday Stashdown CAL 2016.
Aviator trapper hat crochet pattern for sale from Crochet Spot, available in five different sizes so you can make one for everyone in the family and more!
Sweetheart crochet beanie with poms on the side. Super adorable. This is a free pattern from One Dog Woof, designed for toddlers with information on sizing for other ages. The designer shares, "The big difference with this hat is I'm not always working into the single crochet loops. Instead, work into the "V" of the single crochet. This gives the "V" more definition and almost a knit look."
Da Boss Hat crochet pattern for sale from ACCROchet who says that "this tuque is super quick to make but doesn't look it!" It's available in child and adult sizes and is a unisex pattern specifically designed with boys and men in mind.
Baby cloche hat free crochet pattern from Hopeful Honey. This pattern links to an adult version of the pattern as well so it's a great idea for a mommy-and-me set, too.
Glover Stitch crochet baby booties free pattern from Meladora's Creations. She has right and left handed video tutorials along with the written instructions (including photos) for this free crochet pattern.
Fairy Blossom Baby Booties free crochet pattern from Hopeful Honey. She made them because she's dreaming of summer. She writes, "They just scream trips to the park, walks along the beach and picnics in a flower field… In other words, summer!".
Premie and micro-premie crochet hat free pattern from Lacy Crochet
Crochet cat hat free beanie pattern from Acquanetta Ferguson who shares: "This is the perfect beanie that is quick and easy to make. It is made so that the "ears" are defined to give it more authenticity."
Faux ripple crochet blanket free pattern from Underground Crafter who says, "I chose a stitch pattern that creates the appearance of a ripple when striped, but keeps the edges straight."
Colorful striped boot cuffs free crochet pattern from Fiber Flux. She says, "The Celebration Boot Cuffs are pretty, super cozy and full of texture!"
Capsicum crochet coasters free pattern from RedAgape who offers the easy eight-round instructions in both UK and US crochet terms
Zodiac crochet appliqués by Moogly, who will be sharing the full set of free patterns with us but is starting with this group of 3 signs: Capricorn, Aquarius and Pisces. Like the zodiac? Check out CrochetKitten's zodiac kittens.
Keep Calm and Crochet On UK is having a blanket CAL and has posted the free granny square crochet pattern for the first part of this new CAL
Crochet Tutorials
Coil and Crochet rainbow basket pattern by My Poppet, from a roundup this week that Mollie Makes did featuring 12 DIY projects to beat craft fatigue.
Crochet basket free tutorial from Spincushions who says this is a great stash busting project and you can mix different types of yarn to achieve unique results.
How to crochet bobble stitch from Hopeful Honey who shares, "As a lover of all things fluffy, puffy and cute, I can't help but get all giddy every time I see a pattern featuring Bobble, Puff and Cluster stitches!"
Crochet Tips
Tip for working into a slip stitch from Moogly
Yarn
Just Pootlin shared Little Box of Crochet, a UK monthly yarn and crochet kit delivery with each month's box designed by a different awesome designer. The first two box designers have been Greedy for Colour and Pink Milk, both awesome designers who have previously been featured here on Crochet Concupiscence.
How to Figure Out the Number of Yards in a Partial Skein of Yarn. From Little Monkeys Crochet who says, "All you need is your partial skein(s), a calculator, a scale that weighs in ounces or grams (a food scale or a postage scale will work), and the information on the label of the skein you used (or if you're like me and threw it away long ago, you can look up the yarn's stats on the company's web site)" and then she tells us exactly how to figure it out.
And Other Crafty Things
How to upcycle items to add a small tag to a crochet hat or scarf via @fiberflux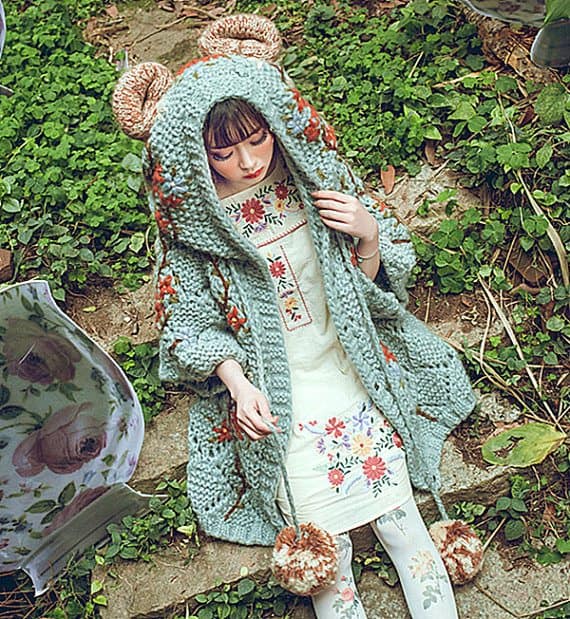 Little Treasures showcased the beautiful knitwear art of Chinese crafter Daisy Xuchun
6 tips plus a suggested calendar for planning your craft business year. Mollie Makes interviewed three successful craft businesspeople to get advice for this article.